1. I asked for nominations for the Top 10 Odd Pub Names (thanks to Andrew Denny for the idea, starting with "The Bank of England" in Manchester). And look what Xlibris1 sent me.
More contributions to me on Twitter, please.
2. Three more Scottish referendum polls were published last night. Opinium, ICM and Survation all put the Yes vote on 48 per cent (excluding don't knows). All were online polls. The average Yes percentage in the 10 polls published over the past week is 48.4 per cent.
Which is awfully close. Ben Stanley's updated graph to rule all graphs is here. I wrote about my information from inside a pessimistic Yes campaign yesterday. Together, these give me hope that Scotland will vote to stay.
Three last polls to go: one from YouGov and two from Ipsos MORI.
3. More about "eggcorns" from David Shariatmadari, via Simon Usborne and Jess Bowie:
"Learning your mother tongue might seem effortless, but doesn't always go without a hitch. In particular, you may hear certain sets of words and break them down wrongly in your head. So long as your version is plausible, sounds the same, and you're not asked to write it down, the error can persist for years. I was in sixth form when I realised my version of 'as opposed to' wasn't widely shared. I thought it was 'as a pose to', which in my head implied some kind of challenge to an existing idea, like posing a question."
I did Top 10 Eggcorns in the Independent on Sunday magazine recently.
4. And I thought this by Jessica Meyer on being a woman and a war historian was interesting (via John Blake). 
5. George Morrall produced an entertaining analysis of the nationalist complaint that Scotland often fails to get the government it votes for.
As Matthew Lumby commented, Scotland got the prime minister it wanted in 12 of 18 elections since the war. "That's more than Wales, Liverpool or Newcastle."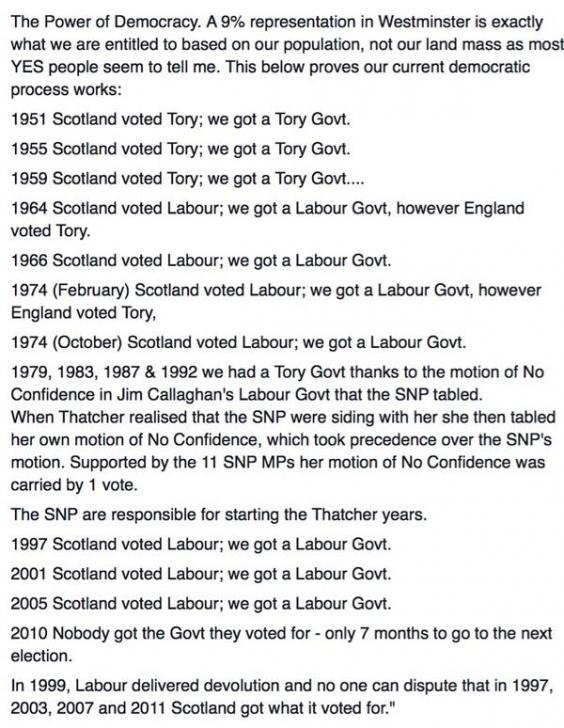 _________
6. Finally, thanks to Ian Power for this:
How do Yorkshire folk prefer to ingest nicotine tablets?
A) By gum ☐
B) By gum ☐
C) By gum ☐
D) By gum ☐
E) By gum ☐