1. Another of Sir William Davenant's photographs of old London. This is Waterloo Bridge, in about 1921, during the great transition from horses to motors. Looking south to the Shot Tower where now stands Queen Elizabeth Hall.
It was built as a toll bridge, originally to be called Strand Bridge, and opened in 1817. The 1d northbound toll was abolished in 1877 or 1878, when it was nationalised (thanks to Gregory Thompson, who notes that Winston Churchill used this in 1909 as an argument for land value tax: search for "bridge" here).
2. My review of yesterday's Prime Minister's Questions included a bit of research: the threshold for the top council tax band, band H, set at £320,000 in 1991, is roughly equivalent to £2m now. So £2m+ houses already pay a higher tax. Labour should therefore be proposing a new rate on houses above, say, £2.5m or £3m.
Matt Chorley has an excellent map that shows every £2m house sale since 1995, using Land Registry data.
3. This, by Graeme Archer, is what I call writing. A kitten who dreamt he was God.
4. Charlotte Henry, journalist and hero of the Rainbow List, has resigned from the Liberal Democrats over Chris Rennard and David Ward:
"The continuing presence of David Ward on the Lib Dem benches has long made my stomach turn. He has made repeated comments that I believe are anti-semitic, and received almost no sanction from the party. Few party members see any real problems with what he says, some even defending him. Last night was the final straw for me, when he posted another highly offensive comment on social media after the horrific attacks in Jerusalem. Nothing will happen to him, he will remain a Lib Dem MP.
"I cannot be in party that allows people to say the things David Ward has, and to continue unrepentant and unpunished. I cannot be in a party in which the concerns of women are not respected properly."
Good for her.  Would the last person to leave the Lib Dems please make sure that they are not David Ward?
5. The Great British public is right about votes at 16 (the age of majority is 18; voting should go with that); and wrong about compulsory voting (it's illiberal; people should be free not to vote if they want). ComRes for ITV News: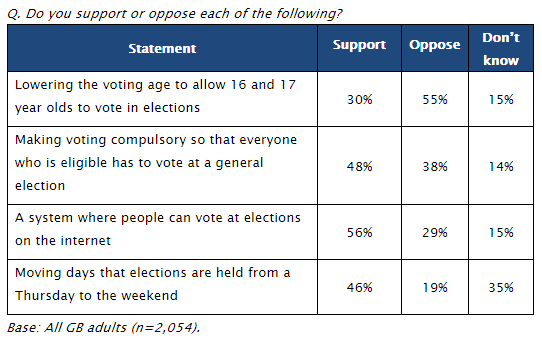 _______
6. And finally, thanks to Mat for this transcript of a job interview:
"How would you describe yourself?"
"I'd use the appropriate adjectives."
"Anything else?"
"Over-literal sometimes."
Reuse content