1. A blast of nostalgia from the Guvnors' Assembly via Ivis Bohlen (more old confectionery in longer photo through that link).
2. I have a book published this week. It is generously described by the first reviewer, Auld-Yin, a poster on the Army Rumour Service (Arrse), as
"One of those books which, although without any real purpose in life, still brings a warm smile of contentment when reading."
_______
It is called Listellany, and is a compilation of my Top 10s from The Independent on Sunday magazine. (Yesterday's was Top 10 First Sentences of Works of Non-Fiction.) There is a trailer for the book here.
3. My column in The Independent on Sunday was, against the run of play, in defence of Nick Clegg.
4. There was another YouGov poll yesterday putting the Conservatives ahead of Labour, by two points (as against one point on Friday). On the other hand, Populus showed an unchanged Labour five-point lead on Friday, although I can't find out when the fieldwork was carried out, so it is possible that David Cameron is enjoying a small post-conference bounce. (There was also a Survation poll of the Rochester by-election in the Mail on Sunday, which suggested Mark Reckless, the defector to UKIP, was on 40 per cent, nine points ahead of the Conservative candidate: I doubt that the Tories will be able to hold it after all.)
Ed Balls was asked about the polls in his interview with Dermot Murnaghan on Sky News yesterday. He said the only poll that matters is the one on election day, which must be one of the most boring answers in a politician's repertoire. He was more interesting on Labour's plan for a mansion tax and a 10p starting rate of income tax.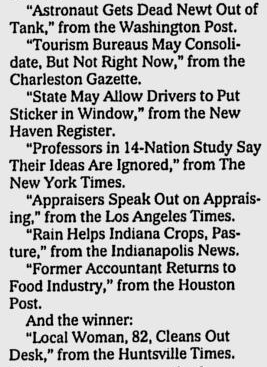 5. The finalists of an American "Most Boring Headline" contest from 1994 (right), via Paul Fairie.  
6. And finally, thanks to General Boles for this reminder:
For future reference -
(a) Yes you could make it up, and
(b) No it doesn't say it all.
Reuse content