1. Today is Recall Bill day. With barely six months of the Parliament left, the coalition is finally getting round to carrying out one of its most foolish pledges – and being attacked by Zac Goldsmith (above) for it. 
Nick Clegg should have said that he realises it was a a bad idea, but he has been so stung by his broken promise on tuition fees that he dare not. Thus the Government has the worst of both worlds, telling the anti-politics lot that they are right to hate politicians and then giving them an additional reason for doing so in the form of a transparently broken-backed Recall Bill.
Goldsmith, the Conservative MP for Richmond, is proposing an alternative to the Government's Bill today, which would involve a three-step process: 5 per cent of voters in a constituency ask for a petition, 20 per cent have to sign the petition, which would force a by-election.
I think it is an undemocratic idea. We have a recall power already: it is called a general election. That is when you pass judgement on your MP. A recall power is a chance for an MP's political opponents to try to re-run the result of a general election endlessly.
2. Welcome back to Labour's front bench, Pat McFadden, one of the party's best minds. He was appointed shadow Europe minister last night in a mini-reshuffle caused by Rushanara Ali's resignation over the Iraq vote.
3. Janan Ganesh, columnist for the Financial Times, is one of the outstanding talents of the younger generation of journalists. His defence of Britain's success against those who feel Schadenfreude about themselves is superb (registration may be required):
"The electoral sensation of the moment, the UK Independence Party, feeds on a popular view that things are bad and getting worse. Ed Miliband, the leader of the opposition, is running against the modern economy. Even David Cameron, a prime minister of sunny temperament, indulges the sour mood."
4. This was pretty extraordinary. I mentioned on Twitter a post on the Oxford Words blog that said the Oxford English Dictionary contains 66 pangrammatic quotations (containing all 26 letters of the alphabet). Which I found surprising. Not as surprising as this, though. Chris Jones replied with a pangrammatic tweet:
"What a jolly book – five dozen and six pangrammatic quotes!"
Respect. More on accidental pangrams at Language Log (thanks to Rich Greenhill and Stan Carey).
5. Labour History Group drew my attention to another nomination, from "Sir William Davenant", for my as-yet-incomplete Top 10 Never-Built Buildings. Sir William gave us "the tower that never was – Seddon and Lamb's proposal for a 550ft Memorial Tower at Westminster in 1904". More on the Imperial Monumental Halls and Tower via Wikipedia.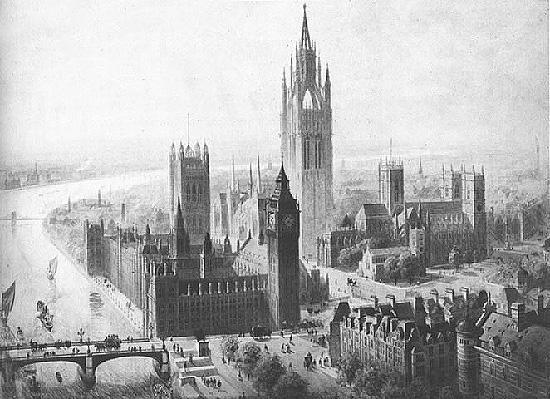 __________
My book of Top 10s, Listellany, for the person in your life who cares that trivia is a modern Latin plural of trivium, is out now.
6. And finally, thanks to Chris Heaton-Harris for this:
"Did you hear about the actor who fell through the trap door?
"It was just a stage he was going through."
Reuse content