1. Well, I haven't seen it before. Bowie roundabout, via Princess.
2. Usually, I have the anti-Russell-Brand shields up to full power on my cyberspaceship, but this item by Squander Two got through. It is indeed magnificent and was doing a brisk trade on Twitter last night.
3. Jim Murphy's election as Scottish Labour leader and his energetic start to the job, including a literal Clause IV moment and saying he won't take any notice of Ed Miliband; David Miliband's interview (FT, registration) refusing to rule out a return to British politics; and a good speech yesterday by Liam Byrne at his old school in Harlow: it is beginning to feel as if the old gang is getting its mojo back.
4. A further footnote on the intricate politics that followed the Autumn Statement. As I noted on Sunday, George Osborne's attempt to trap Labour by setting out a path of deep cuts in public spending for the next parliament went wrong when the Office for Budget Responsibility made the comparison with the 1930s. The Chancellor got into further difficulties in drafting the Charter for Budget Responsibility, published on Monday, on which there will be a vote in the Commons in the New Year. Osborne had been forced by Vince Cable to make the Charter something the Liberal Democrats could vote for, which means it doesn't go as far as the Conservative target of achieving overall budget surplus in 2018/19.
On that basis, Ed Balls happily signed up to it, calling it a "silly political stunt" but saying it was now consistent with his own policy. I'm not sure that is quite right. The Charter also sets a new target for debt to be falling as a percentage of GDP in 2016-17. That is the second year of the next parliament and means a tight constraint on overall borrowing, so that any increase in debt is offset by growth in the economy. Balls's position was that he would have debt falling as a proportion of GDP "as soon as possible in the next parliament" – which I thought was a loose formulation meaning as soon as reasonably possible, but which now means "not quite as soon as possible but as soon as possible after that", that is, in the second year of the parliament.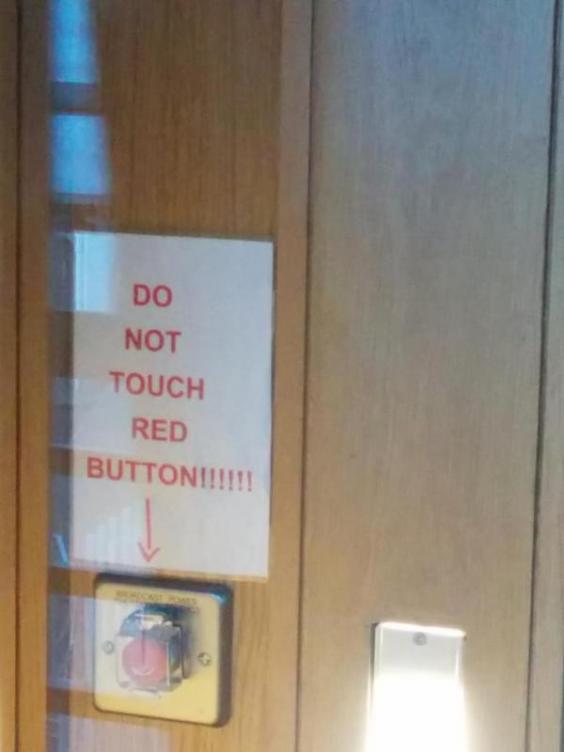 5. What the Doctor would call a great big threatening button that must never ever be pressed (right). Outside the Scottish Parliament chamber, via Andrew Picken. I think it summons Jim Murphy.
6. And finally, thanks again to Chris Heaton-Harris for this:
Now That's What I call Roman Numerals 400 is now available in CD format.
Reuse content