1. Thanks again to Ben Stanley for his graph of Scottish referendum opinion polls, updated to include Sunday's three. It shows a trend line, blue for Yes and red for No, with a shaded margin either side in which, if the polls are accurate, we would expect the true values to be found 95 per cent of the time.
This is hopeful for those of us who believe that both parts of the UK would be diminished by separation, but does depend on that "if" – and on Yes failing to make a further advance in the final four days.
On this, I bring further hopeful news from someone who has seen the Yes campaign's canvass returns up to Thursday last week: that Yes does not have a lead in any of its target areas. Despite throwing everything into the campaign, the Yes campaign itself reckons that it is well behind and that to get anywhere near the figures suggested by opinion polls would be a remarkable achievement.
Everyone hedges their bets by saying that turnout will be high and 16- and 17-year-olds will be voting for the first time, but I don't see why either of those make it harder to poll. In 1997, the five polls in the week before the vote recorded an average 74 per cent Yes vote (Yes to a devolved parliament), against a result of 74.3 per cent. The question this time is whether there really are "shy Noes", or whether Yeses are unusually motivated by the importance of the vote. 
2. I admit that when I first suggested an independent Scotland should take Northern Ireland with it, which I did in a Q&A for The Independent on Sunday, I was being facetious. But with a serious point, a point that seems, the more I think about it, really quite serious indeed.
My argument, from my family's history, is that Ulster's Protestants were "planted" there from Scotland from the 17th century onwards. The Rentouls, from Rintoul in Perthshire, went to Donegal; most Scots who settled in Ulster wanted to remain part of the UK when Ireland gained its independence.
Scottish nationalists now say, by omission: "Never mind that; that's England's problem now; Cromwell was nothing to do with us." But Ireland was to do with them, just as much of the British Empire and two worlds wars were. One of the worst features of SNP nationalism is that it seeks to disown responsibility for the past. It says: "Let's start again with Little Scotland, or Greater Glasgow, a new country that wasn't responsible for anything outside its borders and that has no history except of oppression by the English."
3. Elsewhere in the Q&A, I was too generous to the Scottish National Party by being merely sarcastic about its plan to continue the present policy of charging English students fees to attend Scottish universities but exempting Scottish and other EU nationals. Under EU law, Scottish universities are allowed to discriminate between citizens of the same country, the present UK, but they would not be allowed to discriminate between Scottish and English students if they were citizens of different EU member states.
Scotland would either have to offer free tuition to all or, more likely, charge fees to all. It is a piquant paradox that independence within the EU would actually allow the Scots less control over their own affairs. But this, too, is serious. Salmond's dishonesty, insisting that an independent Scotland would be able to do what it plainly cannot, ought to have been challenged more forcefully. Media bias indeed.
4. Adam Snow had an excellent idea of compiling a list of Top 10 Tweets, starting with Jack Dorsey's first on 21 March 2006, which was: "just setting up my twttr."
Mr Simon M nominated Ed Balls's tweet of 28 April 2011, which has since been retweeted 29,000 times: "Ed Balls."
More nominations to me on Twitter, please.
5. "Is this an omen for the referendum? The cloud which looks like a map of the UK... with Scotland taken away."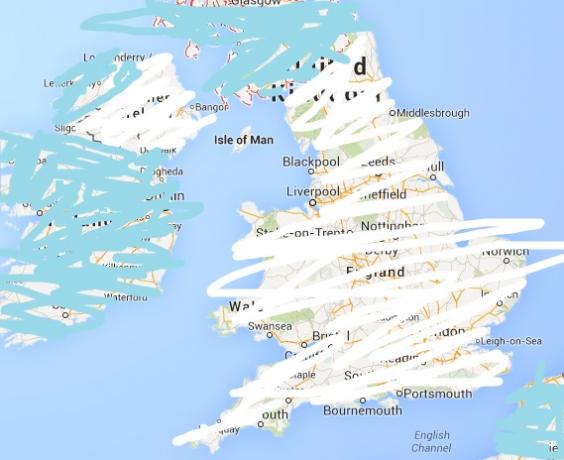 In all the years I have been hunting Questions To Which The Answer Is No, this, asked by Mail Online yesterday, is one of the very, very best. And here is what a cloud in the shape of the rUK would look like:
Thanks to Mark Burton.
6. Finally, thanks to Paul Eggleston:
"Drills are the best tools in the hole whirled."
Reuse content