1. Another of Sir William Davenant's old views of London, this time from a balloon in 1884. As ever, it was smoky.
2. It was the Independent on Sunday's Rainbow List 2014 party last night to celebrate the advance of the cause of equality for lesbian, gay, bi and trans people.
Thanks to Asda, the List's sponsors, and to Grange Hotels for hosting the party at its St Paul's hotel, with a wonderful view of the cathedral and the city from the seventh-floor balcony. Having watched Doctor Who on Saturday, I expected the dome to open during the Editor's speech and cybermen to launch into the sky carrying a rainbow banner.
Congratulations to Michael Cashman, who is no 1 on the List this year. I have interviewed him for this Sunday's newspaper. The full list is here.
3. We British think that chief executives should be paid about five times as much as the average unskilled worker. FTSE 100 chief execs are actually paid 84 times as much, according to research quoted by Harvard Business Review (via Conrad Hackett).
Some of the other ratios in the table are notable. Scandinavian countries have low moral benchmarks – in Denmark people think chief execs should only be paid twice as much as an unskilled worker, while the actual ratio is 48. Australia has the highest ideal ratio, 8.3, and American has the highest actual one, 354.
4. Polling news. Lord Ashcroft published a poll yesterday for the Rochester and Strood by-election, which is a week tomorrow. Carried out 7-10 November, it gave UKIP a 12-point leader on 44%, Con 32%, Lab 17%, Green 5%, Lib Dem 2%.
I think this is the fourth constituency poll. So far we have had UKIP leading by 9 points (1-3 October), 13 points (17-20 October) and 15 points (27-28 October). It is notable that Labour is out of contention: what should a Labour supporter in Rochester do? Vote Tory against the greater enemy, UKIP? Or "Get a grip and vote Labour" (Alastair Campbell)?
5. Quotation of the Day. Zoe Williams has an alarming vision of special advisers:
"I like to think of spads as the daemon of the MP, as in a Philip Pullman. If they're really horrible, you know what the MP's soul is like."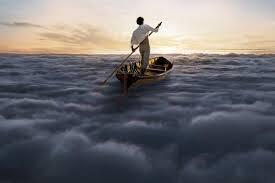 5. Pink Floyd's new album, Endless River (right): it's not hip – but it is good, says Sebastian Payne.
6. And finally, thanks to Charles Cross for this:
"I once knew someone who gave up a gardening job because there was no fuschia in it."
Reuse content