1. It's kitchen sink time in Rochester, where David Cameron visited yesterday and where he is throwing everything at the by-election caused by the defection of Mark Reckless to UKIP.
I think the force of the anti-politics is too strong, and that Reckless will hold the seat for UKIP, although it makes sense for the Conservatives to try everything to stop him. So far this includes:
• An open primary election to choose the Tory candidate from a short list of two local women.
• A U-turn to opt out of the European Arrest Warrant, which Cameron and Theresa May, the Home Secretary, think is a sensible bit of EU co-operation.
• A lot of talk about what the Government can do to restrict the free movement of EU workers without falling foul of the core principle, which is enshrined in the EU's founding treaties.
Some polling by YouGov for The Economist reinforces the point that the voters do not think UKIP is a serious party of government. Sixty per cent of people disagree that UKIP is "more trustworthy than the main parties"; by two to one people agree that UKIP is "full of oddballs and extremists"; and a huge majority agree that it is "a protest party with no realistic policies". But I doubt that any of that will save the Tories in a protest by-election.
If UKIP does win Rochester on 20 November, though, I expect the Conservatives to win it back in the general election.
2. Theresa May gave evidence to the Intelligence and Security Committee yesterday, when she defended bulk data gathering: "If you are searching for the needle in the haystack, you have to have a haystack in the first place."
Her opposite number, Yvette Cooper, gave evidence to the committee on Wednesday, a session notable for the closing remarks of Sir Malcolm Rifkind, the chairman, who thanked the shadow Home Secretary for "the very valuable contribution you have made to our work". He said (at 42'40"): "You were extremely well briefed and clearly in command of your brief. I think we would like to believe that that must be because of the years you spent as a member of the Intelligence and Security Committee, and that should perhaps be a condition of tenure of the office of Home Secretary."
The May-Cooper contest is one of the more interesting match-ups in today's politics.
3. Alastair Campbell, who once formulated the rule that a minister who was on newspaper front pages for 10 days in a row would have to go, has adapted it for the faster news cycle:
"I am an inventing a new rule ... if a minister trends on Twitter for four days he has had it."
David Freud, the welfare minister who repeated the words of a question about disabled workers who were "not worth" the minimum wage as he thought aloud about the best policy for them, was trending on Twitter yesterday and is still trending this morning. Two days to go.
4. Thanks to Tom Fox for this:
"What do we want?"
"An end to non sequiturs!"
"When shall we eat prunes?"
"Anteater!"
5. After yesterday's Baywash, today's Genuine Shop Name (an addition to the Top 50 in my book, Listellany) is from Steven Duckworth: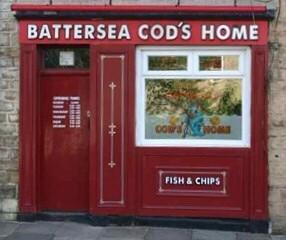 _________
6. And finally, thanks to Tom Freeman for this:
"A legal misunderstanding meant that, from 1430 to 1798, slander and perjury laws could not be used against sleeping dogs."
Reuse content