1. YouGov has a poll this morning putting the Conservatives ahead for the first time (for that company) since 2012. As Peter Kellner says, it's just one poll: the apparent change is probably random sampling variation, although it may be a Tory conference boost. Either way, this morning's Populus poll shows no such shift: a five-point Labour lead.
But the trend in the graph above shows that the Tory-Labour gap has been tightening for some time.
Meanwhile, Survation has a poll in Heywood and Middleton, where Labour are 19 points ahead of UKIP and seem likely to hold the seat in the by-election next week, on the same day as the Clacton by-election, which Douglas Carswell is expected to win for UKIP.
More interesting, I thought, were the latest odds from the bookmakers on Rochester, Mark Reckless's seat, where the date for a by-election has not yet been set. UKIP (6/5)is only just favoured over the Tories (11/8) to win there. If the Tories can defeat Reckless – and they are strongly motivated to try – that would check the kipper threat at the general election.
I wrote in February that UKIP was in long-term decline. I was wrong by being right too early. I didn't expect the party to come top in the European Parliament elections, but its sell-by date is still May 2015. But note, on the graph above, that the long rise in UKIP support has come as much at Labour's expense as the Tories' – a point made by Marcus Roberts, as reported by Andrew Grice in The Independent today.
2. Worst argument of the day from Peter Chan in the South China Morning Post. Hongkongers aren't ready for democracy because "it is widely believed" that Blair lied to Parliament about Iraq.
3. Via Erik Hinton, a product review that summarises the internet:
"My dog and I got stranded on a mountain side in northern Washington during a raging blizzard and this poncho was out only protection from the wind during the night. I'm giving it 4 stars because it probably saved our lives. But it also developed a small tear which turned into a full length rip by morning.
"No, I don't recommend this product."
4. A late comment on David Cameron's speech from Damian McBride. I know it was a party conference speech, but I agree that it was gratingly partisan:
"His attack on Ed Miliband would have had much greater force if he'd said how hard he personally had found the job of being Prime Minister, how much he'd learned from his mistakes, and how the experience he'd gained made him the right man to lead the country for the next five years."
5. Chris Grayling, Secretary of State for Justice, has published the Conservative Party's proposals for repealing the Human Rights Act and replacing it with a British Bill of Rights. Carl Gardner has a commentary on why it wouldn't make much difference in practice.
Tim Hill, via Jack of Kent, summarises the argument well: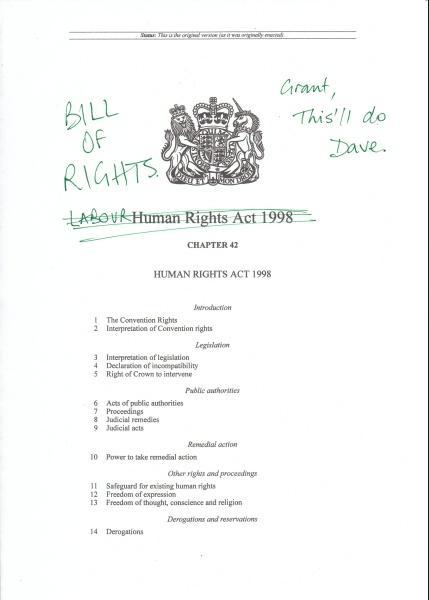 ________
6. Finally, thanks to Tom Freeman for this:
Messenger runs up.
"Sire! Sire!"
"What tidings, boy?"
"An update for Adobe Messenger is available!"
Second messenger appears in distance.
Reuse content