1. Birmingham has some ugly modern architecture, but I thought some of it was being pulled down. Instead, it is all still there, as those attending the Conservative Party conference discovered, with the addition, opposite the conference centre, of a new monstrosity covered in some kind of chainmail fishnet, the Library of Birmingham (above), which opened last year. I should have added it to my Top 10 Horrible Buildings.
Inside the conference, the mood was more purposeful than at Labour last week. Mark Reckless has united his former party against him and stung it to attention. The by-election in his seat, Rochester, is an open three-way fight. The Tories think they have a chance of taking it back, and there are many Tory MPs in Birmingham who would rather Labour won it than UKIP.
2. In the conference hall, Theresa May and Boris Johnson gave important speeches yesterday. May sounded prime ministerial and her speech started well with liberal blast against the misuse by police of the power to stop and search. I wasn't so sure about the rest: she promised to strengthen the control order regime that she had weakened, and blamed the Lib Dems for blocking the Communications Bill – the problem is a bit more complicated than that, as Julian Huppert points out.
Johnson's speech was the other way round: content better than presentation. The audience loved it, but he didn't deliver it well: it is much funnier in print.
(Incidentally, the Tory press operation works. Texts of speeches were all instantly available on the party's website. The Labour equivalent is not so good. This may reflect only on me, but I cannot find Ed Miliband's speech on its press pages, although it is available on other sites. Nor can I find an index. Nor does Yvette Cooper's speech seem to be on there – although a copy was emailed to journalists, so I put it up on the Independent Blog.)
3. Ed Miliband was criticised for interfering with the work of the independent Low Pay Commission at a fringe meeting organised by the Joseph Rowntree Foundation last night. Miliband has promised to put the minimum wage up to £8 an hour. Julia Unwin, chief executive of the Foundation, which studies low pay, and John Cridland, director general of the CBI, who served for 10 years on the Low Pay Commission, warned him and George Osborne against gesture politics that would destroy the Commission, which advises on the level of the minimum wage.
"We are in danger of not having a Low Pay Commission," said Cridland. He and Unwin agreed that the Commission sets the minimum wage as high as it dares according to the evidence about the level at which it would start to cause unemployment.
(I chaired the discussion, and it was a pleasure to meet Richard Harrington, Tory MP for Watford, who went into politics at the age of 52 after running a hotel business, a low-wage sector in which wages were 70 per cent of his costs: he offered thoughtful, centrist observations, praising Andrew Adonis for helping to set up University Technical Colleges in his constituency.)
4. Although the mood in Birmingham was surprisingly positive, they think it will be hard for David Cameron to stay on as Prime Minister at the election, and some Tories are deeply gloomy. Alex Massie of The Spectator sets out a persuasively pessimistic case. Where most Tories think Ed Miliband's unpopularity will push voters their way over the next eight months, he point out: "Miliband's doofusness may be priced in."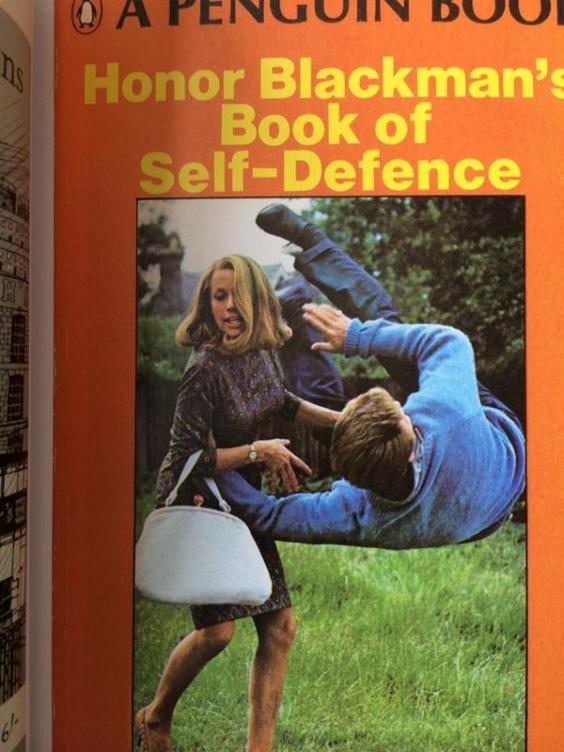 5. Thanks to Scott Jordan Harris for this (right), via Susan de Soissons:
They say you can't judge a book by its cover. They haven't seen Honor Blackman's Book of Self-Defence.
6. Finally, thanks to Tom Freeman for this:
"Today's shaping up to be a perfect day. If anyone spoils it by sticking a sword into my belly and slicing me open, I'll be gutted."
Reuse content