1. Lovely map of the number of vegetarian restaurants in relation to population in Europe by Jakub Marian, whose website of maps, maths and language (such as this map of the proportion of people who can converse in English) is a delight.
2. Three opinion polls yesterday from Populus, Ashcroft and YouGov. The average figures were:
Lab 33%, Con 32%, UKIP 14%, Lib Dem 8%, Green 7%
What was someone saying about a Green surge? YouGov's 8% share is the highest ever in a general election poll. There was also a Survation poll in Scotland published last night that showed a great improvement in Labour's standing there, from catastrophic to disastrous. General election voting intentions:
SNP 46%, Lab 24%, Con 17%, Lib Dem 6%, UKIP 5%, Green 2%
So that is better than the SNP's 29-point lead with Ipsos MORI last month. Labour would lose only 36 seats, retaining five, instead of 40, retaining one.
This would transform the situation in the House of Commons. The average Great Britain figures above would normally mean Labour was three seats short of a majority, but losing 36 seats in Scotland would leave Ed Miliband well short, and Labour and the Lib Dems together probably wouldn't have a majority. 
Still on polls, YouGov launched YouGov Profiles yesterday, and it is fun. This is what the typical John Rentoul reader looks like. (Note: the left-right dial measures number of Conservative voters, so my readers being very "left-wing" might mean they all vote UKIP.)
3. Yvette Cooper is to give a speech this morning about immigration controls. The Conservatives have paid her the compliment of attacking it before it is even delivered. Cooper will propose to recruit more staff, paid for by charging Americans for visa waivers. The Tories say this would be a new bureaucratic burden that wouldn't pay for itself.
4. Do respond to the Constitutional Reform select committee survey on online voting, late registration, votes at 16/17 and compulsory voting. Especially if you are opposed to the third and fourth items. The age of majority in this country is 18 and until that changes that should be the voting age. And compulsory voting is illiberal. If people do not want to vote that is one of the fundamental freedoms of a free society.
5. The list of Genuine Shop Names in my book of Top 10s was so successful it became a Top 50. And new entries are still coming in. Tom Doran nominated Frying Nemo, fish and chip shop. Niall Bartlett spotted Florist Gump, in Saracen Street, Glasgow. And Robert Wright supplied a photo of this hairdresser in Anglesey near Menai Bridge: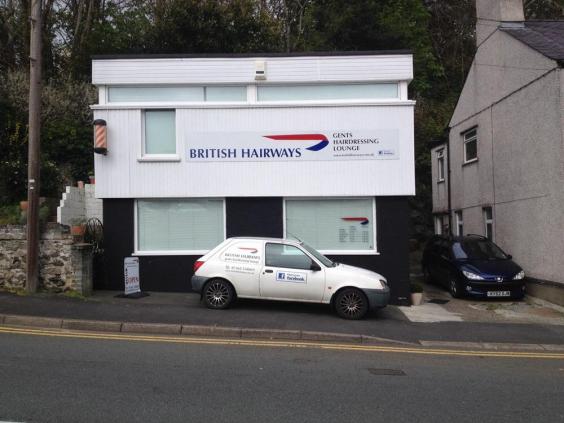 _______
6. And finally, thanks to Chris Heaton-Harris for this:
"I've got a joke about 2nd class stamps, but I don't know how long it would take before you got it."
As Andrew Denny said: "A good joke is all in the delivery."
Reuse content