1. Following the painting of the London Hospital in open countryside c1760, Sir William Davenant offers a view of "The Great General Hospital for East London" a century and a half later, c1900, with a horse-drawn omnibus in front of it.
2. In The Independent on Sunday I wrote about the first speeches of new MPs. I cannot say I watched or read them all, but I consulted someone who has sat through them all (so far – there are more yet to speak), who confirmed my view that the new Conservative intake is generally more impressive than its Labour opposition.
My colleague DJ Taylor, for example, was disappointed to find that his new Labour MP, Clive Lewis, has nominated Jeremy Corbyn for the leadership, joining those "zealously flying in the face of trends that they know will sweep them into obscurity, like some dodo proudly disporting itself on the Mauritian strand while the musket-toting Dutch settlers close in for the kill and their dogs ransack the surviving nests for eggs".
As I say, this has implications for Labour's future. It is not as if the talent pool for this leadership election is so deep that the party can afford to fill its green benches with deadbeats. Ed Miliband's legacy of candidate selection is another reason for Labour supporters to be angry with him.
And the obverse is true. One of David Cameron's achievements has been to coax his party into choosing candidates who offer leadership for the future.
3. Also in The Independent on Sunday, I report that the Chilcot report is unlikely to be published for at least another year. It is generally agreed that this is unsatisfactory, but the usual response – that the Prime Minister should order the inquiry to publish at once – is mistaken. It is an independent inquiry and the Government should not interfere with it. But another option is being mooted.
The vast collection of documents assembled by the inquiry, which would not normally be published for at least 20 years (the 30-year rule is being gradually reduced), were disclosed to it by the Government and agreement has already been reached on what can be published. David Cameron could order the publication of the lot. He could invite Sir John Chilcot to publish his draft report in its current state, and invite the people who are criticised in it to publish their responses. And let everyone make up their own minds. By which, of course, I mean let everyone assert what they already believe.
4. To important business. In The New Review, the Independent on Sunday magazine, my Top 10 is Pop Songs Shorter Than Two Minutes. Here is the Spotify playlist:
________
5. My colleague Jane Merrick and I drew a three-way Labour leadership diagram, which the graphics genius Henrik Pettersson turned into a work of art. Close of nominations at noon today. Click here for a larger version.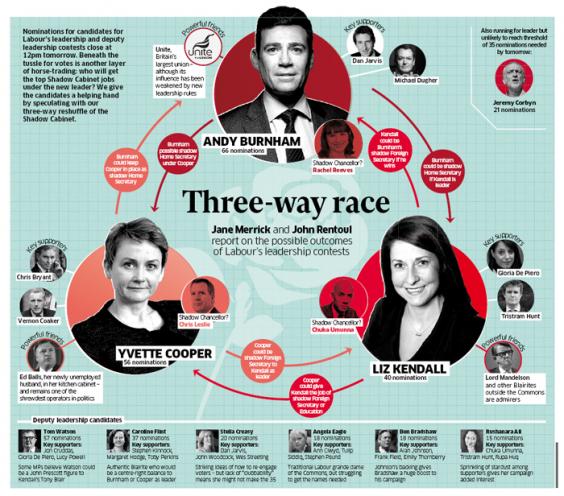 _______
6. And finally, thanks to Moose Allain for this:
"For every Action Man, there is an equal and opposite Reaction Man."
Reuse content