1. Here, from Chris White, is a chicken in France about to cross the road. Which has nothing to do with UKIP, but I didn't want another picture of Nigel Farage on here.
I wrote about UKIP's surprising success in last week's by-election – in the Labour seat of Heywood and Middleton, not in Conservative Clacton, which was not surprising at all – in The Independent on Sunday.
My point is that UKIP is now more of a threat to Labour than to the Conservatives, which was supported by a YouGov poll for The Sunday Times. This asked people how they would vote if only two parties had a realistic chance in their constituency.
The most important one was that, if the choice were between Labour and Conservative, a net 26 per cent of UKIP voters would vote Conservative.
With UKIP currently at 18 per cent in the polls, this suggests the Tories could expect to gain 4½ per cent of the vote in Con-Lab marginals.
The poll also suggested a net 33 per cent of Conservative supporters would vote Lib Dem in Labour-Lib Dem marginals, which is also bad news for Labour. In Conservative-Lib Dem marginals, on the other hand, 25 per cent of UKIP supporters voting Tory would help offset the 31 per cent of Labour supporters who would vote Lib Dem.
2. Boris Johnson embraced his "beloved Kippers" in an interview with Andrew Marr yesterday (transcript here). He was clear that he wants a points system for EU immigration, which would be the end of free movement of EU workers, and that, if David Cameron doesn't get it (the Prime Minister isn't even trying, because he knows it is impossible), Johnson would campaign to leave the EU in a referendum.
Labour cannot afford, however, to revel in this Tory split. Its position on free movement is to talk about anything else. Atul Hatwal has a wonderfully clear analysis at Labour Uncut:
"If Labour is not prepared to leave the EU then the benefits of immigration must be set out."
(One Labour response that won't wash is to say that working-class voters attracted to UKIP are in areas, such a as Clacton, with few EU immigrants. But this study by the House of Commons Library suggests that UKIP success is correlated with EU immigration.)
3. Indirectly, this brings us to the question of the Labour leadership. As my colleague Matthew Norman notes, Alan Johnson ruled out a rescue mission in The Sunday Times (pay wall). Does he want the leadership?
"No. First of all, the question doesn't arise. Anybody who suggested to me – and no one has, incidentally – that there should be a change of leadership, I would say, 'Get a grip.' "
He "hated" his stint in the shadow cabinet (he was shadow home secretary and chancellor) and feels he should have "gone to the back benches" sooner, "because if you're not enjoying it and your heart's not in it then it shows that you're not going to do it properly".
Being prime minister is a "god-awful job" and he has made it clear to Ed Miliband "exactly how I feel about it".
Which means that if Labour is to change leader before the election, which it should, Yvette Cooper is still (as I said in January 2012) the best option. In this I am supported by Events, Dear Boy, Events, making a welcome return to political commentary in the comments.
4. Brian Schmidt, astrophysicist, on how winning a Nobel prize changes your life:
"When I won this, my grandma, who lives in Fargo, North Dakota, wanted to see it. I was coming around so I decided I'd bring my Nobel Prize. You would think that carrying around a Nobel Prize would be uneventful, and it was uneventful, until I tried to leave Fargo with it, and went through the X-ray machine. I could see they were puzzled. It was in my laptop bag. It's made of gold, so it absorbs all the X-rays – it's completely black. And they had never seen anything completely black.
"They're like, 'Sir, there's something in your bag.'
I said, 'Yes, I think it's this box.'
They said, 'What's in the box?'
I said, 'a large gold medal,' as one does.
So they opened it up and they said, 'What's it made out of?'
I said, 'gold.'
And they're like, 'Uhhhh. Who gave this to you?'
'The King of Sweden.'
'Why did he give this to you?'
'Because I helped discover the expansion rate of the universe was accelerating.'
At which point, they were beginning to lose their sense of humor. I explained to them it was a Nobel Prize, and their main question was, 'Why were you in Fargo?'"
5. Map of the Day: Travel time from London to the rest of the world in 1914. It's called an isochronic map. If anyone can find one for today's travel times, I'd love to know about it.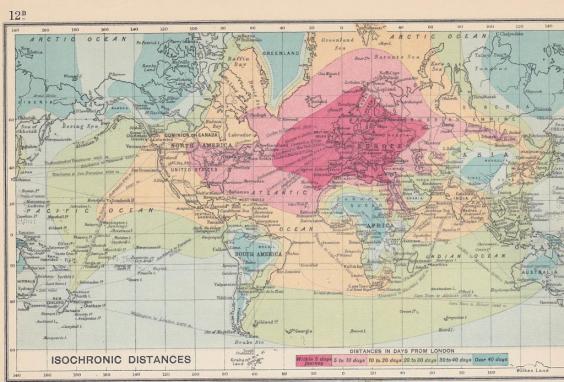 _______
6. Finally, thanks to Alan Machnik for this:
"The answer to 'What country lies between Romania and Ukraine?' Has to be mulled over."
To Chris Heaton-Harris for this:
"I just got back from a statistical probability conference. I don't want to be mean, but it was average."
And to Edward Malnick (via Chris Heaton-Harris) for this:
"I told my friend she'd drawn her eyebrows on too high.
"She looked pretty surprised."
Update:
Chris White has been in touch to say that, in the end, the chicken decided not to cross the road. If that helps.
Reuse content