1. Windmills at Lambeth, about 1750. Via Londoner Walking.
2. The Political Studies Association has published Chris Hanretty and Will Jennings's survey of 537 "experts", which was carried out between 4 and 21 February, asking mostly academics and a few journalists (including me) and pollsters to predict the election. The averaged results are:
Labour 32.3% 282 seats
Conservative 32.6% 278 seats
UKIP 11.2% 7 seats
Lib Dem 9.8% 25 seats
SNP 4.6% 29 seats
Green 5.1% 2 seats
That is about as marvellously paradoxical as the wisdom of crowds can be: Labour winning more seats but fewer votes than the Conservatives. The SNP seats total seems low: although the survey was carried out after Michael Ashcroft's Scottish polling was published on 4 February, which seemed to move sentiment even if it only confirmed previous Scotland-wide polls.
3. Bumper crop of Questions To Which The Answer Is No in the Daily Mail this week. Mark Burton wanted to know:
"Did Homer Simpson discover the Higgs Boson in 1998?"
Max Dunbar reported that the QTWTAIN generator had been left on "Nazi" setting overnight:
"Are a team of amateur sleuths about to discover one of Adolf Hitler's greatest lost treasures?"
… and then on "Monkey Island" setting:
"Has the White City of the Monkey God been found after 500 years?"
And thanks to John Peters for this:
"Is your satnav harming your brain?"
4. This is from The Washington Post blogs last year, and is interesting: the second largest religion in each state, from Buddhism in the west through Islam to Judaism in the east (click on the link above for a larger version). Thanks to Stewart Wood.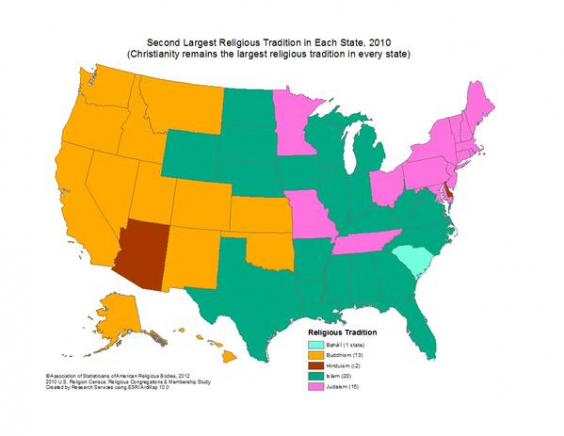 _______
5. Quotation of the Day, from Buffy Quotes. I'm not totally sure who Buffy is, but you don't need to know:
Buffy: "Who are you?"
Angel: "Let's just say I'm a friend."
B: "Well, maybe I don't want a friend."
A: "I didn't say I was yours."
6. And finally, thanks (again) to Moose Allain for this:
"My wife feels there's probably a better title for 'Educating Rita'. Just call it 'A Woman's In Tuition'."
Reuse content