As world leaders start to arrive in London for next week's Wildlife Crime Conference, concrete solutions to the current elephant poaching crisis need to be put on the table. The UN report entitled "Elephants in the Dust – The African Elephant Crisis" not only highlights the shocking reality of current elephant poaching levels, it also spells out some compelling actions that could stop the crisis, if implemented now.
According to the report, large-scale seizures of ivory bound for Asian markets have more than doubled since 2009 and reached an all-time high in 2011. African elephants are now being illegally killed at a rate of 100 per day, and are facing the greatest crisis in decades. With triple the amounts of ivory seized over the last ten years, time is starting to run out. In fact, if the figures continue to go up at present rates, elephants could be extinct from the wild in our lifetimes.
The report explains that vast movements of ivory with tusks of hundreds of elephants in a single shipment are being recorded, pointing towards highly organized and well-funded criminal networks. These tend to be Asian-run, while poor legislation and law enforcement in some African countries are allowing the illegal killing of elephants to take place without adequate punishment.
Achim Steiner, UN Under-Secretary General and UNEP Executive Director says: "The surge in the killing of elephants in Africa and the illegal taking of other listed species globally threatens not only wildlife populations but the livelihoods of millions who depend on tourism for a living and the lives of those wardens and wildlife staff who are attempting to stem the illegal tide."
But the report points out that there is hope too, if the right steps are taken. Improved law enforcement, international collaboration and measures to reduce demand can be implemented with success. Large and previously secure elephant populations in Southern Africa proved that it is not impossible for elephants to live safely in their habitats whilst benefiting people by generating income through tourism.
Of course, there would be no ivory trade without demand, and raising awareness amongst consumers is key to end the slaughter. Many people including businessmen and women are unaware that the ivory they are buying might be illegal, some don't even know that it comes from an elephant.
John Scanlon, Secretary-General of Cites, The Convention on International Trade in Endangered Species says: "This report provides clear evidence that adequate human and financial resources, the sharing of know-how, raising public awareness in consumer countries, and strong law enforcement must all be in place if we are to curb the disturbing rise in poaching and illegal trade."
The report – jointly produced by the UN Environment Programme (UNEP), Cites, the International Union for Conservation of Nature (IUCN), and the Wildlife Trade Monitoring Network (Traffic)  has received little attention from policy makers since its publication in March 2013. We hope that world leaders at the London Wildlife Conference on 12 and 13 February will listen up and follow some of the sensible advice it offers.
The scale of the problem:
 

While poaching is an immediate and direct threat to the African elephant, range and habitat loss are the most significant longterm threat to the species' survival. There is good reason to believe that the total elephant range in Africa has been in decline over the last two decades. In 1995, the total range area of the African elephant was estimated at 26 per cent of the continent's total land cover. However, the latest African Elephant Status Report, published in 2007, estimated that this had reduced to just 15%.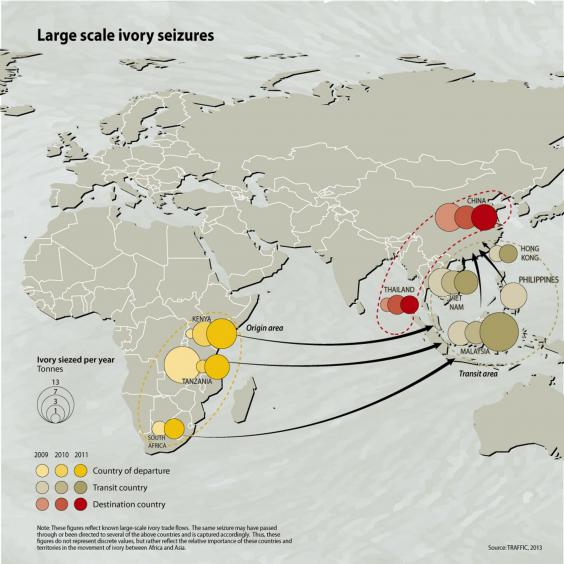 Large-scale ivory shipments originating from Africa have almost exclusively been seized in containers at major ports in Asia, where there is an established customs inspection systems. Shipments have mainly originated from not only Dar es Salaam or Mombasa, but also West Africa.
Sign our petition to stop the illegal killing of elephants