Could it be that the Government's infatuation with all things John Lewis has been the kiss of death – not to the Coalition, but to the company? From local councils to care services and latterly to schools, ministers have extolled the partnership model that distinguishes John Lewis and called for it to be emulated wherever possible.
A share in the company, we are encouraged to believe, provides staff with good, earned, bonuses when things go well (as opposed to bankers' bad, undeserved, bonuses). The JL model is supposed to foster a superior standard of service, by motivating every "partner" to take personal responsibility for what they do. And, of course, patronising a John Lewis – or a Waitrose supermarket – encourages us, the customers, to feel superior, for shopping somewhere so eminently decent, rather than in more "commercial" stores.
You might object, not unreasonably, that the Coalition's preoccupation with John Lewis simply highlights the very middle-class nature of the Coalition, and shows where ministers (and their friends) like to shop. Suggesting that government services imitate say, an unenlightened, uncaring corporate employer, would send the wrong message in so many ways.
I have to ask, though, whether all this praise for the JL model might not be going to the company's head. Take last weekend. All right, so the closing weekend of many winter sales was perhaps not the time to experience London's Oxford Street at its best. And I hadn't actually intended to visit John Lewis, still less its food hall. But I was nearby, so it seemed reasonable to pick up something for supper, and maybe take a cursory look at some clothes rails.
Big mistake. The ladies' clothing floor wasn't that crowded, but the impression was one of mild chaos. There doesn't seem to be any map to tell you what is where, so I never seem to navigate it successfully. I left, as so often, disorientated and empty-handed.
Which is why, at the time, the – blissfully crowd-free – food hall seemed a good idea. Nor was it necessarily the manager's fault that, amid dozens of "designer" bags of coffees from places like Nicaragua, the one item I had actually come for – plain old Continental ground – was not actually stocked. No matter, I ploughed on through the cheeses and the salads, then looked for the check-out queue. It stretched more than half-way down the hall.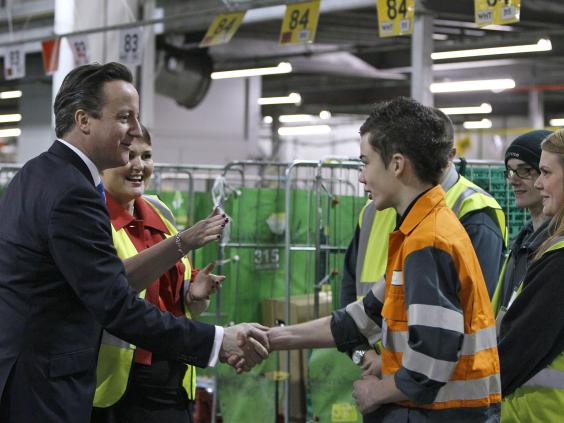 A rough calculation suggested that the wait would be longer than the actual shop. So I abandoned my basket by the exit, explaining to someone identified to me as the duty manager why. She seemed blithely unconcerned, as well she might be, given that almost everyone else seemed reconciled to the wait. Then it got worse. Upstairs, at a desk by the main entrance, was someone who seemed to have something to do with customer service.
He was preoccupied with his screen. I asked whether there was any mechanism for leaving a comment. Oh yes, he said – languidly, I felt. I mentioned the length of the queue in the food hall. To which he responded, "We like queues..." And when you think about it, that's a rational answer. Queues mean a large number of customers, but also a large ratio of customers to staff, and so bigger bonuses for "partners". Until, that is, those customers start to fall away.
You could reasonably argue, of course, that one frustrating visit quite late in the day, a few disconsolate staff and a facetious comment hardly add up to a dead canary in a coalmine. And you would be right. But I would also mention a time-consuming hunt for any member of staff in another flagship JL store, and the small, cramped Little Waitrose that has opened locally, which is disorganised, stocks almost no Waitrose own-brands and manages to be even more expensive than the corner convenience store. One dispiriting conclusion might be that, rather than government going the way of John Lewis, the influence – alas – risks going in the opposite direction.
How did these teens get away with it?
If anyone was more astonished than Stonyhurst's head, Andrew Johnson, to learn that two of his pupils had nipped off to the Caribbean, it was probably 17-year-old Indira Gainiyeva's father. You can understand why this presumably well-heeled Kazakh businessman might have chosen Stonyhurst for his daughter: at £29,000 a year, it is reassuringly expensive; it's far away from city fleshpots, and, as a Jesuit foundation, a byword for discipline. You can also understand why he might now not be very pleased.
So I worry about what awaits Indira when she returns to Kazakhstan, a Central Asian country about as far from the sun-drenched freedoms of the Caribbean as you can imagine. But another question still nags about this escapade. Forget school security: is it legal for a pair of minors to buy air tickets with a credit card and take a long-haul flight from a major UK airport by themselves? If it's that simple, I would bet that a good many will try to follow where they have led.
Reuse content