Five years ago today I was sitting at my desk in Port-au-Prince, Haiti's capital, having a Skype conversation with my colleague in Jamaica. It was a day like any other. But then, then without warning, I felt a tremor. It lasted around 35 seconds, but felt much longer. Half a minute: that's all it took.
The office had collapsed around me and my colleagues. I was trapped in the rubble for around two hours, shouting for help, not knowing if I would be rescued. Some young people from the neighbourhood heard me and dug through the debris to pull me out, risking their lives to save me. For that, I am incredibly grateful.
Christian Aid's office was one of nearly 300,000 buildings destroyed or badly damaged on January 12, 2010, by the worst earthquake in my country's living memory. The 7.0 magnitude quake killed an estimated 220,000 people, left over 300,000 injured and levelled many areas of Port-au-Prince, including 60 per cent of our hospitals and 80 per cent of our schools.
Some 1.5 million people were made homeless in less than a minute, their already fragile homes rendered inhabitable. That's the combined populations of Glasgow, Liverpool and Edinburgh displaced and forced to live in temporary shelters and tents. It was a tragedy of unprecedented proportions.
The situation was exacerbated by the fact that Haiti was already the poorest country in the western hemisphere, suffering from endemic poverty, weak infrastructure, poorly built homes and political instability. The task of reconstruction was not easy, even for agencies like Christian Aid with a long-standing presence in Haiti.
And yet, we have seen some progress over the past five years. New homes, better roads, free schooling, to name but a few. Tourism – which could unlock the doors to greater development – is on the rise. The number of internally displaced people living in camps has dropped from 1.5 million to an estimated 85,000.
I am incredibly proud that Christian Aid has been part of this story. Working through local partner organisations, we've reached over 180,000 people – not only with immediate humanitarian aid, but also  long-term development support, such as building earthquake-resistant houses, helping farmers earn a living once again and teaching communities how to reduce their vulnerability to natural disasters.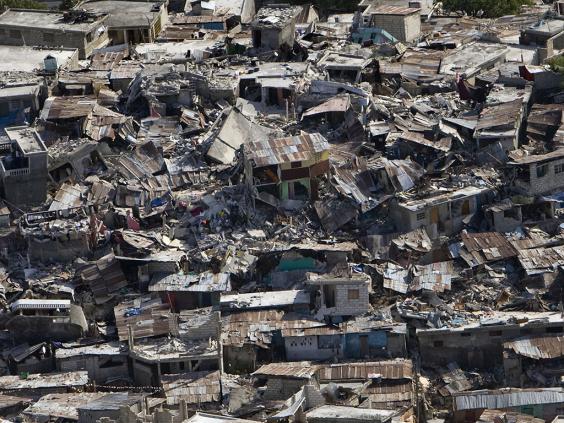 Nevertheless, the sheer scale of the disaster means our work is not yet done, and will not be for some time. Many Haitians still live in a desperate situation, without access to essential services, permanent housing or land rights. We urgently need long-term, sustainable and humane solutions to the housing situation, as Amnesty reported last week. Sufficient investment in energy, water and sanitation, reforestation, education, climate change adaptation and agriculture is still lacking.
That's why, five years on Haiti still needs sustained support from the international community, at a time when funding for long-term development is dwindling and foreign NGOs have been winding down their relief work.
Critically, Haitians must be given space to participate in decisions over our own long-term development. A major obstacle to the initial relief effort was the lack of coordination on the ground between foreign agencies and the Haitian people. We were largely excluded from key decisions over how aid money was spent. The world must begin to trust us to build our own country.
In tandem with this, good governance, transparency and accountability is desperately needed from our leadership. As I write, Haiti faces an uncertain political future. Things here are tense, and recent weeks have seen nationwide protests over the long-delayed elections together with the Prime Minister's resignation.
With a tentative political agreement signed a fortnight ago to extend parliament's mandate and the election deadline (January 12), there is some hope we can be pulled from the brink of political crisis. But if the situation is not resolved soon we risk losing many of the achievements of the last five years. Our leaders must break the political impasse and find the best solution for the Haitian people.
Against the odds, I remain optimistic about our future. Haitians have shown enormous courage in pulling their lives back together, not just with foreign aid but also with financial help from the Haitian diaspora worldwide.
Here in Haiti, we are not complacent. We know the scale of the task ahead. With continued support I am confident that we can rise from the ruins and, one day, stand on our own two feet.
Prospery Raymond is the Haiti Country Manager for the international development charity, Christian Aid. He lives in Port-au-Prince with his family
Reuse content