It's strange how 13 years after we went to war on Afghanistan, the actual reasons for doing so seem to be almost entirely obscured. 'Leaving the country in better shape' seems a favourite – if anodyne – description, or perhaps making it 'more stable'. Beyond that, we have assisting in nation-building, tackling the drugs trade, improving gender equality… the list of constructive and humanitarian-sounding tasks is a long one.
Does anyone now remember or refer to the actually stated reason – the War on Terror – declared by President Bush in the days following the 9/11 attacks on the United States?
The war on Afghanistan was its first manifestation, inflicted on the people of Afghanistan by Bush and Blair on 7 October 2001. This was Operation Enduring Freedom – launched on the grounds that the Taliban government refused to hand over Osama bin Laden and other al-Qaeda operatives.
The stated goal was to continue the War on Terror until every terrorist group had been found, stopped and defeated. Whilst this goal may have found emotional resonance with many shocked by the terrible attacks on innocent civilians there were also many at the time who argued against the collective punishment of an entire people because of the actions of a foreign-originated terrorist cell. Tens of thousands of innocent civilians have died as a result.
But the arguments made for alternative courses of action to bring the criminals to book fell on deaf ears. And though targeted alternatives were derided at the time, Bin Laden was eventually killed in Pakistan in 2011 by a team of US navy seals.
This was not so surprising as it turned out, for as time passed it became clear that the US had actually decided to overthrow the Taliban before the 9/11 attacks and spoke of regime change in other countries too.
Camp Bastion: Last soldiers leave military base
Camp Bastion: Last soldiers leave military base
1/9 Camp Bastion

The lowering of the Union (front) and US (rear, obscured) flags during a handover ceremony at Camp Bastion-Leatherneck complex at Lashkar Gah in Helmand province

SERGEANT OBI IGBO/AFP/Getty

2/9 Camp Bastion

The last Union flag of Great Britain flying above the skies of Helmand Province, Afghanistan, is lowered by Captain Matthew Clark, left, and Warrant Officer 1 John Lilley

Ben Birchall/PA Wire

3/9 Camp Bastion

Temporary tented accommodation at Camp Bastion, as troops prepare to withdraw from the camp in Helmand Province, Afghanistan

Ben Birchall/PA Wire

4/9 Camp Bastion

File photo dated 25/10/14 of deserted roads and compounds at Camp Bastion, Helmand Province, Afghanistan, as the British base becomes devoid of soldiers

Ben Birchall/PA

5/9 Camp Bastion

A U.S. Marine is pictured before withdrawal from the base, at Camp Bastion in Helmand province

Omar Sobhani/REUTERS

6/9 Camp Bastion

Soldiers attending the ceremony of the British, US and NATO flags being lowered at the Camp Bastion-Leatherneck military camp complex for the last time in Afghanistan

EPA

7/9 Camp Bastion

Deserted roads and compounds at Camp Bastion, Helmand Province, Afghanistan, as the British base becomes devoid of soldiers

Ben Birchall/PA Wire

8/9 Camp Bastion

Corporal Thomas Warner 23, from Port Talbot of 1st The Queen's Dragoon Guards, sits inside temporary tented accommodation at Camp Bastion

Ben Birchall/PA Wire

9/9 Camp Bastion

A British officer walking on deserted ground inside Camp Bastion, Helmand Province, Afghanistan, on the exact spot where the very first tents were erected in 2006 as the base was built

Ben Birchall/PA
The tragedy of 9/11 was an opportunity to bring about the change in the region that the Bush administration sought. In that context, the illegal war on Iraq – following hard on the heels of Afghanistan – was made all of a piece in Bush and Blair's War on Terror narrative.
Many at the time rightly observed that there was no al-Qaeda in Iraq but that war would be the midwife of terrorism there. Over a decade on, that couldn't be clearer as the region is engulfed in catastrophic and brutal conflict and attendant humanitarian crises. The shocking and seemingly unstoppable events of the last months are indeed part of the legacy of that opportunist and disastrous 'War on Terror'.
The rebranding began some years ago. In April 2007, the British government announced that it was no longer using the term 'War on Terror'. President Obama abandoned it in favour of 'Overseas Contingency Operation' as he sought to distance himself from the most extreme and unpopular policies of his predecessor, without making significant changes to the policy direction.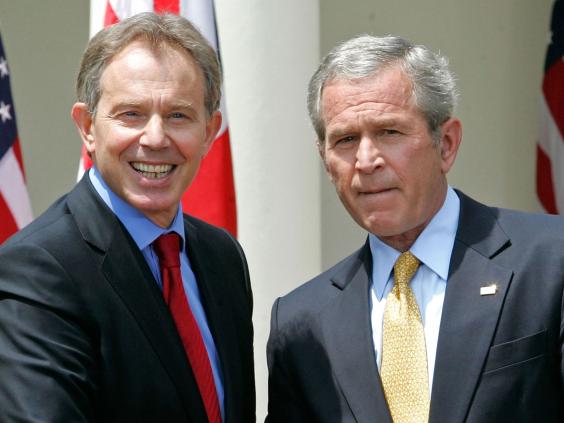 In Britain, the shift was not surprising given the shattering impact of popular opposition to Blair's War on Terror at home. The consequences of Blair's lies continue to reverberate around the corridors of power and they have reshaped the politics and practice of military intervention for a generation.
In the meantime, the way we talk about our military intervention in Afghanistan has gone through a number of rationalisations. But whether we were supposed to be there to counter terrorism, to help the Afghans build a new society and democratic infrastructure, to support and advance the rights and opportunities of women and girls, or to tackle the drugs trade as it re-emerged post-Taliban, the reality is, we weren't equipped for any of it and we just shouldn't have been there.
In the thirteen years of our military involvement in Afghanistan, the sorry truth is that tens of thousands of innocent civilians were killed and the lives of 453 British troops were lost. Opium production is at record levels, providing around 90% of global supply. There has indeed been a rise in women's rights – around 3 million girls now attend school – but these advances have been offset by a rise in gender specific violence including rape and acid attacks. These results have cost us anything between £20-£40 billion.
Whatever the narrative, however you describe it, the story of British intervention in Afghanistan is a tragedy – for our troops whose lives have been lost needlessly and for the people of Afghanistan who once again have to start rebuilding their lives. Let us hope that the lessons will be learned.
Reuse content