Some years ago, when I was a political researcher at the BBC, I was given the task I had been dreading for quite a while; booking Ian Paisley for an appearance on our politics show.
I had been brought up to believe that he was one of the worst bigots in the world, the heir to the Black and Tans (whose wickedness my nan had told me about), thoroughly mad and bad.
As I started to watch the TV news and read newspapers during the worst of the Troubles in the 1970s, there was ample evidence for the O'Grady household's belief that he was a monster. From the Pope down, he hated Catholics, especially Irish ones. We hated him back.
He fought for the sectarian, gerrymandered old Stormont regime, under which no Catholic could get a decent job and certainly not one in government: apartheid by religion rather than race (though the first was a handy proxy for the second).
Paisley was an Orangeman, of an especially deep hue, and our friends in the North of Ireland told us of the petty cruelties and minor acts of terrorism those thugs in sashes and bowler hats used to go in for when marching through Catholic areas, before the real Troubles started. Tearing front doors out was apparently a favourite hobby on 12 July, Orangeman's Day. I heard of people refused service in shops on the Shankill Road because they had a detectable "southern" accent.
In pictures: Ian Paisley's most caustic quotes
In pictures: Ian Paisley's most caustic quotes
1/15 On Pope John Paul II:

"He is the scarlet woman of Rome."

2/15 On Catholics:

"They breed like rabbits and multiply like vermin."

3/15 On negotiating with Sinn Féin:

"I am not going to sit down with bloodthirsty monsters who have been killing and terrifying my people."

4/15 On line dancing:

"Line dancing is as sinful as any other type of dancing, with its sexual gestures and touching. It is an incitement to lust."

5/15 On alcohol:

"The devil's buttermilk"

6/15 On why he chose to eat boiled eggs at a meeting in London:

"Because it would be hard for you to poison them."

7/15 On Gerry Adams:

"I will never sit down with Gerry Adams ... he'd sit with anyone. He'd sit down with the devil. In fact, Adams does sit down with the devil."

8/15 On the gay community:

"Save Ulster from sodomy!"

9/15 His address to Pope John Paul II:

"I denounce you, Anti-Christ! I refuse you as Christ's enemy and Antichrist with all your false doctrine."

10/15 His request to reporters who he suspected had been drinking:

"Let me smell your breath first, son."

11/15 On the Queen:

"She is now a parrot of the Labour government."

12/15 On the Queen Mother:

"Her visit to the Vatican was spiritual fornication and adultery with the Antichrist."

13/15 On the European Union:

"A beast ridden by the harlot Catholic church."

14/15 On the Roman Catholic church:

"Seed of the serpent … Her clothes reek of the brimstone of the pit. Her words and opinions label her the parrot of Beelzebub, her father."

15/15 To his rival Ulster Unionist leader of the 1980s, Lord Molyneaux:

"You are a Judas Iscariot."
I can also recall picking up a very early biography of the man in a jumble sale (held at a Baptist hall – I was no bigot) and being simultaneously fascinated and repelled by this strange big man in his strange little country.
He'd started his very own political party – "Protestant Unionist" suggested a certain narrowness of outlook – as well as his own Orange order and his own church. I learned how Paisley was once arrested for throwing snowballs at an Irish premier who had the audacity to set foot in Ulster. Only Idi Amin of Uganda blended malevolence and clowning in the same way.     
So 20 years later I had to call the monster up in his office in the Commons. Unfortunately his secretary didn't answer. It was him.
When I announced my name, I was amazed by the massive charm I was confronted with. He got chatty. "What part of Ireland… Co Mayo?... what a beautiful place."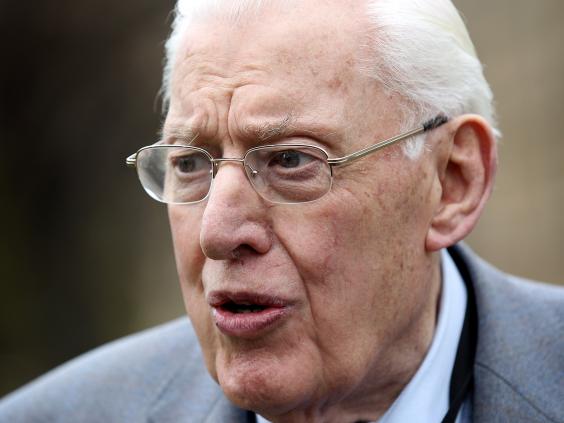 He was nice. He agreed to come on the telly. His politics still appalled me, and I wondered whether he had actually ever been to Co Mayo (his personal safety could not be guaranteed I imagine even if they put the entire Gardaí on duty), but it gave me some pause for thought.
It took many more years for him to use the authority he had built up in the Unionist community for the good of Ireland, north and south. I still don't understand why he did what he did, getting into bed with the IRA, but without Paisley there would have been no peace in Ireland. In that sense he was a great statesman, and followed the "Nixon goes to China" model – only he could get away with it because of his impeccable credentials.
Like Mandela and FW de Klerk, like Gorbachev, like Gerry Adams and Martin McGuinness, he led his people to a better place.
John Hume, Albert Reynolds, John Major, Gerry Adams, Mo Mowlam, Tony Blair – all made the peace process, but without Paisley it would not have happened.
Every previous Unionist leader – I think of Captain O'Neill, Brian Faulkner, David Trimble – who had tried for a political settlement had been outflanked by Paisley, and destroyed by him. Paisley himself could never be outflanked. In the end, he might even have been welcome in Castlebar, Co Mayo.
Reuse content