If ever there was a miserably clumping, clodhopping metaphor for the decline of newspapers – and I do hope I'm not giving away any market sensitive trade secrets by mentioning that things haven't been so good for us for a while – this week's shock sale of the Washington Post is surely it. In 1974, the paper legendarily brought down Richard M Nixon with the dogged, unswerving brilliance of Bob Woodward and Carl Bernstein's investigative journalism. Almost four decades on, not a single reporter on that great title had the vaguest clue it was about to be purchased, for $250m, by the Amazon founder Jeff Bezos. The long and winding road from Deep Throat to Deep Pocket has not been smooth.
Yet this is not, the Lord be praised, another whingeful, self-pitying article about the slow death from blood loss of this industry. We have all read, and in some cases written, enough of those that each fresh one has the flavour of a haiku. Far from it, the musical accompaniment to this piece about the future of newspapers is not the exquisitely doleful strains of Fauré's Requiem, for once. It is the cheery disco beat of Gloria Gaynor's "I Will Survive" (or more accurately, We May Survive).
The flame of hope flickers anew on the basis that Mr Bezos's decision to spend almost one percent of his personal wealth (according to the Post, his net worth is $25.2bn) may represent a luscious oasis in this brutally arid trek through the Atacama of despair. The hope is nebulous, and the oasis may prove a mirage. Mr Bezos, who has bought the Post with his own cash rather than Amazon's, appears to have no specific idea what he wants to do with it. "This will be uncharted terrain," he said in a statement to a staff that will not, he insists, be reduced. "There is no map, and charting a path ahead will not be easy. We will need to invent, which means we will need to experiment." Nebulous, as I said. But as Alan Bennett put it when asked during a period of prolonged celibacy if he was straight or gay, you don't ask a man dying of thirst in the desert whether he wants Evian or Perrier. You grab at any potential lifeline, as he was too elegant to spell out, and suck every drop of juice out of it.
Perhaps this unfamiliar burst of optimism is nothing more than naive wishful thinking. For a decade, a host of very clever people here, in the States and elsewhere, have been ransacking their brains until they scream for the Nurofen Plus for a business model to enable newspapers to survive in the online age. And thus far, to put it charitably, without tremendous success.
The internet, as hardly needs stating, is the most ferocious catalyst for cultural change since the invention of the printing press, if not in all of human history. Thanks primarily to Amazon and the Kindle which Mr Bezos invented, it has wrought monstrous damage on publishing. This digital tsunami has swept aside CDs and DVDs, virtually washing away the likes of HMV, and brought all manner of other traditional retailers to their knees: only this week, a government minister called for high-street shops, wrecked by their online rivals, to be transformed into residential dwellings. And it has dealt such destruction to print media that, six years after Rupert Murdoch paid $5bn for the Wall Street Journal – six years in which the Washington Post's revenues and circulation have both declined by 42 per cent – Mr Bezos could snap up another of the planet's most illustrious titles for a pitiful fraction of that amount.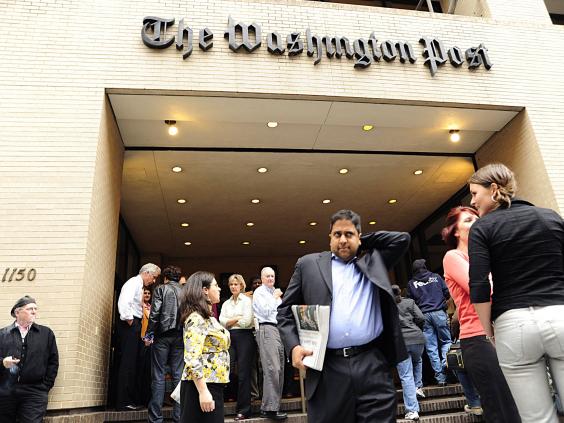 This is almost a crude a metaphor as the one in the opening paragraph, but his purchase  of the Post brings to mind the driver of a state-of-the-art juggernaut first mowing down a woolly mammoth that had strayed onto a Seattle  freeway; and then thinking better of it,  reversing, leaping from his cab, and giving it the kiss of life.
If so, one among so many mysteries about this deal is his motivation for wanting to save the creature from extinction. From what little is known about Jeff Bezos (who happens to be a quite uncanny doppleganger for the Tottenham Hotspur chairman Daniel Levy; please God his next acquisition is Spurs), egomania seems as unlikely an explanation as any Murdochian urge to use the paper to manipulate politicians to do his will, or to promote his other commercial interests. He seems a reticent, modest kind of guy, and anything but the type to treat himself, a few months short of his 50th birthday, to a flashy new toy to alleviate the pangs of a mid-life crisis. He insists he has no intention of interfering with the content, promising to delegate the day to day stuff to the current management.
Part of it could be that, as a Seattle liberal who has donated heavily to the campaign for same-sex marriage, he venerates the Post for removing the malignant mass that was Nixon from the American body politic; and appreciates that, in as flawed and inherently corrupt a democratic system as the United States', and indeed our own, the central importance of well-funded  investigative reporting, of the sort so gravely imperilled during this endless transition from print to digital, cannot be overstated.
If that torrent of uninformed speculation seems absurdly to idealise an internet titan far away of whom we know little, whose intentions as a newspaper proprietor are unclear even to himself, so be it. Straw-clutching has been the name of this desperate game for a very long time, and the plain fact that Bezos sees a newspaper as a worthy investment looks like one hell of a miraculous straw. All one can state with a shred of confidence is that the man regarded by Warren Buffet as the best CEO in America is an  innovator of genius; that if anyone alive can  develop a viable business model, and illuminate a path enshrouded in darkness for the rest of us, it is him; and that as one revered (and sometimes scorned by Wall Street) for a preference for ultra long-term planning over short-term profiteering – bizarrely, Amazon actually lost $39bn last year – he will not become impatient and jump ship even if it takes an eon.
Anyone who loves and values newspapers, and comprehends that for all their failings, conceits and occasional misdemeanours, they are essential defenders of democracy, should rejoice at this startling turn of events. God alone knows where Jeff Bezos will take the Washington Post, let alone whether he can steer an entire ailing industry clear of the iceberg.
But if so determinedly futuristic a thinker – a man whose other companies include one devoted to developing a space vehicle, and another working on a rocket launch site in Texas – believes that there is life in this old dinosaur yet, that is more than enough excuse to dream, if not of a renaissance, of survival at least.