One obvious solution to the problems with HSBC must be that they have to spend five years advising the poor on how to shoplift and fiddle benefits, to even things up a bit.
For five years they advised their wealthier clients on how to fiddle tax, and no one in the Government seems all that bothered by it. That can only be because they can't think how to deal with them. So instead of mucking about by suggesting we save on energy bills by switching tariffs, HSBC should be made to send experts round to teach us how to fiddle the meters.
A clean-shaven man with an HSBC leather folder should knock on the door and poke about with a screwdriver in the cupboard under the stairs, until all our electricity is charged to a nearby branch of Sainsbury's.
Then HSBC should be instructed to invite the unemployed to its office in Switzerland, and meet its teams of specialists for advice on how to claim disability allowance and spend it on a skiing trip.
Once bank managers have been trained in their new role, meetings with their clients would become so rewarding. A young aspiring couple could sit in the office and say "We've just started up in business and thought we'd seek your advice as we're hoping to expand by burgling all our neighbours".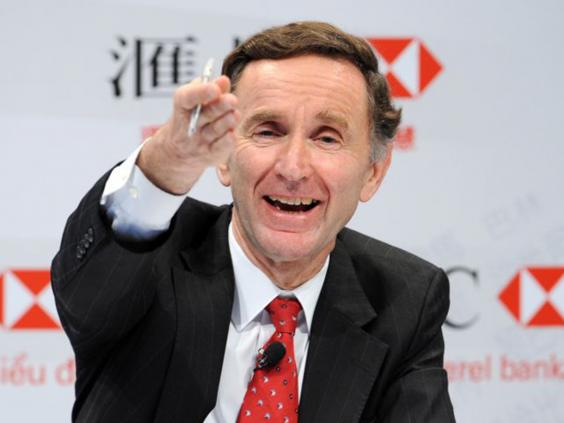 The manager would provide plans of the targeted houses, and hand them a brochure called "A little local knowledge goes a long way", so the couple could enter their venture with the confidence that only a reliable and experienced bank manager can provide.
Because entrepreneurial spirit should be encouraged rather than stifled by red tape dressed otherwise known as "the law". Eventually, in each local branch, there should be two little chains on the counter, one with a pen and the other with a spliff, for customers to use while they're waiting.
This would represent a considerable turn against drug use, compared to the practice they've been involved in, of allowing so much money associated with the drug trade to be moved that they were fined $1.9bn.
In its defence a bank has a responsibility to its shareholders, as well as a responsibility not to assist organised crime. So if the company is likely to increase its dividend by allowing the laundering of billions of pounds made from the sale of class A drugs, it has a moral and ethical duty to see it is laundered it as efficiently as possible, and any sensible person who's been gunned down by a hit man as a result will understand the bank's priorities.
The Government don't seem too bothered by any of the revelations, or that they made Stephen Green, chairman of the bank from the time it was offering advice on fiddling millions, a Lord and their trade minister. And many of those who are usually the most eager to insist we must be tough on crime have seemed strangely reticent about screaming for the suspected criminals at HSBC to be locked up and made to eat earwigs.
The main argument of the Conservatives and their supporters appears to be that we all fiddle tax so what's the fuss, and the Tory's former treasurer Lord Fink said "everyone" does it.
Various examples were produced to make this case, such as how opening an ISA account is a way of avoiding tax. And this is true, in as much as it's an account that offers interest at a low rate of tax. Similarly, buying a box of eggs rather than spending the money on a flight to Egypt is a way of avoiding both VAT and air tax.
Some of us might pay a window cleaner cash in hand, perhaps aware they won't reveal this to save VAT, whereas others of us shovel 30 billion quid into a secret account in the Bahamas in our wife's name and spend the tax we've saved on a solid gold hovercraft. So we're all exactly the same.
Even so, the Conservative Party should have been more triumphant about abandoning its traditional attitude towards the law and adopting this anarchist approach. George Osborne should have given a press conference in a torn black t-shirt, and answered questions about Stephen Green by saying, "Look, dude – what's the law right, it's just like a bunch of made-up stuff. Who are they to say what we can and can't do, like, don't go here and don't burn down that, they're just controlling you man".
Instead they must be saving up this announcement until nearer the election. Maybe David Cameron will announce during the TV debates that he now favours a relaxed system of law, in which you just obey the ones you fancy. Instead of the relentless rigmarole of lawyers and evidence and stuff like that, the criminal process will become a voluntary scheme, and you'll choose whether or not you go to jail for swindling the country out of billions, in much the same way students decide whether to go to Somalia for a year to dig a well.
Then David will be joined by some anarchist band such as The Exploited, and Theresa May will appear with a spider's web tattooed on her face and they'll all scream, "The law is shit all law is shit, Stephen Green is INN-O-CENT, can't pay, won't pay I'm not paying!" while David Dimbleby takes the next question from the audience.
Reuse content