Politicians are on holiday but, for the rest of us, getting away is proving a nightmare. Calais has become a war zone, a combination of striking ferry workers and increasingly bold migrants seeking entry to the UK by any means. Even if the ferry dispute is settled, the number of migrants heading to the town from southern Europe is unstoppable.
The Government has finally issued a travel warning, telling Brits to find another route to and from France. All well and good, but what about the impact on Kent of months of ministerial dithering? The county has become a lorry park, with thousands of vehicles blocking miles of a major motorway. Local inhabitants are at their wits' end, kept awake by engine noise and persistent hooting.
Not one cabinet minister has visited the M20 to see the disaster or commiserate with residents. Lorries full of fresh produce bound for Europe wait in line for days. Families with small children and no food have been shunted off the motorway to Dover down side roads, where they languish in queues for hours without toilets or water.
On the other side of the Channel, hundreds of migrants storm the fences of the tunnel nightly, held back by just 200 security guards and, even when things really get bad, fewer than 100 riot police. Many of the lorries stranded in Calais have to discard their goods if migrants are found on board, because the goods could be contaminated. David Cameron ought to have abandoned his trip to drum up trade in the Far East to see this catastrophe for himself. It's cost the haulage industry a whopping £11m over the past five weeks, £3.75m last week alone.
Operation Stack, which closes the M20 to cars and holds stationary lorries on the Dover-bound carriageway, has been in operation 15 times in five weeks. Night after night I've watched this saga leading the local news, but it's taken the rest of the UK a long time to wake up to the scale of the problem. Maybe a few media types and politicos had to have a frustrating start to their own summer holidays to understand the disruption.
The impact on the Kent economy is disastrous – estimated at £31.5m so far this year. Businesses cannot get their deliveries to the rest of the UK because major routes through Kent are blocked. Restaurants and pubs are losing business because guests are stranded in traffic; sick people can't get to their GP appointments. Highways England has refused to implement a contraflow system, which would keep traffic flowing in both directions, claiming it was "dangerous". The Highways Agency and local councils cannot agree where the lorries should be parked if not on the M20. There's a huge empty airport at Manston but that's not deemed acceptable and it's probably too far away. Ramsgate could be activated as an alternative crossing point, but that remains one of many ideas, with no master plan.
Why are there no British police or troops in Calais? The UK Government must tread carefully. We need the French to allow British customs and immigration officers to operate on their side of the Channel – the only way to stop more immigrants from arriving here. That's why no one in government is openly criticising the French's lacklustre attempts to police the situation. This week, Home Secretary Theresa May promised £7m to beef up security in Calais, but is that new money or an old promise? Either way, it's not enough.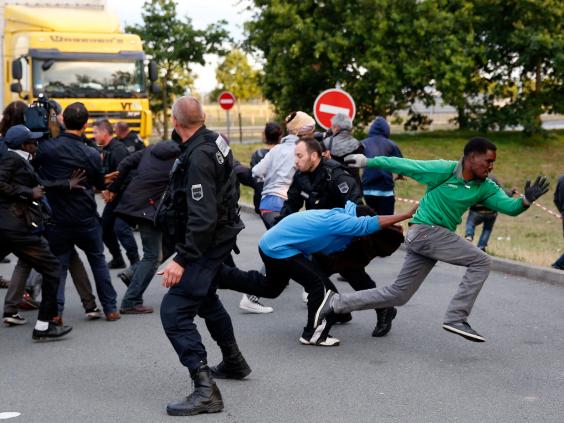 Kent is not a fashionable destination for David Cameron and his chums; they head west, favouring weekends in the Cotswolds and summer breaks in Cornwall. Margate, Ramsgate, Folkestone and Deal are working-class destinations (although French and Italian tourists are discovering their charms), and the Kent countryside is absolutely beautiful at this time of year – providing you can escape the lorries.
Somehow, I suspect that if Operation Stack were happening on the outskirts of Chipping Norton, a solution would have been found pronto. Unfortunately, for Kent residents, this is only the beginning of a long-running disaster movie.
Nothing shifts women's magazines like female flesh 
Is nudity an acceptable form of female empowerment? Where do modern feminists stand on this issue? In the latest Women's Health magazine, three of our top sportswomen are photographed starkers – modern pentathlete, Olympic silver medallist and world champion Samantha Murray, hammer thrower Sophie Hitchon and swimmer Fran Halsall.
The women say their bodies are in fantastic shape because of their training, which hopefully will encourage young women to realise that attractiveness isn't allied to weight loss as not one of them has that much sought-after gap at the top of their thighs.
But even dear old Country Life has decided that nothing can shift magazines like tasteful semi-nudity. Its latest issue features a radical new look on the traditional "lady of the month" page: pig breeder Dorothy Scott is photographed wearing wellies and a barely visible frock, clutching Ginger the Gloucestershire Old Spot. Just a few weeks ago, a bevy of actresses and singers took their clothes off to promote sustainable fishing, although who knows what impact a naked woman clutching a cod has on the activities of trawlermen in the North Sea.
Can we blame Calendar Girls for starting this craze? I'm beginning to find it rather creepy. I'm surprised the female athletes were so gullible. Their bare flesh is simply a marketing tool for a magazine in an overcrowded market.
Another stumble along the road to a sensible drugs policy
Last week I wrote about Durham police force's enlightened decision not to prosecute citizens caught growing cannabis for personal use. I asked if this was the beginning of a realistic re-evaluation of our antiquated drug laws. Now, three more police forces – Derbyshire, Dorset and Surrey – have followed suit, and more are likely to do so in the coming months.
Police and the Government seem to be at odds over the need to prosecute small-scale drug users. Matters have come to a head because each force is being asked to set out its priorities in order to allocate reduced budgets. Police and crime commissioners are leading this relaxed approach to drugs, many of whom see criminalising anyone caught with a small personal stash as a waste of time and money. Surrey's PCC has stated that "on the list of priorities, cannabis moves a long way down the chain".
The Government, seemingly intent on creating more drug offences, is planning to ban all legal highs. Something tells me the police will not be adding this matter to their to-do list soon. I wish people would stop writing that one drug leads to another. They did it about ecstasy and now they are saying the same rubbish about skunk.
Some things are best left in the past – and untraceable
There's a campaign to enable young people to wipe their online record clean at the age of 18, and it's supported by charities, and the Government. It's a terrific idea. These days social media means you can embarrass yourself at the touch of a button without a moment to compose your thoughts. If only I could eradicate all the home movies and cringe-making pictures that start with my school photos and extend right through my forties. It would be a good idea if whole decades of my past (ghastly hair and men) could be airbrushed off the internet.
Reuse content