It's tricky knowing what to do with the kids at the weekend. Petting zoo? Soft play? Well, this Saturday the Ferrers are trying something different – we're going to see some real-life Nazis. "Yes, sweetheart. These men are silly!" I imagine I'll have to explain – that and "No, darling. I don't think their arms are stuck in that position."
It seems like something from a bygone age but, nonetheless, white supremacists will stage an "anti-Jewification" rally on the Jewish Sabbath in central London, after police barred them from holding it in Golders Green – the heart of Jewish London.
Their tempting itinerary includes a talk on the "Holohoax", the tearing of Israeli flags and the burning of religious Jewish books. All that's missing is face painting and nappy changing facilities.
A promotional flier, headlined "We're going to have an absolute gas!", features a bottle of pesticide spraying a Der Stürmer Jew hiding behind weeds in Auschwitz. No expense spared with the evil iconography.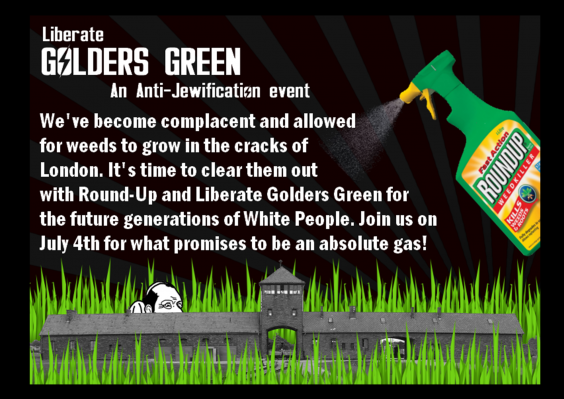 Needless to say, the good people of London are incensed. More than 12,000 have signed a petition to Theresa May urging her to ban it outright. David Cameron has warned that any demonstrators involved in anti-Semitic hostility will face the "full force of the law", but police are powerless to prevent a static demonstration unless it turns into a full-on march – which it may well do, as marching is one thing Nazis are really good at.
I'll be using the occasion to give the kids a beginner's guide to free speech. "Yes darling, even the worst people in the whole wide world are allowed to say really mean things as long as there's no biting or kicking."
I don't seem to be the only Jewish Londoner planning to attend. Saturday's rally is fast turning into the social event of the season for the capital's Jewish community. When it was originally announced, synagogues braced themselves for their lowest Shabbat attendance figures in years. I had a family lunch booked, but had to make sure it didn't clash with the scheduled Holocaust denial and book burning.
In pictures: Extremists in the EU
In pictures: Extremists in the EU
1/6 France: Marine le Pen

Marine Le Pen, 45, took over the Front National (FN), the party that her father founded, in 2011. He himself described her as "a big, healthy, blonde girl, an ideal physical specimen." She claims to have cleaned up the FN and succeeded in pushing her anti-European, anti-euro and anti-immigration agenda into the EU political mainstream

AFP

2/6 Germany: Udo Voigt

He will be the first German neo-Nazi to enter the European Parliament. The former army officer, born in 1952, was jailed in 1995 for inciting racial hatred. Formerly the leader of the far right National Democratic Party (NPD), Voigt was convicted in 2009 after he was caught handing out flyers at the World Cup which argued that a black player was not entitled to play for Germany, whose national team – the literature argued – should be made up only of white players.

AFP

3/6 Denmark: Morten Messerschmidt

Leader of the Danish People's Party, which won 27 per cent of the vote. His party has rammed 20 laws relating to immigrants and asylum-seekers through the Danish parliament, giving it the most anti-foreigner legislation in Europe. His party calls Islam "a fascist ideology" and rails against "East European criminal gangs". One party strategist said "blood ties" to Denmark should be required for citizenship, though the statement was quickly retracted.

EPA

4/6 Hungary: Krisztina Morvai

A senior member of Jobbik, the anti-Semitic and anti-Roma party on Hungary's far right wing. In 2009, she attracted international publicity after declaring: "So-called proud Hungarian Jews should go back to playing with their little circumcised dicks." In 2009, she cancelled an interview with a British newspaper, declaring in tones of outrage: "I am a decent politician and the mother of three children, yet you in the west keep portraying me as a Nazi and a Fascist."

AP

5/6 Italy: Mario Borghezio

MEP for Italy's notoriously racist Northern League, he has relentlessly attacked the nation's first black cabinet minister, Cecile Kyenge, minister for integration, claiming she would import 'tribal traditions' into the Italian government. Other elected members in the party called her "an orang-utan" and suggested that someone should rape her, so she would understand how the victims of Somali rapists felt. He attracted attention by lobbying for the creation of an EU archive of UFO sightings.

Getty

6/6 Greece: Eleftherios Synadinos

Fabulously mustachioed retired lieutenant-general in the Greek army, he was one of Golden Dawn's top candidates in the European elections, at which the overtly neo-Nazi party obtained more than 9 per cent of the vote. With its black-shirted assault squads, the Hitler photos and the party's swastika-inspired logo, it has been accused of being a criminal organisation. Its website declares: "We aren't the quiet birds of peace time, we are birds of the storm and the hurricane."
Once the event goes ahead, it's likely that we'll outnumber the Nazis, which is nice. More than 2,500 people have RSVP'd on the Campaign Against Antisemitism's Facebook page. And hundreds more have backed the #GoldersGreenTogether campaign, which was formed by Jewish organisations, local politicians and anti-fascist group Hope Not Hate.
This spiteful shindig will still take place, although now it will be in a far less provocative place, which means that Golders Green can breathe a sigh of relief. It hadn't witnessed such commotion since Carmelli's bakery ran out of bagels.
What's important to note is how the reaction among London's Jews has been a mix of curiosity and contempt; not fear. While support for far-right and explicitly racist nationalist parties has surged across Europe, we Brits tend to baulk at bigotry. Witness the recent political annihilation of the BNP, which garnered a measly 1,667 votes across eight constituencies in May's general election.
The real threat to British Jews comes from fundamentalists, not fascists. So showing up in our thousands to watch Hitler fans stomp around in their shiny boots and blinkers would have been like using a javelin to lance a boil.
Now the circus has been moved on, there's a chance it'll end up being a bit of a Stormtrooper in a teacup. Maybe they won't even show up at all. If they do they'll be overwhelmingly outnumbered. I'll still swing by with the kids to make my voice heard. It's either that or Legoland.
Reuse content