Israel goes to the polls tomorrow. Earlier this month, the current Prime Minister of the only nuclear weapons state in the Middle East warned the US Congress that Israel faces an existential threat if Iran too gets the bomb.
Britain, the US and our partners are negotiating with Iran to prevent that from happening. As Roger Cohen commented in The New York Times, "One word did not appear in Netanyahu's speech: Palestine. The statelessness of the Palestinians is the real long-term threat to Israel as a Jewish and democratic state. Iran has often been a cleverly manipulated distraction from this fact".
Israelis should not vote in another coalition which supports the illegal Israeli settler enterprise in the West Bank and East Jerusalem. How Israelis vote, and how we vote on 7 May, will define the prospects for two states living side by side in peace in the Holy Land.
How Israelis vote matters deeply to them, to the Palestinians, and to us. I was in Jerusalem for Israel's last election in January 2013. The Israel/Palestine conflict was low down voters' list of concerns. They elected the most pro-settler coalition that Israel has seen — one that prolonged the blockade of Gaza (now in its 8th year) and accelerated illegal settlement expansion, including Givat Hamatos, which will cut off Arab East Jerusalem from Bethlehem.
Last year saw a 40 per cent increase in settlement house-building starts — mostly in far-flung or even Jordan Valley settlements, to prevent a contiguous Palestinian state. There are now over 560,000 settlers in East Jerusalem and the West Bank – 10 per cent of Israel's voters. The Israeli right, including PM Netanyahu's Likud Party, chases those votes: he pledges that as PM, he will maintain all settlements in the next Parliament. That is ominous, and matters to Palestinians. The PLO in Ramallah know that they will only attain an independent state through negotiations: violence is not the way.
Palestinians need a partner for peace on the Israeli side. True, they in turn need to act as a partner for peace —so President Abbas will do well to maintain the present close security cooperation between his West Bank security forces and Israel, despite Israel's provocative withholding of Palestinian tax revenues to punish Palestine for joining the International Criminal Court. "Withholding" is a diplomatic term, meaning "stealing". The Palestinians do need to find a way through the sterile Hamas/Fatah stalemate to recreate one Authority committed to non-violence, for the sake of 1.8m people suffering in Gaza.
Israel's next PM: Herzog's rival candidates
Israel's next PM: Herzog's rival candidates
1/4 Benjamin Netanyahu

Seeking a fourth term, the 65-year-old has made security a main issue. His policy of settlement-building on occupied land has put him at loggerheads with many of Israel's traditional allies. But he is still seen as the person most likely to cobble together a coalition on the right.

AFP/Getty Images

2/4 Tzipi Livni

Sacked by Mr Netanyahu in December after cabinet infighting, Ms Livni, a centrist who served as Justice Minister and chief peace negotiator, seemed destined for the political wilderness until she struck the partnership deal with Isaac Herzog. A leading advocate of a two-state solution with the Palestinians, the 56-year-old has pledged to seek ways to resume peace talks.

AFP/Getty Images

3/4 Yair Lapid

Mr Lapid, 51, was the rising star of Israeli politics in the 2013 election. His centrist Yesh Atid party came second behind Mr Netanyahu's Likud. As a result, Mr Netanyahu appointed him Finance Minister. Fired amid the government squabbling in December, Mr Lapid is a potential kingmaker, predicted to win 12 seats.

AFP/Getty Images

4/4 Ayman Odeh

The Arab Israeli lawyer heads the Joint Arab List and is gaining momentum. It is the first time Israel's four Arab parties have united and they are predicted to win around 13 seats. Mr Odeh, 40, from Haifa, advocates an Arab-Jewish "alliance of the disadvantaged". He has said his party would not join any government.

AFP/Getty Images
It matters to us, too: this foreign policy issue creates both regional and domestic tensions. Our Government, EU partners and the USA all advocate the two state solution: Israel on 78 per cent of the Holy Land we left in 1948, and Palestine on 22 per cent, comprising the West Bank, East Jerusalem and Gaza. The 78 per cent is Israel before the 1967 War — Green Line Israel.
Israeli settlements and what goes with them eat away that 22 per cent. We have become too used to negotiations without conclusion, while Israel builds on land which it does not own — the Occupied Palestinian Territories, as our Government rightly call them.
While Israel, like any state, has the right to defend herself, this Israeli government acts against international law in its conduct of the 47-year-long Occupation, careless of the consequences. Illegality should have consequences.
Unless Israel changes her settlement policy and ends the Gaza blockade, we will lose the two state outcome and witness another horrible Gaza war, while Israel brings conflict inside what will be "Greater" Israel, with no way out. For our part, the UK tries to live down the accusation of double standards, levelled since the 1917 Balfour Declaration.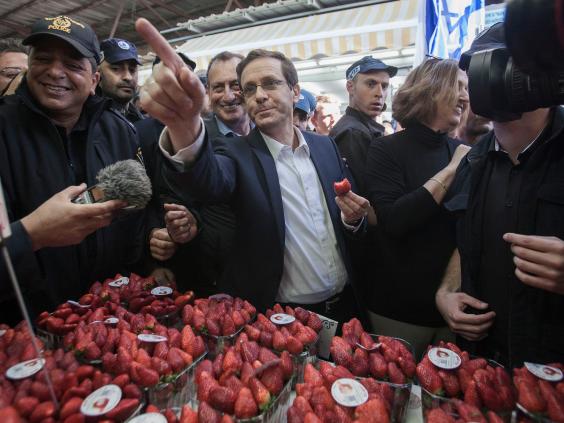 The Christian Churches in Jerusalem call for recognition of the state of Palestine on 1967 lines – to keep the two state solution alive, boost the morale of the many Palestinians who abhor violence but despair of a negotiated, just peace, and to wake up the many Israelis of good will.
Recognition begins to level the ground for the negotiations which must follow – though control on the ground remains with Israel. In the EU, Sweden alone has responded.
To their lasting credit, the Church of Scotland, the Quakers, the Anglican Bishop of Coventry and Catholic Bishop of Clifton advocate recognition of Palestine, as a matter of conscience. UK Government recognition of Palestine – with France, our EU partner and fellow permanent member of the UN Security Council – will bring Ireland and most of our European partners with us. It is the right thing to do, to regain our balance.
It takes nothing away from Israel, which actually belongs to Israel. But our Government is waiting: for better times, for Israel to change, for the truly valiant US Secretary Kerry, for another round of negotiations, for Godot…
The Government we elect on 7 May should do what the US cannot yet do – recognise two states in the Holy Land. UK-­led recognition of Palestine will stimulate genuine negotiations, based on a unanimous UN Security Council resolution setting the framework and timeline for the just, peaceful outcomes we all need.
Thanks to the dynamic British charity Medical Aid for Palestinians, our election candidates are being asked if they agree that:
– Israel, recognised by the UK in 1950, has the right to world-­wide recognition and peaceful coexistence with her neighbours.
– Statehood for Palestine (on 1967 lines) is a right which should be recognised in 2015.
– Illegal settlements in East Jerusalem and the West Bank and the blockade of Gaza are major obstacles to a durable agreement, supported by the UK, based upon the co-existence of two states, Israel and Palestine.
If you agree, please tell your preferred candidate. It matters now, in 2015. The die will be cast by the time Israelis – and we – go to the polls again.
Vincent Fean was British Consul-­General, Jerusalem, 2010-­14. He is a trustee of Medical Aid for Palestinians.
Reuse content