The conviction of Michael Adebolajo and Michael Adebowale for the murder of Lee Rigby outside Woolwich barracks was hardly the most difficult decision placed before a British jury. The only serious defence that appears to have been offered was by Adebolajo, who argued that he was essentially acting in the service of a higher power. There are precious few courts on earth where such a defence would wash. With Adebowale declining to testify, there was nothing for the jury to consider beyond the brutal details of the killing, which amounted to calculated butchery on a busy south-east London street.
Immediately after the guilty verdicts were pronounced, everyone from the Prime Minister, via the Home Secretary and senior officers at the Met, to the Secretary General of the Muslim Council of Britain came out with strikingly concordant messages. This was a murder, they said in their different ways, intended to divide communities, whereas in fact, it had brought all civilised people together. Which indeed it did.
As the trial wended its way through the horrendous evidence of the car used as a weapon and attempted decapitation by meat cleaver, however, there were indications of how ministers and the forces of law and order might be looking to use this extreme case – perhaps out of the best motives, perhaps not – as an object lesson in the dangers of what everyone says they do not really want to call "Islamic" terrorism. A leading light in this effort has been the Home Secretary, Theresa May, who rarely misses an opportunity to speak about the thousands of young people who are, in her view, at risk of "radicalisation".  And one way of identifying such people – a bit late in the day, perhaps, but maybe one of the only ways – is to track those who volunteer to fight in certain foreign wars. They would include the estimated several hundred Britons who have gone to Syria to fight in what increasingly looks like the doomed rebellion against President Assad.
You might think that the dangers of taking up arms in a civil war beyond these shores would be sufficient deterrent in themselves, without having the British authorities on your back as well. The very real risks of being associated in any way with Syria's conflict were underlined this week by the tragic fate of Dr Abbas Khan, who went to Turkey to treat refugees and wounded fighters, then crossed illegally into Syria in the apparent hope of doing the same in Aleppo. He died, or was killed, just a few days before he was to be freed under an agreement brokered by the Respect MP, George Galloway. Let no one say that maverick MPs do not have their uses.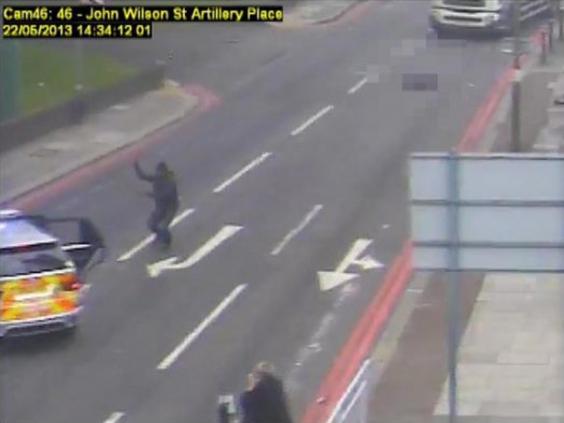 But how logical is it really to draw a direct line connecting the killers of Lee Rigby and those – yes, let's say it, young Muslims – who go to fight in a foreign war. Are they "radicalised" in the sense that May and her fellow politicians mean it, or are they looking for a way to support a cause which they believe to be just? And, if it is the latter, how likely is their zeal – misplaced though it may be – to make them a threat to this country?
The two Michaels who slaughtered Lee Rigby because he was the first identifiable soldier who came along, in his Help the Heroes T-shirt, shared a very particular past. Adebolajo was a mixed-up child of Nigerian immigrant parents, who converted to Islam in his first year at university, when the chaos of the Iraq war and its aftermath was at its height. "It was the Iraq war that affected me the most", he told the jury at the Old Bailey. Why should we disbelieve him?
The direct line that exists here is between a lost youth and a war of questionable legality, for which he held Britain culpable. His quarrel, and that of the easily-led Adebowale, was with Britain. When he went abroad it was to train for the bigger fight, against Britain and the West. If true, reports that British intelligence may have tracked him to Kenya, en route for Somalia, and tried to recruit him at some point cannot have improved his frame of mind.  
If there is any parallel for those Britons volunteering for the anti-Assad fight in Syria, it is, I think, with those, such as George Orwell and others, who went to fight in the Spanish civil war. This was a conflict in which Britain, unlike Hitler's Germany and Mussolini's Italy, did not take sides, but where passions ran high. For those who went to fight, idealism and ideology went hand in hand, but no one in authority ventured to suggest that when they returned they would transfer their experience of combat to Britain.
Nothing excuses or mitigates the crimes of Adebolajo and Adebowale. But to conclude from their extremist actions that young Britons volunteering to fight in Syria are cut from the same ideological cloth risks stoking some of the very tensions they had hoped to inflame.
Child-friendly opera? Is  nothing sacred?
Is nothing to be exclusive to adults any more – except, of course, those harmful websites that the young seem to find easier to access than we do? The Royal Opera House is staging what is called a family-friendly opera, apparently designed to catch 'em when they are young, and keep 'em. The pioneering work, I read, is based on animal poems by Ted Hughes and called How the Whale Became.
Forgive my ill-informed hostility, but I have form in disliking opera made simple. At primary school, we had to choose a book to review. I chose a slender paperback called A Child's Guide to Opera or some such, and took against it at once. It was patronising and proposed days of preparation before The Big Matinee. The upshot was the first negative review I penned.
How the Whale Became may be an absorbing afternoon's entertainment, and anything that keeps the kids occupied in the run-up to Christmas will be a boon to many. But opera for the very young is to my mind a contradiction in terms. Opera is spectacle and grown-up themes, and I don't want five‑year olds demanding an early loo break to spoil it.
With holiday companies, hotels and even airlines starting to offer their wares child-free, with considerable success, it's a pity that the Royal Opera House is trying to make itself child-friendly, American style, with special shows. If it's outreach they want, big-screen transmission is as good as it gets.
Reuse content