For the officials at Kolkata's zoo it is a rescue mission like no other – saving the sight of a Sundarbans tiger.
The middle-aged male was spotted this month at Sajnekhali in the Sundarbans delta, edging closer to human settlements, in poor condition and bearing several injuries. After he was captured by means of a baited cage, forestry staff could tell he had no sight in his right eye.
They suspected a cataract but the only way to know was to place him in a covered cage, lift it onto a truck and bring him to the city. And so they did.
"In most areas where tigers live, the catching of prey is easy," the zoo's director, Kanai Lal Ghosh, said as we sat in his office. "But the Sundarbans is difficult. It is the only place where tigers eat fish. Bengalis like fish, but the tigers have no choice."
At the beginning of the 20th Century India was home to 100,000 tigers. A hundred years later, hunting (now banned), poaching (banned but continuing) and habitat destruction (supposedly banned but also still happening) has reduced the figure to 1,700. Every one is precious.
One of the biggest populations is in the Sundarbans, the remote, shifting delta of the Ganges, Brahmaputra and Meghna rivers. Up to 100 animals are there.
It is said Sundarbans tigers are more aggressive and bad-tempered than others because they are obliged to drink salty water. If villagers enter the jungle they will wear a human mask on the back of their head as means of protection. Locals believe tigers don't like to be stared at.
Mr Ghosh said the animal in question was very weak and malnourished. It had perhaps not fed for 15 days.
How long might a tiger live without eating?
"During our independence struggle against the British, Jatindra Nath Das went on hunger-strike. He lasted 63 days without food before he died," replied Mr Ghosh. "But I don't know how long a tiger can survive."
Belinda Wright, of the Wildlife Protection Society of India, said she had never heard of wild tigers suffering eye problems. She said the report followed earlier incidents of Sundarbans tigers being found with weak hind quarters.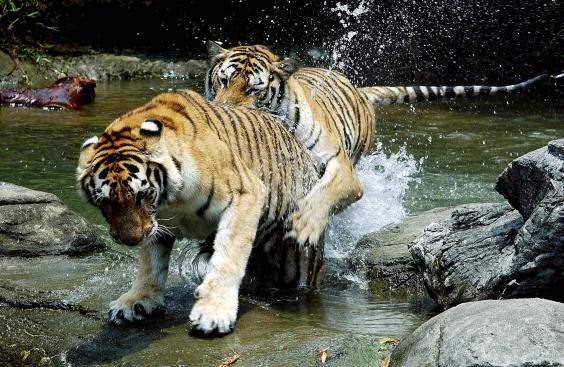 A plaque on Mr Ghosh's wall suggested he was the 22nd director of the establishment officially known as the Alipore Zoological Gardens. The zoo dates back to 1875 but over the years it has attracted controversy.
In the 1970s it was condemned for a breeding programme involving a male tiger and a female lion that produced a so-called tigon. A previous director was suspended amid a furore over the theft of rare Brazilian monkeys.
Mr Ghosh and  Dr DN Banerjee, his chief veterinary officer, said the tiger had been placed on saline drips and was being fed boneless beef to help it recover its strength. Then they would take a look at the eye, hoping to use sprays or injections to bring back its sight. Their wish is for the animal to return to the wild.
"Humans can either have artificial lenses or wear these," said Mr Ghosh, as he slipped off his spectacles. "The tiger cannot."
Mr Ghosh refused a request to visit the sick animal. But on the way out, I stopped off at the zoo's tiger enclosure where an elegant female, Krishna, was pacing the perimeter.
Schoolchildren were taking their turn at a glass viewing window.
When they stopped in place for too long a guard wearing a bright orange turban blew a whistle and hurried them along.
Reuse content