Is marriage more appealing if you're posh? According to Fraser Nelson, editor of The Spectator, the UK now has a "marriage gap".
For centuries, if you planned on having kids, no matter what you earned, you made it legal. Back in 1964, more than 90 per cent of all children in the UK were born within marriage (the same as a century earlier). Now it's less than half. In 2014, little has changed for the rich: nine out of 10 new parents in the top income bracket are married, but if you earn the minimum wage, it's about half.
Marriage is polarising. Rich people are twice as likely to get married now compared with 15 years ago, whereas the less you earn, the less likely you are to marry. A chap from the Centre for Social Justice reckons the cost of weddings puts people off and blamed a benefits system which doesn't reward married couples sufficiently. Many people don't marry because in the Sixties and Seventies, their parents' generation thought it wasn't necessary, that freedom of choice was paramount. Somehow feminism, the right to have multiple sexual partners, along with the cult of Me, eroded the notion of sticking with one person through thick and thin.
I am a prime example – a serial monogamist. When we got bored in a relationship, we moved on. Our lives are all about us and sod everyone else. Consequently, baby boomers' offspring have had few role models promoting the advantages of marriage. The upper-middle classes get married because they are concerned with inheritance: they want to ensure their kids go to the right schools, get good jobs and have somewhere to live. It's all part of social acceptance.
Now, marriage desperately needs rebranding. If fewer than one in 10 posh people split up before their child is five, compared with a third of all unmarried couples, the balance needs to be addressed. Surely it's good for most kids to grow up in stable surroundings. Few politicians defend marriage, which shows they are just as self-centred as the baby boomers. The inventor of the Pill says that in the future sex will be purely recreational, and we'll reproduce using laboratory techniques such as IVF.
So will marriage end up like linen sheets, steam trains and leaf tea – something only snobs aspire to?
Turing deserves a better memorial than this film
The problem with the much-trumpeted film about Alan Turing's key role in winning the Second World War, The Imitation Game, is not the acting, but the mind-numbing banality of the script. It's modern history for Famous Five fans, as summed up by a Manchester copper's retort after Turing's arrest: "He's a poof, not a spy!" Turing and his gang of helpers seem like golly-gosh characters from 1960s children's telly.
I went to a screening in the fabulous Imax cinema at the Science Museum, a fitting location. Turing's family were present and I wondered what they thought of this shallow portrayal of a tortured genius. Benedict Cumberbatch deserves accolades, but the film lacks any intellectual depth – the BBC's Tinker Tailor Soldier Spy or its original House of Cards, were far meatier.
Hopefully, another director will give Turing the memorial he richly deserves.
Allen Jones doesn't know when to stop
I have to declare an interest: the artist Allen Jones is a long-standing friend and once created an image of my face which appeared on the cover of Studio International. His big brash retrospective at the Royal Academy may enrage feminists, but Allen has only himself to blame. He's one of the best draughtsmen in the world, and a brilliant painter, but doesn't seem to have a notion of when to hold back.
This show is excess all areas: an army of giant pneumatic women, who make Kim Kardashian look like a shrinking violet, dominate the space, making it impossible to consider the paintings without negotiating around their impossibly smooth torsos and expressions of bored disdain. These hyper-tastic women – hat stands, coffee tables, chairs and figureheads – represent a version of female power in which men and onlookers are redundant. They stare past us, superior in every way. When Allen does sculptures of real women, such as Kate Moss, he's less successful, and his decision to include a large painting of an orgy is questionable. A shame he didn't show less and leave us wanting more.
Cash, cronies and bloodline just aren't good enough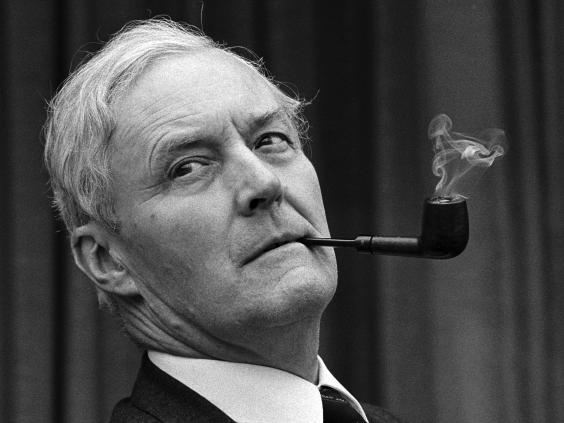 Tony Benn was a national treasure who renounced the title he inherited from his father (Viscount Stansgate), and a seat in the House of Lords, because it debarred him from sitting as an MP in the Commons. Benn fought vociferously for the underdog and the working class and felt so strongly about inherited privilege that he campaigned for the law to be changed – and was re-elected to the Commons.
He was a complicated man: once, I took part in Any Questions? on Radio 4 with him, only to discover he had forgotten to put in his hearing aid that morning. The great man made sure he sat next to me, then ordered me to write down each question from the audience and pass it over so that he could just give a reply, ignoring what everyone else had said. Typical! And when he died, none of his £5m estate – which included large houses in west London and on the Essex coast – went to any of the causes he supported or the Labour Party.
Now, his son Stephen, a political lobbyist, has decided to turn his back on his dad's principles and taken back the title Viscount Stansgate. He will have to run in an election to secure a place among the 90 hereditary peers allowed in the upper chamber – there are two seats currently vacant. I sincerely hope he is unsuccessful, because the thought of paying expenses to someone whose only qualification is their bloodline is repugnant.
The House of Lords is stuffed with people who have no right to be there other than their cronies, their cash and their ancestry, and the sooner we come up with a coherent plan to replace it, the better. Sadly, that day gets more distant by the day, as another coalition is the likely outcome next May.