Floreat Hyderabad! This week we learned that Satya Nadella, a Microsoft veteran with 22 years' service, will take over as the third chief executive of the software – and now tablet and games-console hardware – leviathan. News of the anointed successor to Bill Gates and Steve Ballmer has uncorked many gushing tributes to upward mobility for migrants in the US in general, and hi-tech industry in particular. We can delete much of that loose talk as the purest spam. In relation to Britain's own bitter-as-ever wrangles over educational privilege and the way to offset its tendency to create iron-clad elites, another aspect of Mr Nadella's background deserves keen scrutiny. Before his three degrees in India and the US, he attended Hyderabad Public School in Andhra Pradesh state. "You are the eagle. To soar is your destiny," runs the school motto – taken from the Urdu poet Sir Muhammad Iqbal. And soar the eagles often do.
Remarkably, Shantanu Narayen, chief executive of multimedia software giant Adobe Systems, also went to Hyderabad Public School.  Between them, these two gentlemen will have more day-to-day influence over the quality of my – and your – life at work and at home than a chamber-full of blathering politicians. If, by the way, the products and services they develop allow your career to thrive, you might wish to invest the fruits of success in the heavyweight fund manager Fairfax Holdings, founded and led by Prem Watsa: another alumnus of – yes, Hyderabad Public School. More modestly, you may opt to unwind after a hard day yoked to Microsoft Office, or Adobe Acrobat, Reader and Photoshop, with a bottle of Cobra beer: the company founded by Karan Bilimoria, an old boy of – you guessed. The battles of Seattle and Silicon Valley have been won on the playing fields of Begumpet. HPS boasts of its proud cricketing tradition. And Mr Nadella, like any Victorian proconsul, affirms that playing cricket taught him lessons about "working in teams and leadership" that have "stayed with me throughout my career".
Our own disputes over private education and its power to fossilise advantage tend to go round in numbing circles. It surely surprised no one when Sir Peter Lampl's Sutton Trust found that 12 per cent of 8,000 people prominent enough to have their birthdays listed in newspapers had attended just 10 schools. Britain's classroom disability persists: the 7 per cent of pupils who are privately educated account for 50 to 70 per cent of senior members of many professions from the law and politics to media. When, last year, Sir John Major (Rutlish School, Merton) professed himself "truly shocked" to see so many posts in the "upper echelons" of British society still occupied by graduates of the same narrow band of institutions, he must have faked the tone of flabbergasted consternation, however genuine his outrage.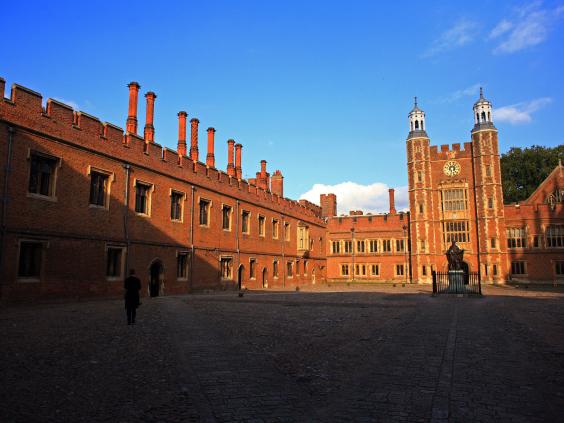 A landmark New Statesman essay by the historian-teacher duo of David Kynaston and George Kynaston emphasises that the same diagnosis, and many of the same remedies, have surfaced time and again since the Fleming committee reported in 1944. Two strands of reform find favour just now. One is the development of state-independent partnership schools (backed by that one-man policy powerhouse, and head of Wellington College, Anthony Seldon); the other an opening of private schools to an ever-rising proportion of fee-free pupils.
To anyone who benefited (as I did) from a free place within the long-defunct direct-grant system, it feels slightly poignant to be a spoke in a soon-to-be reinvented wheel. For absolutists, though, such tinkering will scarcely loosen a finger from the 7 per cent stranglehold. Besides, the crunch question remains totally taboo. In the Kynastons' words, "Do some parents have the right to pay for an education that indirectly harms the life chances of other children by blocking their path?" From Gove to Hunt, as in Clem Attlee or Tony Crosland's time, no mainstream UK politician has ever answered no.
Quarrels over the clout and status of the independent sector will continue to spin in sedate loading circles until a major party proposes the abolition of all fee-paying schools. None ever will. So we should at least make our dialogue of the hearing-impaired a little less insular and parochial.
Nadella, Narayen and the Hyderabad Public School "Eagles" are living proof that the public-school system implanted itself thousands of miles from the colonial heartland. If the Raj, and the rest of the empire, shut down long ago, the ethos that bred its soldiers and administrators has risen from the grave. The old school tie is wrapping the new elites of Asia and the Middle East in its franchised knot.
That Victorian model has legs, and it has wings – even in climates where ivy will never creep over redbrick neo-Gothic chapels. In Shanghai, the children of privilege may attend the local Dulwich College. Harrow opened its Bangkok branch in 1998. Repton has set up shop in Dubai. This September, an offshoot of Cranleigh will welcome pupils amid the pharaonic building sites of Saadiyat Island in Abu Dhabi. Meanwhile, with a 90-year start, the Hyderabad Public School First XI takes over the world-shaping boardrooms of America's West Coast. In the circumstances, it seems slightly futile to work ourselves into a collective strop over the number of Old Harrovians acting in prime-time Sunday serials.
It turns out that the Nadella alma mater trumpets much the same character-building and extracurricular virtues as its counterparts closer to home. When I asked him about his schooldays this week, Lord Bilimoria – King Cobra turned cross-bench peer – pointed out that the establishment had started in 1923 as an academy for the sons of the local jagirdars: large landowners under the fabulously wealthy Nizams of Hyderabad. By his day it had become "a very meritocratic environment", secular and inclusive, with a "mixed bag" of pupils. "It doesn't matter what your background was. If you excelled, you would do very well."
Bilimoria praises the school's "all-round ethos". He recalls an atmosphere that made every pupil feel important. "We would take turns to have lunch in the headmaster's house. It was very special." Meanwhile, Hyderabad does not even rank as the best-known elite academy in India. If you admire a sculpture by Anish Kapoor, enjoy a novel by Vikram Seth, learn about India's past from the historian Ramachandra Guha, or just appreciate the deadpan timing of Roshan Seth in an acting role, you are saluting the products of the Doon School at Dehradun.
Of course, the vast bulk of India's publicly funded schools might just as well exist in another galaxy. The country's post-independence failure to offer decent primary education in many states tolls like a mournful bell through An Uncertain Glory: the meticulous survey of Indian social progress – or its absence – that the great economist and social philosopher Amartya Sen recently published. Sen and his collaborator Jean Drèze denounce "an alarming story … of sustained neglect of elementary education", at the same time as elite high achievers "receive spectacular acclaim from abroad". I talked last year to Sen about his severe report. He traced the long-term under-resourcing of elementary schooling back to Mahatma Gandhi himself, and his romantic cult of craft-based village life. "India is an exception," in rising Asia, "and the exception had the sanction of the most powerful voice in India, namely that of Gandhiji".
However, recent changes have not only sought to repair the damage; they may even have a bearing on our own private-public stand-off. Enacted in 2010, India's ambitious Right to Education Act includes one notably bold provision. It extends the "reservations" policy – the country's programme of affirmative action for underprivileged groups – to independent schools. All private schools will have to allocate 25 per cent of places to pupils from less-favoured communities, with costs reimbursed by the state. It's too early to assess the effect of this bridgehead into the bastions of privilege: the Supreme Court rejected a challenge to the quota only in 2012. One expert who has studied its probable effects, Karthik Muralidharan of the University of California, San Diego, writes that the controversial clause "may be one of those rare policy opportunities that can increase equity as well as efficiency, and also at a lower cost than the status quo".
Could something similar work in the UK? Former Tory MP Matthew Parris has already proposed a comparable measure. A 25 per cent (minimum) injection of fee-free scholars into every leading independent school might begin to breach the great British divide. It would probably not appeal to Michael Gove (Robert Gordon's College, Aberdeen). But should Tristram Hunt (University College School, Hampstead) dare to press such a reform into a future Labour manifesto?
While we wait, anyone bothered by entrenched inequality might study the progress of India's Section 12. And if you encounter an old boy or girl of Hyderabad Public School as a rival during a job interview – don't despair. Even Eagles sometimes fail to fly. Remember Windows Vista.
Reuse content