My Movember journey began five years ago, when I started a Movember team at the company I worked for at the time.
In 2011 I moved into a new job, and took my moustache-growing efforts with me, encouraging the guys at the company to grow mos and support men's health together.
There were around 50 of us that year, and we topped the team leaderboard after raising an incredible £83,000. It was a huge success, and great to see everyone rallying around after we ran raffles, prize draws, baking sales.
We participated in Movember the following year too, and although we weren't the highest fundraisers, we had lots of fun and still raised £88,000. We were driven to keep on raising money and talking about Movember for the next year.
However our drive was also far more poignant as one of our colleagues had been diagnosed with terminal prostate cancer in 2011. Sadly, our much-loved friend and co-worker Spencer Reynolds went through chemotherapy and battled with the disease, but passed away on 28th November 2013.
We were devastated by the loss of Spencer and, with the support of his family, we went on to become the highest fundraising team that year, raising over £94,000. In fact, through the support of his family and friends Spencer himself was the highest individual fundraiser of Movember for 2012 and 2013, and the Movember Mo Mo award for the highest individual fundraiser has been renamed in his honour.
So for me Movember is an extremely important time. Not only to have fun, compete with friends and create a buzz around the office, but also to make sure that the all important issues of men's health don't get forgotten.
Murray, Machado and the best facial hair in sport
Murray, Machado and the best facial hair in sport
1/17 Andy Murray

The Scottish tennis player has thankfully ditched what can only be described as a 14-year-old's attempt at a beard

GETTY IMAGES

2/17 Paulo Machado

The Olympiakos player was likened to Borat when TV pictures showed him warming up in his team's victory over Manchester United

GETTY IMAGES

3/17

Mohamed Al Fayed threatened to chop this particular moustache off if his successor as Fulham owner, Shahid Khan, dared take down the statue of Michael Jackson at Craven Cottage. The American millionaire went ahead and took it down anyway

GETTY IMAGES

4/17 Joey Barton

The former Newcastle midfielder sported a classic moustache that made him look a little bit like a contestant on Bullseye

GETTY IMAGES

5/17 Mark Lawrenson

The former Liverpool defender was one of a number of Liverpool legends to sport the moustache, along with Ian Rush and Alan Hansen

GETTY IMAGES

6/17 Theo Walcott

The pencil chin beard found on the face of the young Arsenal winger hints that he's not yet ready for a full one

GETTY IMAGES

7/17 Dibril Cisse

The former France striker is not a natural blonde

GETTY IMAGES

8/17 Australian rugby team

In support of Movember, which involves not shaving to raise awareness of men's health issues, the Australian rugby team grew moustaches

GETTY IMAGES

9/17 Sebastien Chabal

The French rugby star doesn't need an excuse to grow a beard

GETTY IMAGES

10/17 WG Grace

Another great beard in the world of sport could be found on the face of cricket legend WG Grace

GETTY IMAGES

11/17 Graham Gooch

The England cricketer is pictured here with a fan in 1990

GETTY IMAGES

12/17 Andy Fordham

Where the darts player's chest hair ends and beard begins is anyone's guess

GETTY IMAGES

13/17 Alexi Lalas

Back in his playing days the US footballer sported a goatee that made him look like a country and western singer - which incidentally was a side line he used to indulge in

GETTY IMAGES

14/17 Rollie Fingers

The baseball player had a moustache befitting of such a name

GETTY IMAGES

15/17 Michael Jordan

The basketball legend was lambasted for what some described as a 'hitler moustache'

GETTY IMAGES

16/17 Scott Pollard

Pity the fool who pictured here back in 2003 had a moustache that Mr T would have been proud of

GETTY IMAGES

17/17 Craig Stadler

When your facial hair earns you the nickname 'The Walrus', you've done something right

GETTY IMAGES
We put up posters all around the company and try to have conversations about the issues that men don't often deal with. We also make sure everyone knows what it is that Movember helps fund: prostate cancer and testicular cancer research, as well as men's health in general. That's the real importance of Movember – spreading awareness and making more men think about their health. Because Spencer's passing was, and still is, all-too real for us.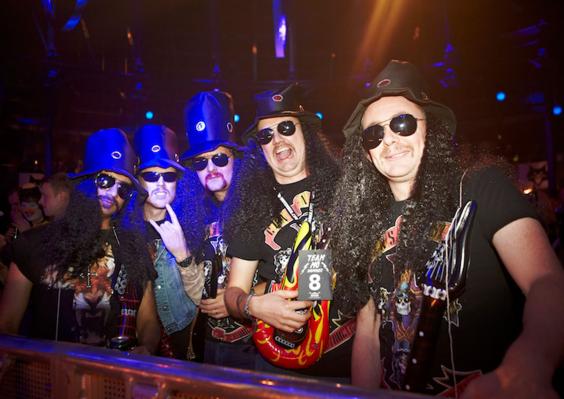 This year we'll of course be participating once again and hoping to raise even more funds and awareness of men's health. And growing the most awesome mos we can in the process!
To find out more about Movember and donate go to: http://uk.movember.com/
Reuse content