Mea culpa coming. I was wrong, I hadn't expected the economy to grow as much as it did last year or for the welcome drop in unemployment. I was pretty good on calling no growth in 2012, but not so good making the same call for 2013. I had never suggested that with George Osborne's austerity growth would never come, just that the level of output would be lower than it should have been with more appropriate policies.
New data from the Office for National Statistics on GDP per capita shows that in the 13 quarters from Q2 2010 to Q3 2012 output per head grew by a total of  0.4 per cent. At that rate it will take more than 50 years for it to be restored to its level at the start of the recession.
This has been the worst non-recovery in 100 years. All the Tory spin claiming the Coalition macro policies a success is a sad joke, as was The Times's call that Osborne was "Briton of the year". 
My biggest mistake in 2013 was not seeing a European-wide improvement in business and consumer sentiment coming. In the Great Recession in almost all Western countries, business and consumer sentiment surveys collapsed well before quantitative indicators such as GDP, employment and the unemployment rate.
The first chart plots the Economic Sentiment Index (ESI), which is collected monthly in every European Union country and which combines data from four business surveys covering production, retail, construction and services, as well as a consumer survey.
The ESI started falling at the end of 2007 in the euro area as well as in the UK. In all of these countries the index picked up from around March 2009 as monetary and fiscal stimulus was implemented. With the coming of fiscal austerity and slowing growth these surveys fell through the end of 2012, but then picked up from around May 2013. There was a pick-up in every country, including Italy, Germany and France, with the sharpest rise in the UK.
The reason for this European-wide pick-up in sentiment, which is clearly not down to Osborne, remains unclear. Maybe it had something to do with the good summer weather. Of interest is the recent slowing in November 2013 in the UK and to a lesser extent in France, of which more later. But I should have realised that this positive burst in sentiment predicted a burst of both growth and employment. My error.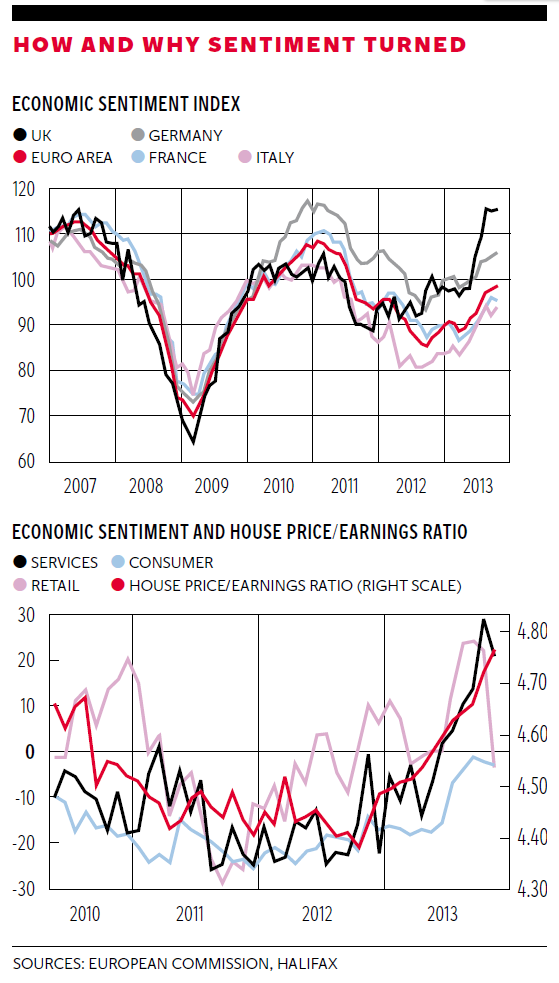 My other mistake a year ago was not predicting that Osborne would make a dash for growth by re-inflating the UK housing market. I had always assumed he was the ultimate pragmatist and had expected him to pull something from his Treasury bag of tricks, and boy did he. In April 2013 he announced his mad Help to Buy scheme with two clear objectives, of re-inflating the housing market and vote buying. So the fix to a boom and housing bust was another boom and inevitable housing bust. It turns out that the announcement of the Help to Buy scheme in April amplified the Europe-wide rise in sentiment identified in the first chart.
As the second chart shows, from that point house-price to earnings ratios – as measured using the Halifax data – which was already at unsustainable levels, took another big jump upwards. They were  4.53 in April, and have risen steadily to 4.77 in November. Over this period house prices have risen 5.2 per cent, while national average earnings for full-time men, which the Halifax uses in its index, have risen 1.5 per cent. The last time house price to earnings ratios were this high was in October 2008, and we all know what happened then.
Real average house prices are up by  3.6 per cent on the year. The second chart shows that the rise in the house-price to earnings ratios tracks well the rise in consumer sentiment as well as sentiment in services and retail. The rise in house prices also tracks an increase in sentiment in construction and industry, which for simplicity is not plotted but which to date has not turned down. It remains hard to see that this is sustainable, given there has been no growth in net trade or investment and real wages continue to fall fast, plus a lot of the recent growth is down to rebuilding inventories, which is unsustainable. 
A concern in the second chart is that there is evidence that the good news has stalled; there has been a slowing in consumer sentiment in each of the last three months. Declines in sentiment in services and especially retail in the latest November survey is a worry. The retail sector sentiment index was 24 in both August and September. It was 22 in October, but then plummeted to minus 3 in November. Consistent with this slowing are the profit warnings from Debenhams and reports of poor Christmas sales in retail stores after deep discounting. We will see what 2014 brings.
Meanwhile, all that nonsensical scaremongering from Nigel Farage, The Telegraph and the Daily Mail about the country being overrun with vile foreigners from Romania and Bulgaria turned out, as expected, to be a total non-event. Journalists, as well as MPs such as Keith Vaz, who went to Luton airport to meet one of the first flights from Romania, were unable to find a single benefit scrounger. Not one. Plus migrants looking for work were thin on the ground.
Most were skilled workers, including dentists, returning from their holidays visiting relatives or from a skiing trip. Wizz Air made clear to me in a tweet that they had laid on no extra flights and there were plenty of low-price seats available from both Romania and Bulgaria. I checked both British Airways' and easyJet's websites and found there were seats available on every flight from Bucharest and Sofia from  1-12 January. Flights that arrived on opening day weren't even full, and the expected busloads at Victoria station didn't happen.
Expect warnings to now move to what will happen next week, next month, during the summer, next year and sometime never. The Daily Mail didn't even bother to report that no one showed up and they had been talking tripe. Typical.
Reuse content