Not so long ago, the struggle for and against rampant, exploitative capitalism was fought between the workers and their employers.
But with the collapse of collective bargaining, that battle is over.
The struggle now is within multinationals themselves. On one side there are the progressive reformers, often a do-gooding CEO. And on the other side there are the stalwarts of the free market, usually the shareholders, who will do anything to maintain the broken status quo.
"I don't think our duty is to put shareholders first. I say the opposite". These aren't the words of an Occupy activist, but Paul Polman, CEO of Unilever, one of the world's largest multinationals, with annual global turnover of $50bn. According to Polman, the current capitalist system is broken. "How long can we steal from the future?" he has been quoted as saying. "Our system is a great system, but it's not designed to function long term [...] Capitalism has been the worst form of economic system – except for all the others that have been invented."
Over at PepsiCo, another of the world's giant corporations (and one of largest contributors to the obesity endemic) CEO Indra Nooyi says: "I believe we need to attack obesity. Let us be good industry that does 100 per cent, not grudgingly, but willingly."
Polman and Nooyi aren't bleeding heart liberals from NGO backgrounds, parachuted in for some empty soundbites. For their entire lives they've obediently worked their way up the corporate ladder.
Their statements – considered radical given their positions – point to a fundamental shift in global corporate dynamics, and one that will increasingly come to be the new struggle within the global economy.
The women who are shaping our world
The women who are shaping our world
1/27 Janet Yellen (US)

Women hold positions of power in the United States like in no other country, but in terms of raw power none challenge Janet Yellen, Chair of the Federal Reserve, whose decisions determine the cash in not only every Americans' purse but ours too.

AP

2/27 Oprah Winfrey (US)

Oprah still directs the US national conversation through her TV appearances, stadium tours and, most recently, her backing of 'Selma', which finally gave Martin Luther King the deserved cinematic attention.

Getty

3/27 Christine Lagarde (France)

Managing Director of the IMF (the first woman to run the 188-country financial organization), Lagarde's leadership has coincided with one of the worst modern economic crises. She is willing to say the unpalatable as she demands politicians reform their economies to "effectively address the predicament of the 200 million jobless worldwide."

AP

4/27 Nicola Sturgeon (UK)

The Queen? No, the person whose political career has been built on a commitment to tear apart the union who (at this moment) holds the actual power. With the SNP likely to sweep Scotland in the forthcoming general election, it will be Sturgeon who will have the greatest say over Britain's future.

Tom Pilston/The Independent

5/27 Emma Watson (UK)

It's what she's done since Hogwarts that has so impressed. The fashion world may have adopted her as a muse, but it is in the area of sexual politics that she has found her voice, becoming a UN Women Goodwill Ambassador and helping launch the UN Women HeForShe campaign, calling for men to advocate the cause of gender equality.

Getty Images

6/27 Angela Merkel (Germany)

In Germany she is known as 'Mutti' (or 'Mother') but it is in her international dealings that the Chancellor's power has been most marked - whether breaking the post-World war II taboo on military actions by sending arms to Kurdish fighters facing ISIS or working tirelessly to seek a peaceful resolution to the crisis in Ukraine.

Getty Images

7/27 Christiane Nüsslein-Volhard (Germany)

One of only 12 female Nobel Prize winning scientists, pioneering geneticist Nüsslein-Volhard is a global expert in genetic mutations and the ethical implications of recent developments in genomics and biotechnology. She campaigns for rights of mothers worldwide.

Getty

8/27 Lubna Olayan (Saudi Arabia)

A corporate trailblazer, and is one of the most influential businesswomen in the Middle East, Olayan is CEO of her own financing company, which runs 40-plus companies across the region. She has also pushed progressive business practices where few others do, promoting women and celebrating their contribution to business culture.

AFP/Getty

9/27 Wajeha al-Huwaider (Saudi Arabia)

The co-founder of the Association for the Protection and Defense of Women's Rights in Saudi Arabia is one of the few voices for equality in a country where women are must have a male guardian to travel, open a bank account and seek employment. Her campaign to permit women to drive gained international acclaim.

YouTube

10/27 Shahnaz Wazir Ali (Pakistan)

Special Assistant to the Prime Minister of Pakistan and chairperson of Higher Education Commission and a rare female voice in the country - since the assassination of Benazir Bhutto there has been a dearth of women at the highest levels of power in Pakistan.

AFP

11/27 Malala Yousafzai (Pakistan)

Shot by the Taliban in 2012 for blogging about life under their rule, Yousafzai has become an inspirational campaigner for education for women and girls. She is the youngest person to receive the Nobel Prize, giving her access to political leaders worldwide and helping turn her advocacy into a global movement.

Getty Images

12/27 Margaret Chan (China)

Chan has not had an easy time as DG of the World Health Organisation, her second term seeing one of the worst global disease outbreaks in recent times in the Ebola outbreak in West Africa. The WHO's late response was criticised, leading to Chan to admit the agency "underestimated the magnitude, the complexity and the challenges".

AFP

13/27 Yao Chen (China)

She is not just the doe-eyed ingénue starring in some of China's biggest romantic comedies over the past five years. Yao has also used her popularity – and the 71 million followers she has on the social media site Sina Weibo – to address troubling social and environmental issues in her country, as well as the plight of South-east Asian refugees.

Getty

14/27 Indra Nooyi (India)

Born to a Tamil-speaking family in Madras, Nooyi (CEO, PepsiCo) is now one of the world's most powerful businesswomen, having taken Pepsi from its sugary drink origins to the second largest food and drink behemoth in the world. It is an achievement that rewards her with a reputed $17m per year.

Getty

15/27 Julie Bishop (Australia)

Since Julia Gillard left, there has been a lack of women in senior posts. Bishop is the exception, having been Foreign Affairs minister since 2013. Her handling of the disappearance of Malaysia Airlines flight MH370 won plaudits, leading to her being touted as a contender for PM Tony Abbott's job.

AFP

16/27 Cathy Freeman (Australia)

Since winning gold at the 2000 Olympic games, sprinter Freeman has campaigned for Aboriginal rights with her Cathy Freeman Foundation, working to improve the educational prospects of Australia's indigenous children.

Getty

17/27 Rapelang Rabana (South Africa)

At 23, Rapelang Rabana founded Yeigo Communications, the hugely influential communications software development company based in Cape Town. Listed by Forbes as one of 30 under 30 Best Young African Entrepreneurs, she made Oprah's 2012 O Power List and this year was hailed by the World Economic Forum.

18/27 Thuli Madonsela (South Africa)

Widely known as 'Mrs Anticorruption', public prosecutor Madonsela played an instrumental role in drafting the country's new Constitution that saw Nelson Mandela becomethe first black president of South Africa and has been tireless in standing up for human rights and punishing corruption.

AFP/Getty

19/27 Folorunsho Alakija (Nigeria)

Alakija's first company was a fashion label that catered to Nigeria's elite, including the wife of former military president Ibrahim Babangida. This connection paid off - he gave her a prospecting licence for lucrative oil fields and she has now replaced Isabel dos Santos as the richest woman of Africa (estimated worth $41.83bn).

AP

20/27 Chimamanda Ngozi Adichie (Nigeria)

The author of 'Half of a Yellow Sun', which won the Orange Prize for Fiction, has been hailed as "the most prominent" of a "procession of critically acclaimed young Anglophone authors [that] is succeeding in attracting a new generation of readers to African literature".

Getty

21/27 Rihanna (Barbados)

Little explanation is needed for this Barbadian phenomenon. Rihanna is one of the most famous women in the world - she uses social media such as Twitter and Instagram to communicate directly with her millions of fans. Not all of her actions are deemed to be feminist, though.

Getty

22/27 Michelle Bachelet (Chile)

President Bachelet (the first woman to head her country) is now serving a second term, having ended her first with an 84 per cent approval rating. In her earlier career, her commitment to standing up for the oppressed caused her to be jailed, tortured and exiled and, between her presidencies, she served as Executive Director of UN Women.

AFP/Getty Images

23/27 Isabel Allende (Chile)

Hailed as the world's most widely read Spanishlanguage author, Allende's influence is greater even than that. A life that has seen her experience political intimidation, exile and the loss of a daughter has made her a powerful campaigner for the empowerment and protection of women.

AFP/Getty

24/27 Dilma Rousseff (Brazil)

Brazil's first female president. Rouseff has been in power since 2010, leading a $2.2 trillion economy and 200 million people. With the World Cup and the Olympics, the eyes of the world are firmly on her country at a time when she is seeking to redistribute wealth during an economic recession.

AFP/Getty Images

25/27 Gisele Bündchen (Brazil)

The world's highest-paid model for the past eight years, Bündchen made $47m in 2014. She is also Goodwill Ambassador of the United Nations Environment Programme, and on the board of the Rainforest Alliance, a charity working to conserve biodiversity and sustainability.

Getty

26/27 Shakira (Colombia)

Since launching her music career at age 13, the singer has sold almost 60 million albums and topped the charts in 55 countries. Her social media reach is also immense – she is Facebook's "most liked" person, with 93 million followers.

Getty

27/27 Sofia Vergara (Colombia)

She may be best known for US TV's 'Modern Family' but it is Vergara's business achievements that make this 41-year-old actress so important to her country. Her savvy steering of her firm, Latin World Entertainment, has made it a regional $27m-a-year talent management, marketing and tech powerhouse.

Getty
This struggle once took place on the picket line, but it's now fought behind closed doors, at hushed general meetings. But it's still a showdown every bit as fierce, with far-reaching implications for all of us.
The outcome will change nothing short of the moral tenor of capitalism for years to come: everything we buy, how it's made, and how much it costs; the food we eat and how its grown. It's politics, without politicians, or the public, having a say.
So how does this struggle pan-out? One of Indra Nooyi's first decisions on taking over Pepsi was to declare that she wanted the company to fight obesity by becoming "post-sugar", much in the same way BP aimed at going "post-petroleum" since global warming became such a burning issue. Nooyi started by hiring the WHO's Derek Yach, and diversified Pepsi's portfolio into a host of healthy brands such as Quaker Oats.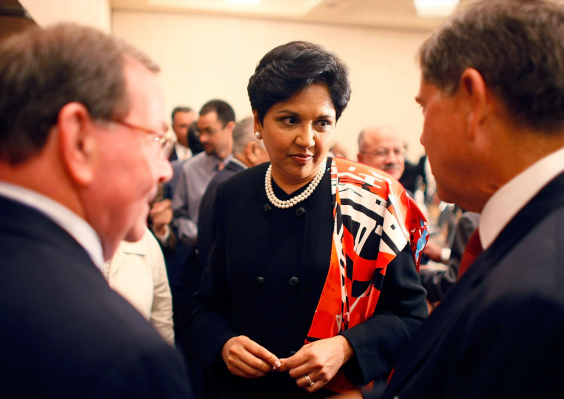 At Unilever, Polman showed his reformist cards by championing "slow money" – long-term investment in small sustainable businesses rather than chasing relentless quarterly profits.
He was tackling the beast head-on. Quarterly reporting (QR) is the central doctrine of short term capitalism. If you're shareholder, it's the only thing that matters. If you're a reforming CEO,  it's the single greatest obstacle to meaningful reform. Both Nooyi and Polman have declared war on QR, and seen an open revolt from their shareholders.
All of this marks a huge shift from the classic, 1950s model of the corporation as a "family", overseen by a quiet father figure (CEOs back then were always male). By the 1980s, a new type of leader was required for the explosion of the free market, and in came the "captains of industry". CEOs became pop stars, splashed across the cover of Forbes and The Economist, and were hailed as geniuses for their ability to slash costs.
Over here in the UK, the cult of the CEO began with Richard Giordano, who came from America to take over the privatised gas company BOAC in the 80s. I met Richard at The Dorchester, and he told me that after his arrival in Britain, everything changed. The CEO was no longer "in it together" with his employees. His job was to align himself with the interests of the shareholders, and target profit above all else.
But then something happened. Global warming. And then obesity. And financial scandal. Multinational companies – especially those directly implicated in the creation of climate change – needed an image change. A new breed of CEO was required.
It was one that would talk the language of concern, and be neither aligned to the workers nor the shareholders. Like a Miss World contestant, the new CEO's main job was to say they wanted to better the human race, so the company could be seen to be ticking the new biggest box for the public.
Deep within the marketing departments of the corporate machines, it was hoped people like Polman and Nooyi were just for show, and didn't believe what they said. But then the penny dropped that they actually might. From that point on, the battle began.
They might seem like masters of evil (especially to the left-wing among us) but CEOs could actually be our best hope of taming capitalism. With the influence of corporations on our political system growing alongside their profits, it's time for us to rethink our approach.
Progressive people might find their energies better spent identifying the good guys from the bad guys within the corporate world, and getting the hell behind them. Because unlike politicians, it's the radicals within the machine that wield real power.
Reuse content