With the dearth of synthesised outrage in the tabloids threatening to become a national crisis, I offer thanks to the Mail on Sunday for devoting its splash to the Tory MP Penny Mordaunt.
Not since Woodward and Bernstein has investigative journalism required such tenacity and produced a more sensational result. Political editor Simon Walters heard the member for Portsmouth North and a sub-lieutenant in the Royal Navy Reserve tell the story when accepting a Spectator award last week, and heroically dug it out of Hansard.
The tale concerns how, when dared to do so by fellow naval officers, she peppered a backbench speech – nominally about farmyard birds – with six usages of the word "cock". Or "c**k" as the MoS styles this "obscene word". After admitting that "it is tempting to laugh off her silly speech on poultry welfare as a harmless jest", a leader bravely resists the temptation. Doing so "would be wrong. We have to take Parliament seriously, for in the end it is the heart of our constitution."
This is indeed no time for levity. For while this is not the first occasion on which Penny has made a splash (you may recall her disastrous belly flop in an ITV celeb diving show), it may be the first case of a Tory woman being genitally distasteful in the Commons. It is rumoured that once, during a debate about tax relief for British cinema, Mrs Thatcher playfully referred to Fanny By Gaslight as "a gritty drama about a Victorian gynaecologist". However, since she never made a joke in her life, I refer the honourable reader to an ancient urban myth I made up some moments ago.
The good news for Penny, if she hopes to emulate Mrs T's rise, is that the electorate may lack the refined sensibilities of our tabloids. Apart from the widespread view that everything said in the Commons is unadulterated c**k anyway, she does seem an engaging person.
Passing lightly over stints working for George W Bush's presidential campaigns, her achievements include volunteering in Romanian orphanages and a college job as a magician's assistant. This sauciest of junior ministers may or may not pass the crucial "would you fancy a pint with this politician?" test. But if what you're after is a bit of yo-ho-ho and a bottle of rum in Portsmouth's sadly defunct C**k and Bottle pub, look no further than the bawdiest sailor in Her Majesty's fleet.
There is a strong precedent for Penny's bold attempt at Mordaunt wit, and oddly enough its source is the very newspaper group which now takes such umbrage with her. In the 1980s, hacks on Nigel Dempster's diary dared each other to get the term "moist gusset" into print, and eventually one of them invented the dashing Swiss playboy Moi St Gusset.
Tales of Moi's confused romantic life appeared sporadically in Nigel's column, before his creator killed him off in a skiing accident. It is tempting to laugh off this silly prank as a harmless jest, but that would be wrong. We have to take the Daily Mail seriously, for in the end it is the self-appointed heart of our constitution.
The miraculous face that could save Andrew Mitchell
After spending the entire weekend fretting about his courtroom defeat money troubles, I have an idea how Andrew Mitchell might raise the estimated £2m in libel costs without dipping into his property portfolio.
Ordinarily, the answer would be for his friend and character witness Bob Geldof to release that single once again – but with the Ebola version at number one it may be a while before the public is ready for Pleb Aid. Instead, Andrew's best bet is to patent the facial expression he pulled outside the High Court on Friday as an emoticon. How a human being can turn their mouth down to that extent is beyond me, but this miracle of gurning made the face in Munch's painting look like Marti Pellow.
Anyone bored with expressing their sadness in texts with the traditional anti-smiley would pay 99p to download the Mitchell Megafrown from iTunes.
Yes, all Egyptians are white – just see Elizabeth Taylor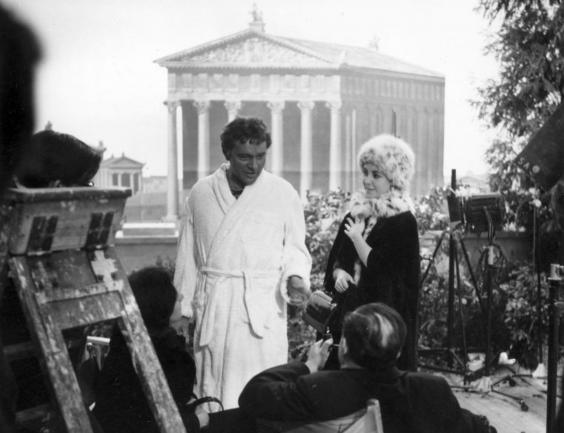 I am sickened to the point of needing an hourly anti-emetic by the crass reaction to Rupert Murdoch's tweet about a new biblical epic.
"Moses film attacked on Twitter for all-white cast," tweeted the old darling. "Since when are Egyptians not white? All I know are." Well said. He must have met Elizabeth Taylor, who was alabaster when she ruled Egypt and had that thing with Mark Anthony. He no doubt gambled in London long ago with Omar Sharif, who was pale enough to play a Russian doctor. And he's certainly seen pictures of mummies who were whiter than his own mummy, the late Dame Elizabeth.
Next thing you know, Rupert will be ridiculed by fools for making the same point about South Africans on the compelling evidence of a round of golf with Gary Player and a lunch in New York with FW de Klerk.
Our dear Prime Minister gives a lift to an old pal
In all the excitement generated by David Cameron's big speech on immigration, his choice of venue was overlooked. So let me belatedly congratulate the PM for plumping for a Staffordshire factory belonging to JCB, which he found time on his visit to praise as "an inspirational business." By eeriest happenstance, JCB's chairman and largest shareholder is Anthony Bamford, a lavishly generous Tory donor and a personal friend for whom Cameron once opened a factory in Brazil and who he ennobled last year. We all need inspiring in these gloomy days, so please God the publicity does JCB a bit of good.
Reuse content