Will many voters pay attention when George Osborne presents his Budget on Wednesday? If a few do, will they understand why he has acted in the way he has for the past few years? Osborne's policies are determined partly by what he calls fiscal conservatism and monetary activism. Such a description is of interest to those who follow economics but will make little sense to most voters.
In fairness to Osborne, he is one of the best communicators in the Government, devising accessible slogans and phrases that may be tendentious but have the merit of being comprehensible. Most of his colleagues have not tried to communicate their political missions to the electorate. They are people who are part of an era of technocratic politicians who hope to land a cabinet job on the basis of being a safe pair of hands and loyal to their leader. What are the visions that drive Phillip Hammond, Theresa May or William Hague?
No one would have posed such a question of Tony Benn. In range and intensity the reaction to Benn's death has been extraordinary. Benn ceased to be a cabinet minister in 1979 and served only fleetingly on the front bench in the decades that followed. He was not a Prime Minister, Chancellor, Foreign Secretary or Home Secretary, the most senior posts in cabinet. Yet the level of coverage in recent days exceeds that which will follow the deaths of most long-serving cabinet ministers and some Prime Ministers. It serves as a reminder to today's politicians that in politics, teaching is as important as ruling. Powerful communicators can have as much impact, sometimes much more, than those who serve in cabinet as virtually anonymous managers.
During Benn's first period as a minister in the 1960s he noted with a passion how powerless the elected cabinet was in the face of more formidable forces. Subsequently he campaigned against the various non-elected constraints - from the media, Europe and the civil service to the lightly regulated markets - with wit and zeal.  He had a knack of making the imbalance between elected and non-elected forces vividly obvious.
At a rally shortly before the wedding of Charles and Diana in 1980 he joked that as the royal couple took their vows, neon lights would probably flash stating that "This wedding has been sponsored by Benson and Hedges", a vision that caught the direction of travel in the very early Thatcher era. Why, Benn wondered, did the BBC Today programme have several Business slots and no regular outlet for trade unions or the unemployed?
In posing such mischievous questions, partly aimed to amuse, he turned fashionable orthodoxy on its head. Part of his flawed solution was to empower those who he saw as disenfranchised, setting up mechanisms that compelled leaders and MPs to respond to activists, advocating a referendum as a way in which popular will could exert its wishes over Brussels. He failed in the latter and only partially succeeded in the former, but his crusade about the need for institutions and leaders to be accountable is one that resonates today, not least in the modern Conservative party that is in some respects quite Bennite.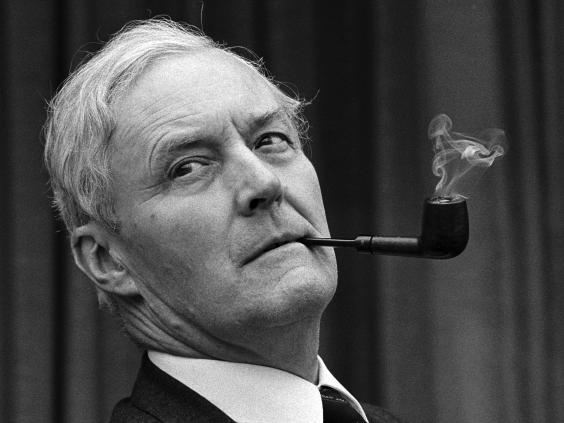 I recall as a student watching a long TV interview with Benn in the spring of 1981. His interviewer was Brian Walden. All hell was breaking loose because Benn had just announced that he was standing for the deputy leadership of the Labour party. Benn put the case for his form of democratic politics very calmly. He was challenged by Walden, who disagreed with him passionately and yet could not hide his respect for Benn's command of language and argument. Walden was also a great orator. They made words sing. The exchange got me hooked on politics as one of the great art forms.
But Benn's nerve-shredding impact on the Labour party has led to an extreme outbreak of caution when modern politicians speak. "The cost of living crisis" is as poetic as it gets. Yet this caution is as dangerous as political teachers like Benn could sometimes be. Tony Blair, the only other silver-tongued politician of recent times, used his mesmerising skills to repeat largely already established orthodoxies about the importance of the special relationship with the US and the virtues of the private sector. Gordon Brown deliberately did not teach - a silence that gave him some space in the right-wing media. But as Robin Cook noted, voters made no connection with Brown's policies. Cook said his constituents thought tax credits were a technical change introduced by the Inland Revenue and not the consequence of Brown's redistribution of wealth. Ed Miliband is more interesting in that he has tried to teach about failed markets and the need for responsible capitalism, but most of his colleagues dare to say little more than "one nation".
Osborne and others also need to do some teaching if they want to generate some enthusiasm among voters. In enthusing some they will alienate others, but that is a healthier dynamic than one in which most voters make no connection at all.
Don't waste rare moment of consensus
The impressive chairman of HS2, Sir David Higgins, is getting a grip of the project, injecting some vision and clarity. He urges a speedier timetable and a more ambitious destination for the first phase, among several other revisions to the original plans. The Transport Secretary, Patrick McLoughlin, the best since the much missed Andrew Adonis, responds positively. Labour has indicated it will support the early legislation. So will the Lib Dems. In spite of reservations all three parties are theoretically in favour.
If this rare political consensus is not deployed to bring about the much needed additional rail capacity, the opportunity will be lost for decades. Vince Cable and Ed Balls are right to raise concerns about cost and the consequences for the north, and some MPs are understandably worried about their specific constituencies, but none of this should be allowed to block the project.
There are always reasons not to go ahead. We might have ended up not staging the Olympics if there had been a get-out option. But on HS2 there is no get-out option. We need the trains and we might as well go for the best available. If the project were scrapped, the money would not be spent on other lines, but would disappear from future spending plans. This is the only chance for a modern railway. We must seize it.
Reuse content