And then it turned nasty. Whether because of outriders from what one newspaper dubbed the Seriously Nasty Party (SNP), or – more likely – mischief emanating from both sides, the final hours of campaigning ahead of the referendum have been marked by anger and recrimination.
Amid the rallying cries and emotional pleas – with both Gordon Brown and David Cameron given strong speeches – there has been poison, pure and simple.
The Labour leader, Ed Miliband, has been jostled and heckled; Alistair Darling, the leader of the Better Together campaign, has been "menaced"; thousands of Nationalists demonstrated outside the BBC's headquarters in Glasgow on Sunday and hundreds of campaign boards have been daubed with offensive graffiti or destroyed. And there has been a lot of fib telling, too. All very regrettable, but the Scottish referendum campaign is the democratic process at its most intense.
Indeed if Scotland votes for independence today, it will have been British democracy's last great show. I put it in these terms because the development of democracy in Britain has been a joint English and Scottish venture since the Act of Union in 1707.
Indeed the 1707 agreement itself was fully 'democratic' by the standards of the day. Neither country had been conquered; it was an agreement freely entered into. The negotiations took place between commissioners representing the parliaments of the two countries. Then both parliaments passed the necessary legislation. Ever since then, of course, there has been jostling for position, and anxiety over just how close our people can or should be. You could call it the 307-year itch. At some point, every itch will be scratched.
Six shades of Scotland: how would they vote?
Six shades of Scotland: how would they vote?
1/6 SCOT BY RESIDENCE Ceris Aston, 23

Ceris Aston was born in Gloucester and has English parents. She studied at Glasgow University and works in marketing. She lives in Kirkconnel. ''I would have described myself as British by heritage because I am part Welsh, English and Irish. I am as British as you can get in that respect so when I realised I was in favour of independence it made me really question this. Scotland is my home. It is the place I love and I can't imagine living anywhere else. "Independence will be an amazing opportunity for us. There is so much critical energy already released in the referendum and I don't think it is going to dissipate. It won't be an amazing utopia with rainbows and unicorns but we will be able to take decisions over our own resources and create social justice in a way that is totally different from what is envisaged in Westminster." VOTE: Yes

2/6 RETURNED TO SCOTLAND Peter Krykant, 37

Peter Krykant was born in Falkirk. He lived in the US and England for 12 years and recently returned to Scotland to raise family. "I have always been a patriotic Scot but the referendum has elevated that patriotism. I consider myself Scottish and British – you can be both at the same time. My son was born in England and my wife is American. "The closer this vote gets, the more worried I get. I am concerned about cross-border jobs. My wife is a researcher at Glasgow University, working on a £10m UK government funded project. Part of the reason we chose to live in Scotland is because of the opportunities we as a family can provide for our son. My wife is American but has UK citizenship. How will that be affected? People have said because I have been away that we shouldn't be allowed to vote and called me a traitor." VOTE: No

3/6 HALF SCOT Victoria Summerley, 57

Journalist and author Victoria Summerley was born in England. Her father was Scottish and she was educated in Scotland. She lives in the Cotswolds. "Like a lot of Scots, I suspect, I would vote yes with my heart and no with my head. I suppose I have always been something of a sentimental Scot. ''I have watched the campaign with huge interest. Edinburgh has changed so much since I was at university – it used to be a fuddy-duddy place. But then it became this European, cosmopolitan city. The Scots have great links historically to France and consider themselves to be more European than the English. ''I think Scotland could make a go of it, and I think all this nonsense about whether they would be in the EU, or whether companies would pull out, is counter-productive. The Scots just see that as bullying.'' VOTE: Not eligible

4/6 BORN AND BRED William McMillan, 24

Charity worker William McMillan was born in Lanarkshire. "I just don't feel as if my questions have been answered. When you ask a question they evade it. I would be very concerned about the future of sterling – what happens if our currency is suddenly halved in value? I am young and I am just starting out. People say the economy is in a bad state but I feel like it is improving and independence could be a backwards step. "I work for a charity that is paid for by public funds. If an independent Scottish government needed to make £6bn in savings they could end up cutting public services and my charity could lose funding. I don't think the debate has been conducted well. Both sides have been having a go at each other. "It doesn't make any sense to be backing away when the rest of the world is coming together." VOTE: No

5/6 SCOT IN EXILE Andrew Travers, 42

Designer Andrew Travers was born in Scotland and has lived and worked in London since 1996. "I would find it very difficult not to go back if Scotland does vote Yes. You don't get many chances to be there at the start of the recreation of a country. It would be so hard to sit on the sidelines and watch other people doing it. I'm not able to vote but I am completely fine with that. It is more important that the 400,000 English people living in Scotland get the vote rather than the 800,000 Scots that don't. "There have been two parts to the campaign: the official one, which has been pretty tedious, and the really interesting and exciting stuff, which has been outside the main parties – such as the National Collective or the Radical Independence Campaign which have been going out trying to encourage people to register to vote." VOTE: Not eligible

6/6 MARRIED TO A SCOT Josh Jefferey, 32

Josh Jeffery works in media sales. He was born in Cheshire. His wife is Scottish and they live in Edinburgh. ''I have always felt British and I think I reflect the majority of English people living in Scotland by wanting to stay part of Britain. I went to university at St Andrews and met my wife here in Scotland a few years later. My job is based at home so I could work from anywhere in England or Scotland. "If the vote is Yes we would stay in Scotland. I really like it here and I feel at home. The people are great and there has never been any issue being English. The biggest concern for me would be the economy. I feel quite passionately that the people of Scotland are being misled. They say it is not about Alex Salmond but it is – he is the person pushing for independence and I think he is trying to hoodwink people.'' VOTE: No
One way of illustrating that democracy has been an Anglo-Scottish achievement is to look at the backgrounds of successive prime ministers. Since 1707 there have been twelve premiers who were either Scots-born or of Scottish extraction – Bute, Aberdeen, Gladstone, Rosebery, Balfour, Campbell-Bannerman, Bonar Law, Ramsay MacDonald, Macmillan, Alec Douglas-Home, Blair and Brown.   You could even add another – Asquith, a Yorkshireman by birth, who was MP for East Fife for over thirty years.
Again the process of dissolving the union, if that is what is decided, would have started with acts of Parliament. The Scottish draft Referendum bill was even made subject to consultation when it was published in February 2010, a process not copied in Westminster. Then the UK Government drafted an Order in Council granting the Scottish Parliament the necessary powers to hold an independence referendum. The draft Order was approved by resolutions of both Houses of Parliament. In the Scottish Parliament the relevant bill was passed in November 2013. In other words the campaign for independence has been an entirely legal process.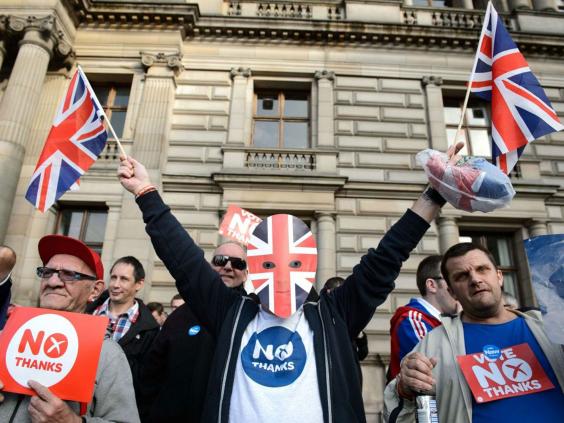 Legal yes, but has the campaign also shown the practice of British democracy at its best given the displays of intolerance and outbursts of violence in its closing stages? There is, however, an explanation for this unpleasant behaviour. The referendum campaign has been a contest between rival movements rather than the familiar tussle between opposing political parties, which nowadays leaves most people cold. Movements are highly emotional affairs. And never more so when the question at issue concerns your future livelihood and your family's and asks for a simple 'yes' or 'no' with no going back.
Movements always aggressively ask of the uncommitted the question: are you for us or against us? At the same time, they inevitably drag in their wake a few bitter, disappointed people who find that they can work off their spleen by insulting or threatening the other side. The comic Susan Colman found this. Her satirical contribution to a local radio show on the referendum triggered an onslaught of online abuse.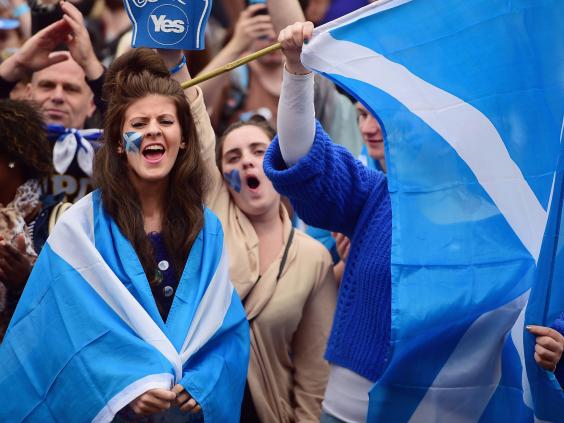 Nevertheless, in the digital age the democratic ideal that every individual feels that he or she really counts can be more nearly attained than ever before. No longer need anyone fear that his or her vote would be wasted. 'Yes Scotland' has set the pace. It promised to 'galvanise and motivate our members and supporters and reach out within our communities, door by door, street by street in the most unprecedented campaign of mobilisation and communication by the SNP and in the history of Scottish politics.'
Supporters were even told, "wear an SNP enamel pin badge to spark conversations about independence". You can call this high-powered marketing, which it was. Or an exercise in inclusiveness, which it also was. As was the decision to include 16 and 17-year-olds in the franchise. Good tactics, yes, but again, also inclusiveness. There was even a big effort at job-centres to register unemployed people to vote.
There is a further factor. The use of social media has extended the inclusive nature of the referendum because it has enabled teams to work laterally, peer-to-peer rather than top-down. Grassroots groups have formed themselves spontaneously while individuals have felt moved to try to convince friends and family. This in turn has changed the way voters have been getting their information. They appear to have listened with only half an ear to what the party leaders, Salmond, Darling, Cameron and Miliband have been saying. Instead it they seem to have been more influenced by conversations between themselves.
The result is that the turnout of voters today is likely to be remarkably high. Pretty well everybody intends to go to the polls. Already the number of those registered stands at an all-time record: nearly 97 per cent (4.29 million) of the total population aged 16 and over. Moreover, some 90 per cent of those polled in recent surveys indicated that they're 'absolutely certain' that they'll be voting. And this high proportion of likely voters scarcely varies between age groups or between occupational classes. If that is not democracy at its finest, I don't know what is.
For this reason, the way the Scottish referendum has been conducted will be enormously influential around the world, whatever its outcome. If the process can be carried out legally, more or less peacefully and with maximum participation by the citizens concerned, as it has been in Scotland, why should not the Catalans, or the Basques, or the Bretons or the Corsicans, or the Flemings or even the Venetians with their proud history as an independent republic, also put their hopes to the test?
In Shakespeare's Scottish tragedy, Macbeth, the execution of Cawdor is described with a now famous line: "nothing in his life became him like the leaving it." If Scotland today answers the referendum question in the affirmative and leaves the United Kingdom, these words will accurately describe the high quality of the debate that has just taken place.
Reuse content