The news that Steven Gerrard is bringing in a superchef to the restaurant he co-owns in Southport – with the attendant possibility that the town might realistically entertain hopes of appearing on the Michelin star list – will come as little surprise to Sandgrounders like me, whose first reaction is: about time, too.
Matthew Worswick, who's a terrifyingly young 26 and gained a Michelin star at Glenapp Castle in Scotland, will introduce to the Warehouse Kitchen and Bar such dishes as chateaubriand and duck fat chips as well as, he promises, "barbecued pineapple tarte tatin with rum ice cream." It certainly beats the Wimpy Bar, which constituted my principal dining-out option in the town where I was born and raised. There must have been a few nice restaurants – Lord Street and the Promenade were full of fancy hotels – but the poshest it ever got for me was the Berni Inn once or twice.
In fact Southport has always fancied itself, ever since Prince Louis Napoleon lived in exile on Lord Street for a while before he became Emperor of France. The story goes that, inspired by the elegance of Southport's main drag, when he got back home and took the throne he set Baron Haussmann to work remodelling Paris in its image – hence the expansive, tree-lined boulevards.
The town used to pitch itself as the gentleperson's seaside resort, Blackpool without the Tower, the tackiness, the illuminations, the nightlife, or indeed any of things that make Blackpool what it is. The 1996 edition of the Rough Guide to England doesn't mention it once – it's not even on the map of the North-west. But that's surely as it should be: there's nothing rough about Southport, thank you very much.
Actually, there was something a little bit rough in 2008, when a fight broke out at the Lounge Inn in the town. Steven Gerrard was later cleared of affray, and he's put that episode firmly behind him with his co-ownership of the Warehouse Kitchen and Bar. It's surely safe to say there'll be no barnies breaking out there.
Gerrard's not the only footballer in the catering business, though he's upmarket compared to some: his old England team-mate Gary Neville has just opened a football-themed café in Westfield Stratford with Ryan Giggs (called, with a daring leap of the imagination, Café Football). No chateaubriand and duck fat chip nonsense there – but you can have Nev's Noodle Pot, Starting Eleven Platter or Hometeam Burger for mains, followed by Vimto Ripple for pud.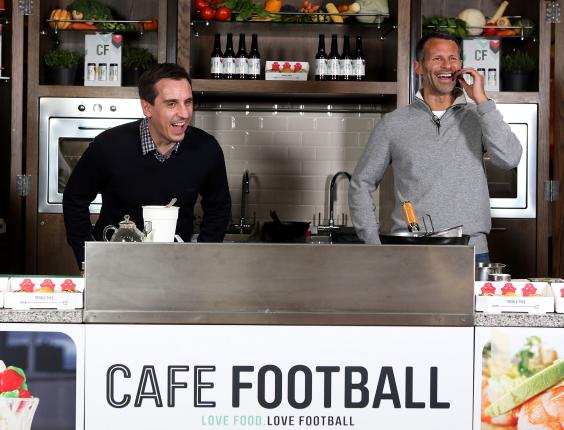 I suspect Gerrard and the Manchester United lads are aiming for slightly different markets. Café Football's the kind of place you might find in gaudy, hysterical Blackpool, while Southport's elegance, however faded – or, indeed, imaginary – is far better suited to the concept of fine dining and high living. You'd never have caught Louis Napoleon in Café Football, but you might have spotted him tucking into his barbecued pineapple tarte tatin with rum ice cream at the Warehouse Kitchen and Bar.
Reuse content