Who won the battle for Number 10? Well I will say this. No, let me explain and let me be clear, too – can I just answer the question? You know what, I'm not sure that is the question, actually, for the majority of the hard-working people out there. The man on the street. Did someone say Shredded Wheat? Was that you Paul? Hi, Paul. Thank you for that great question, Paul. You want to talk about the NHS? I have a great joke about a bacon sandwich my special adviser wrote for me this morning. No, honestly, hand on heart, it is really funny and he told me to get it in, no matter what. Here goes. You ok? Hell, yes!
If you were playing a game of spot the cliché, or waffle bingo, perhaps, during the first television election event – it wasn't a debate, nor, despite its title, a battle, so let's go with event – you were most likely waving your card in the air long before Jeremy Paxman asked Ed Miliband his final, killer, question. "You ok, Ed?" he queried post-grilling, with all the caring sincerity of a hungover Nurse Ratched.
The Battle for Number 10 was trailed by its joint broadcasters Channel 4 and Sky News with more build-up than X Factor. There were helicopters, a light show and a thumping heartbeat soundtrack. Jeremy Paxman was brought out of retirement. Nigel Farage turned up for a piece of the action, and a glass of red wine. All the pieces were in place for a giant anti-climax.
In the event, it was terrific television. David Cameron had refused a head-to-head debate and so instead we had separate job interviews, conducted by Paxman, with a spot of practical assessment – fielding questions from the hard-working studio audience – in between. It was an odd format, not least because it relegated Sky's Kay Burley to a lectern and a role akin to that of a Eurovision announcer – but it had me pinned to the sofa for the full 90 minutes.
Pinned, but for a stroll to the kettle when it became clear that the audience Q&A sessions were a lame duck. Coming after Paxman's mauling of the PM, they were as tasty as a cold Quorn burger after a hunk of Wagyu steak. Why broadcasters persist with the idea that the public cannot engage with politics if they do not see themselves, in all their pre-selected diversity, asking some vague questions is baffling. If The Apprentice (average 7 million viewers) can dedicate a whole episode to candidates being interviewed/eviscerated by experts, why not this? The stakes are higher, however much one respects Lord Sugar's empire.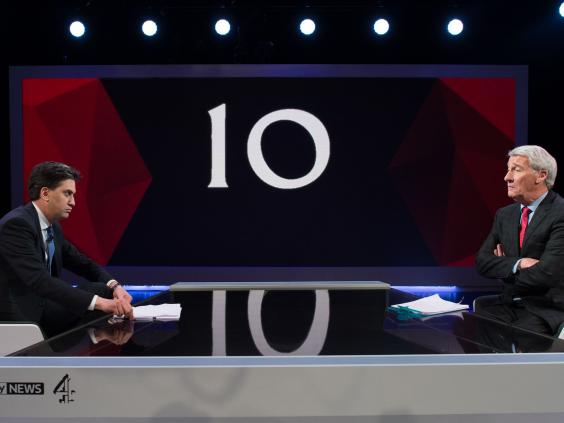 Still, the opening interview in which a reinvigorated Paxman grilled Cameron over food banks, immigration and welfare cuts was a thriller. It rapidly became clear why the Prime Minister had resisted a television event for so long. Eighteen minutes flew by. Miliband, appearing second and starting with expectations lower than the Earth's core, fared better. Paxman rattled him on immigration but the personal barbs bounced off like so many (too many) rubber bullets. Questions about his brother and his geeky demeanour provoked groans in the audience. Give us policy, not personality, they seemed to say. But that is the fundamental problem with a television event – it cannot help but be about both. It also has to be quick and slick, so it can never really do more than scratch the surface. The soundbites – hell, yes! – linger long after.
To take a leaf out Paxman's book and repeat the question, who won? I'd be mildly pleased if I were Ed, and mildly disconcerted if I were David. Both were fine, which is not really an adjective to rouse voters out of apathy. A snap poll gave Cameron the edge (54 per cent) on Miliband (46 per cent) but Miliband won over more undecided voters than Cameron – 56 to 30 per cent, with 14 per cent still undecided.
In pictures: Top 12 wacky candidates seeking your vote in 2015
In pictures: Top 12 wacky candidates seeking your vote in 2015
1/12 Charlotte Rose, Brighton Pavilion

Sex worker Charlotte Rose stood in last year's Rochester and Strood by-election on a platform of legalising brothels (she came 11th) and says the issue is "important for democracy"

Image taken from Twitter

2/12 Solomon Curtis, Wealden

The youngest candidate to emerge so far is Labour activist Solomon Curtis. Just 18, the young chap has a Tory majority of 17,000 to overturn to become the youngest MP ever

3/12 Doris Osen, Ilford North

The oldest candidate to declare, Doris Osen, 84, of Epic – Elderly Persons' Independent Party – spent £1,000 on 30,000 fliers to voters

4/12 Dave Wasgij, Preston

Standing to give "piece a chance", comedian Dave Wasgij has been captured by the jigsaw lobby and is promising free puzzles for OAPs

5/12 Joe Stead, Calder Valley

Protest singer Joe Stead will provide colour at the count. He says war can be prevented through music alone

6/12 Arthur Uther Pendragon, Salisbury

He's stood for Parliament in five elections and believes he's the reincarnation of the King Arthur. Apparently, the stones say this is finally his year

Matt Cardy/Getty Images

7/12 Greg Clough, Islington

An Australian married to a Greek, Ukip's Greg Clough wants to stop immigrants using "our" NHS

8/12 Colin Bex, Eastleigh

Colin Bex's mission is self-government for the ancient lands of Wessex

9/12 Dave Bishop, seat TBC

Standing alternately as Elvis Loves Pets, The Church of the Militant Elvis, Lord Biro and the Bus Pass Elvis, Dave Bishop (below) has stood since 1997. Among his policy ideas are "free neutering for cats and Boris Johnson"

10/12 Mark Flanagan, Leeds North West

Mark Flanagan is giving voters the option of voting for "none of the above" and thereby rejecting every other candidate

11/12 Al Murray, South Thanet

Presumably wants a boost in sales for his next comedy DVD

PA

12/12 Robert Boaler, South Thanet

Robert Boaler for the Al-Zebabist Nation of Ooog party, wants to build a "great wall of Thanet" to save the town from nearby elite in Broadstairs
The real winners, then, were Channel 4 and Sky, who saw their audiences rocket. The showdown averaged 2.7 million across 90 minutes, bringing Channel 4 around double its usual peak-time share while Sky News peaked at 371,00, which is way up on its usual figures. On Twitter, thanks in no small part to journalists who were tweeting from their sofas, it was the No 1 trend in the UK for 12 hours. Next Thursday's seven-way debate on ITV will likely draw even more in.
But 2.7 million is small fry compared with the first election debate in 2010, which was broadcast on ITV, and had 9.4 million viewers. It is also significantly fewer people than watched MasterChef on BBC One (5.07 million) and stuck with The Truth about Calories on that channel once the electoral showdown had begun on the other channels (4.01million).
The real election battle is how to get those disinterested millions watching, and once they are, giving them something solid on which to hang their votes.
Reuse content