1. OH DEAR, MIA
"Thank you so much Woody for casting me," said Cate Blanchett - some might say defiantly - as she picked up Best Actress for Blue Jasmine. Blanchett was – all things considered – in a no-win situation. To praise Woody Allen was to nail her colours to a character dogged by child abuse claims, and to stick two fingers up to Dylan Farrow's open letter. To leave Allen out would be a snub to the man who pays her invoices and creates for her the sort of roles that win gongs. Blanchett's speech also contained some remonstration about taking women seriously, drowned out by the heavy wailing of an irony klaxon somewhere in Camp Farrow.
2. RED OR BED?
Much is said about Jennifer Lawrence's determination to act like a "normal woman" despite her superstardom. So her tendency to fall over during formal occasions is by default an important feminist statement. In order for a woman to be acceptable at red-carpet functions she must wear very high heels and a very tight-fitting dress that impedes movement of legs and then navigate one's way over plush carpets and up and down stairs. And all the while remaining radiant and aloofly serene. The moment Lawrence forgets herself for just one second and acts like a human being she ends up on her arse. More women should simply lie down on the red carpet, kick their ankles in the air and scream, "I am a woman in a stupid impractical dress, hear me roar" as a sisterhood protest. Or some of the male actors should be forced to wear stilts and straight jackets.
3. IS THAT YOU LIZA?
Major Talking Point of the Night: Miss Liza Minnelli – invited for a Judy Garland tribute – bra-less in an electric blue silk billowing smock plus trousers with matching neon-streaked hair, comfy boots and a face instantly recognisable, but curiously that of someone else's. There wasn't a nominee, a TV viewer, or a Twitter user unaware of Liza Minnelli's presence at the 2014 Oscars Ceremony, especially after Ellen's opening-speech joke complimenting "the best Liza Minelli impersonator ever seen! Good job sir!"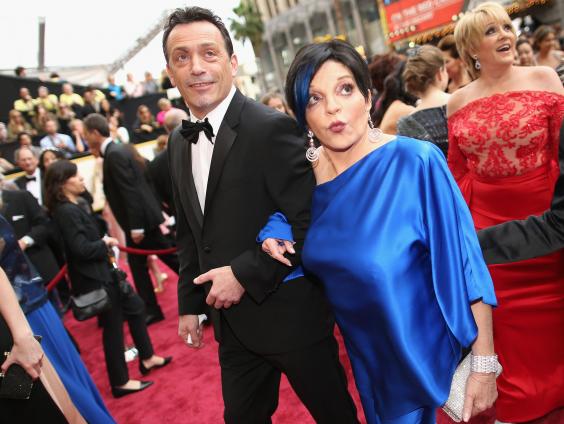 4. SUNDAY NIGHT FEVER
"Please welcome the wickedly talented Adele Nazim!" said John Travolta in a brave, pioneering pronunciation of actress Indina Menzal's name. Adele, sorry Indina, appeared to sing the nominated song "Let It Go".  Hopefully Indina will. Travolta, not one to be bogged down in details, also made reference to the musical Les Miserables, pronouncing it "Les Miserabbblezz", like my Aunty Sheila would when booking a coach trip to London staying half-board in Bayswater. I could have easily swapped two or three of the musical numbers for the joy of "John Travolta pronouncing things". Lupita Ny'ongo and Barkhad Abdi were very lucky.
5. THE JARED LETO CONUNDRUM
Forget those bristly macho hipster beards, the most "now" form of masculinity – as displayed by Jared Leto – is long, pretty, beautifully shampooed locks. Speculation that the Dallas Buyers' Club winner would opt for a "Mun" – that's "a man bun", aka a male topknot, thus preventing us gazing at his magical locks - was thankfully false. Jared's current look is part celestial angel, part Navajo Tribal Park employee, part Alanis Morissette drag act. It's a winning combination. I'm not sure whether I want to have have sex with him or have a sleepover where we watch Dirty Dancing and do Body Shop guava facepacks but I know I feel something.
Oscars 2014 Winners
Oscars 2014 Winners
1/8 Jared Leto : Best Supporting Actor

Jared Leto Wins for 'Dallas Buyers Club'

Getty Images

2/8 Lupita Nyong : Best Performance by an Actress in a Supporting Role

Lupita Nyong Wins for '12 Years a Slave'

Getty Images

3/8 Adruitha Lee and Robin Mathews : Best Makeup and Hairstyling

Adruitha Lee and Robin Mathews Wins for 'Dallas Buyers Club'

Getty Images

4/8 Peter Del Vecho, Jennifer Lee and Chris Buck : Best Animated Feature Film

Peter Del Vecho, Jennifer Lee and Chris Buck Wins for 'Frozen'

Getty Images

5/8 Laurent Witz and Alexandre Espigares : Best Short Film, Animated

Laurent Witz and Alexandre Espigares Wins for 'Mr. Hublot'

6/8 Nicholas Reed and Malcolm Clarke : Best Documentary, Short Subject

Nicholas Reed and Malcolm Clarke Wins for 'The Lady In Number 6'

Getty Images

7/8 Toni Servillo, Paolo Sorrentino, and Nicola Giuliano : Best Foreign Language Film

Toni Servillo, Paolo Sorrentino, and Nicola Giuliano Wins for 'The Great Beauty'

Getty Images

8/8 Christopher Benstead, Niv Adiri, Skip Lievsay, and Chris Munro : Best Achievement in Sound Mixing

Christopher Benstead, Niv Adiri, Skip Lievsay, and Chris Munro Wins for 'Gravity'

Getty Images
6. THE WIND BENEATH MY WINGS
Bette Midler's "Wind Beneath My Wings" makes people cry for a variety of reasons. Some because they remember the weep-fest movie Beaches, others because it's 1am at Lucky Voice and Diane from Bought Ledger is honking through the shrieky ad-lib fade-out chorus. The ditty to death was fittingly chosen on Sunday night to accompany the tribute to actors – such as Paul Walker from The Fast and The Furious – who recently passed away. Midler's version won a standing ovation and not a dry eye in the house. My version typically wins a visit from the Waltham Forest noise abatement officer.
7. WHO ORDERED THE TRANS-FATS?
Host Elen Degeneres wasn't to be stuck drably behind a podium all night. Many of her links took place among the audience. She goofed about with the Hollywood A-list, dragging them into a selfie, and – the biggest LOL of all – ordering in pizza. Yes, actual pizza made from delicious refined carbohydrates, trans-fats, processed meats and non-specific cheese. Pizza is like kryptonite to these people. Leonardo DiCaprio blankly refused the gift. Considering his luck on the night, he'd have been wise to accept anything.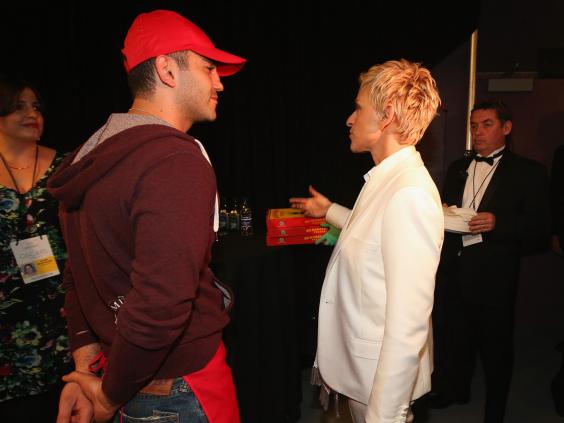 8. NOT ABOUT U, BENEDICT
U2 performed an accoustic version of "Ordinary Love" before a backdrop of Nelson Mandela images. It's always a treat to see U2 because – despite Bono's verbose profile – the other members of the group are notoriously private and choosy about publicity. "Ordinary Love" was later beaten in its category by some Disney song of which John Travolta couldn't pronounce the singer's name, and their red-carpet photo call was messed up by an attention-seeking Benedict Cumberbatch.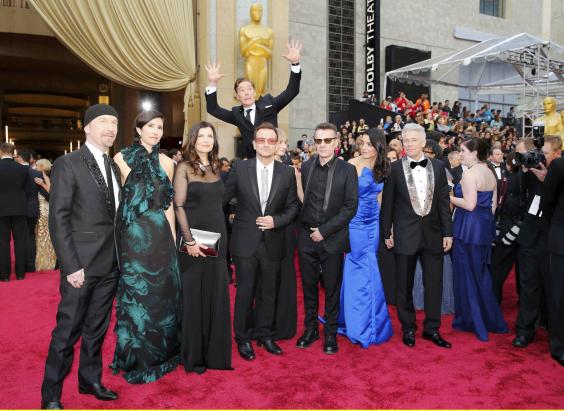 9. WEEKEND AT VERSACE'S
Reticent pop-starlet Lady Gaga – styled for Oscar night as the hinterland between The Statue of Liberty and Big Pat from EastEnders going for a night up West – arrived at the Oscars after everyone was seated. It was not wholly clear why Gaga was invited to the Oscars. She is not an actress, not connected to any of the nominees, nor for that matter even known to enjoy cinema, although it must be noted that she clung all evening to Donatella Versace, whose entire schtick is clearly heavily influenced by the movie Weekend at Bernie's.
10 NO MERE MORTALS
Belle of the Ball was Lupita Nyong'o wearing a gorgeous fairytale pale blue gown specially made by Prada, with an elegant tiara. On Lupita's slender frame this ensemble looked otherworldly. On a mere mortal woman's frame it would give off the vibe of "Lady on top of Grandma's Andrex pile". Oscar night is a lesson to women in our shortcomings. Kerry Washington, Olivia Wilde and Elsa Pataky all pulled off high red-carpet glamour while heavily pregnant, cloaking their baby bumps in Jason Wu, Valentino and Elie Saab. Just at the point where sweatpants and a fleece seems like a chore, these women hire a glam team and invite the world's scrutiny. 100 per cent troupers.