It should never have worked, really. A fiddle-playing family gigging at the local pub isn't usually the recipe for global stardom. But the folksy, diddley-eye charms of The Corrs secured them just that. The band went from playing in their aunt's pub, McManus's in Dundalk, Co Louth, to packing out venues around the world, with global platinum-selling albums. In 1998, their album Talk on Corners was the best-selling LP in the UK, and the most successful Irish album in UK history, outselling U2 and Westlife. Their third album, the poppier In Blue, went to No 1 in 17 countries. As sweet little Irish bands go, they were pretty huge.
Naturally, being Irish, I may have had an album or two in my collection. OK, I may have had them all. By the time Talk on Corners was released, I was enough of a fan to make the rare 70-mile round trip to Cork city to buy the album. Virgin Megastore had just opened and was packed with trendy teenagers crowding at the newfangled listening stations, lending an ear to friends when a particularly good song came on. I lingered shyly at one station for as long as I could, transfixed by the hypnotic melodies, all the while aware that my neighbours were listening to something infinitely cooler.
Because The Corrs were many things, but not exactly cool. But then again, neither was I. I was vaguely aware in my teens that Nirvana were a big deal, but until I discovered their unplugged album they left me cold. Blur vs Oasis? I claimed to be in camp Blur, but I would have struggled to name a song beyond "Country House". And I sat puce-faced in the college bar in my first year of university as everyone else wailed along to Radiohead's "Creep" – I was the only one who didn't know the words.
Culture news in pictures
Culture news in pictures
1/30 30 September 2016

An employee hangs works of art with "Grand Teatro" by Marino Marini (R) and bronze sculpture "Sfera N.3" by Arnaldo Pomodoro seen ahead of a Contemporary Art auction on 7 October, at Sotheby's in London

REUTERS

2/30 29 September 2016

Street art by Portuguese artist Odeith is seen in Dresden, during an exhibition "Magic City - art of the streets"

AFP/Getty Images

3/30 28 September 2016

Dancers attend a photocall for the new "THE ONE Grand Show" at Friedrichstadt-Palast in Berlin, Germany

REUTERS

4/30 28 September 2016

With an array of thrift store china, humorous souvenirs and handmade tile adorning its walls and floors, the Mosaic Tile House in Venice stands as a monument to two decades of artistic collaboration between Cheri Pann and husband Gonzalo Duran

REUTERS

5/30 27 September 2016

A gallery assistant poses amongst work by Anthea Hamilton from her nominated show "Lichen! Libido!(London!) Chastity!" at a preview of the Turner Prize in London

REUTERS

6/30 27 September 2016

A technician wearing virtual reality glasses checks his installation in three British public telephone booths, set up outside the Mauritshuis museum in The Hague, Netherlands. The installation allows visitors a 3-D look into the museum which has twenty-two paintings belonging to the British Royal Collection, on loan for an exhibit from 29 September 2016 till 8 January 2017

AP

7/30 26 September 2016

An Indian artist dressed as Hindu god Shiva performs on a chariot as he participates in a religious procession 'Ravan ki Barat' held to mark the forthcoming Dussehra festival in Allahabad

AFP/Getty Images

8/30 26 September 2016

Jean-Michel Basquiat's 'Air Power', 1984, is displayed at the Bowie/Collector media preview at Sotheby's in New York

AFP/Getty

9/30 25 September 2016

A woman looks at an untitled painting by Albert Oehlen during the opening of an exhibition of works by German artists Georg Baselitz and Albert Oehlen in Reutlingen, Germany. The exhibition runs at the Kunstverein (art society) Reutlingen until 15 January 2017

EPA

10/30 24 September 2016

Fan BingBing (C) attends the closing ceremony of the 64th San Sebastian Film Festival at Kursaal in San Sebastian, Spain

Getty Images

11/30 23 September 2016

A view of the artwork 'You Are Metamorphosing' (1964) as part of the exhibition 'Retrospektive' of Japanese artist Tetsumi Kudo at Fridericianum in Kassel, Germany. The exhibition runs from 25 September 2016 to 1 January 2017

EPA

12/30 22 September 2016

Jo Applin from the Courtauld Institute of Art looks at Green Tilework in Live Flesh by Adriana Vareja, which features in a new exhibition, Flesh, at York Art Gallery. The new exhibition features works by Degas, Chardin, Francis Bacon and Sarah Lucas, showing how flesh has been portrayed by artists over the last 600 years

PA

13/30 21 September 2016

Performers Sean Atkins and Sally Miller standing in for the characters played by Asa Butterfield and Ella Purnell during a photocall for Tim Burton's "Miss Peregrines Home For Peculiar Children" at Potters Field Park in London

Getty Images

14/30 20 September 2016

A detail from the blanket 'Alpine Cattle Drive' from 1926 by artist Ernst Ludwig Kirchner is displayed at the 'Hamburger Bahnhof - Museum for Contemporary Arts' in Berlin. The exhibition named 'Ernst Ludwig Kirchner - Hieroglyphen' showing the complete collection of Berlin's Nationalgallerie works of the German artist Ernst Ludwig Kirchner and will run from 23 September 2016 until 26 February 2017

AP

15/30 20 September 2016

A man looks at portrait photos by US photographer Bruce Gilden in the exhibition 'Masters of Photography' at the photokina in Cologne, Germany. The trade fair on photography, photokina, schowcases some 1,000 exhibitors from 40 countries and runs from 20 to 25 September. The event also features various photo exhibitions

EPA

16/30 20 September 2016

A woman looks at 'Blue Poles', 1952 by Jackson Pollock during a photocall at the Royal Academy of Arts, London

PA

17/30 19 September 2016

Art installation The Refusal of Time, a collaboration with Philip Miller, Catherine Meyburgh and Peter Galison, which features as part of the William Kentridge exhibition Thick Time, showing from 21 September to 15 January at the Whitechapel Gallery in London

PA

18/30 18 September 2016

Artists creating one off designs at the Mm6 Maison Margiela presentation during London Fashion Week Spring/Summer collections 2017 in London

Getty Images

19/30 18 September 2016

Bethenny Frankel attends the special screening of Disney's "Beauty and the Beast" to celebrate the 25th Anniversary Edition release on Blu-Ray and DVD in New York City

Getty Images for Walt Disney Stu

20/30 17 September 2016

Visitors attend the 2016 Oktoberfest beer festival at Theresienwiese in Munich, Germany

Getty Images

21/30 16 September 2016

Visitors looks at British artist Damien Hirst work of art 'The Incomplete Truth', during the 13th Yalta Annual Meeting entitled 'The World, Europe and Ukraine: storms of changes', organised by the Yalta European Strategy (YES) in partnership with the Victor Pinchuk Foundation at the Mystetsky Arsenal Art Center in Kiev

AP

22/30 16 September 2016

Tracey Emin's "My Bed" is exhibited at the Tate Liverpool as part of the exhibition Tracey Emin And William Blake In Focus, which highlights surprising links between the two artists

Getty Images

23/30 15 September 2016

Musician Dave Grohl (L) joins musician Tom Morello of Prophets of Rage onstage at the Forum in Inglewood, California

Getty Images

24/30 14 September 2016

Model feebee poses as part of art installation "Narcissism : Dazzle room" made by artist Shigeki Matsuyama at rooms33 fashion and design exhibition in Tokyo. Matsuyama's installation features a strong contrast of black and white, which he learned from dazzle camouflage used mainly in World War I

AP

25/30 13 September 2016

Visitors look at artworks by Chinese painter Cui Ruzhuo during the exhibition 'Glossiness of Uncarved Jade' held at the exhibition hall 'Manezh' in St. Petersburg, Russia. More than 200 paintings by the Chinese artist are presented until 25 September

EPA

26/30 12 September 2016

A visitor looks at Raphael's painting 'Extase de Sainte Cecile', 1515, from the Uffizi Gallery in Florence during the opening of a Raphael exhibition at the Pushkin State Museum of Fine Arts in Moscow, Russia. The first Russian exhibition of the works of the Italian Renaissance artist Raffaello Sanzio da Urbino includes eight paintings and three drawings which come from Italy. Th exhibit opens to the public from 13 September to 11 December

EPA

27/30 11 September 2016

Steve Cropper and Eddie Floyd perform during Otis Redding 75th Birthday Celebration - Rehearsals at the Macon City Auditorium in Macon, Georgia

Getty Images for Otis Redding 75

28/30 10 September 2016

Sakari Oramo conducting the BBC Symphony Orchestra, the BBC Symphony Chorus and the BBC Singers at the Last Night of the Proms 2016 at the Royal Albert Hall in London

PA

29/30 9 September 2016

A visitor walks past a piece entitled "Fruitcake" by Joana Vasconcelo, during the Beyond Limits selling exhibition at Chatsworth House near Bakewell

REUTERS

30/30 8 September 2016

A sculpture of a crescent standing on the 2,140 meters high mountain 'Freiheit' (German for 'freedom'), in the Alpstein region of the Appenzell alps, eastern Switzerland. The sculpture is lighted during the nights by means of solar panels. The 38-year-old Swiss artist and atheist Christian Meier set the crescent on the peak to start a debate on the meaning of religious symbols - as summit crosses - on mountains. 'Because so many peaks have crosses on them, it struck me as a great idea to put up an equally absurd contrast'. 'Naturally I wanted to provoke in a fun way. But it goes beyond that. The actions of an artist should be food for thought, both visually and in content'

EPA
In among the grungy melancholy of the Nineties, The Corrs sang not about misery, drugs and dejection, but songs of a far sweeter nature –mostly about dreamy love and bittersweet loss. Never in their lyrics did they turn to the bottom of a vodka bottle to ease their pain. But for a sheltered North Cork girl, The Corrs had all the angst I needed. Sure, I listened to Skunk Anansie and The Fugees with the volume cranked up, but I found it hard to relate to the tales of hedonism and homelessness. The Corrs were relatable, honest and, well, safe. "Runaway" and "Only When I Sleep" were my anthems, with "I Never Really Loved You Anyway" for my feistier moments. Was I just a more well-balanced, emotionally stable teenager? Was I heck. I was angsting all over the place – my baffled parents can attest to that.
Still, I wasn't the only uncool teenager out there listening, and their reach extended far beyond rural Ireland. Perhaps the reason for The Corrs' success was timing. Riverdance-fever was still going strong in 1996, and Enya, still Ireland's best-selling solo artist, was riding high in the Nineties. I didn't care for anything "trad" at the time – eight years of Irish dancing had dampened any love of it I had. I still wince when an accordion grates to life. But The Corrs managed to take trad and make it sexy and modern. It doesn't hurt, I guess, that they're all incredibly beautiful (the girls at least, sorry Jim). They wore gorgeous satiny slip things that were all the rage in the Nineties, designed by Ghost and Calvin Klein, and with their smoky eyes and pale skin, looking like an altogether more wholesome version of Kate Moss. Andrea in particular regularly featured on "Most Beautiful Woman in the World" lists. That, coupled with an easy-listening timelessness made for some very agreeable music.
Then, around 2005, they disappeared. Apart from Jim's appearances on Ireland's Late Late Show to discuss his varied conspiracy theories (9/11, swine flu, Bin Laden – all of which have been stripped from his website since September) and the occasional tabloid pap shot of "raven-haired stunner" Andrea, it all seemed quiet. What were they doing in the past 10 years? Well, having babies, eight between them, and working on solo projects, with varying degrees of success. Andrea took a different musical direction with two solo albums produced by Nellee Hooper, who has worked with Björk and Gwen Stefani, but it got a rather lukewarm reception. Sharon also wrote two albums, and starred as a coach on talent show The Voice of Ireland. All four said they were reluctant to reunite before now and go back on the road because they wanted to dedicate time to their families and children, who now range in age from one to 12 years old. They most certainly didn't go down the route of so many "bands on a break" – no getting fat or developing addictions problems, or falling out of nightclubs. No dubious toyboy relationships. No paparazzi flare-ups or fender benders. No nip slips. They're a classy lot, The Corrs. Parents all over Ireland must have been thrilled that their teenagers had grown up with the nicest band in pop.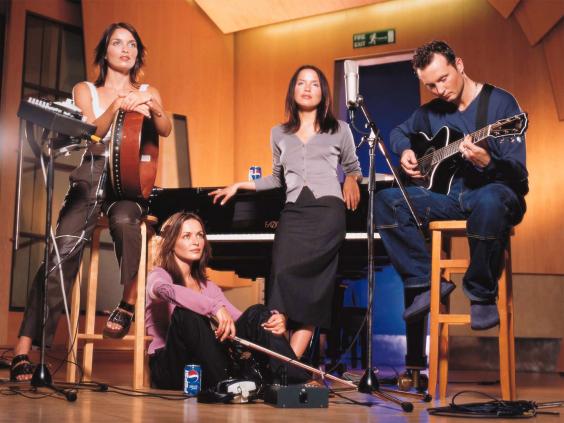 Ten years on, I may be older, more cynical and less sheltered (the angst levels are debatable), but as The Corrs return it looks as if no time has passed at all. Scroll through YouTube, and it's hard to decipher which clips are 10 years old and which are from their Hyde Park appearance last summer. But none of it seems dated – it turns out the smoky-eye, strappy-dress look is timeless, and compared to the scores of reunited rockers out there today, the fortysomething-year-old sisters no way look like oldies trying to "dress up" as their former selves. This is no mean feat: imagine the Spice Girls today, stumbling around in their platform trainers, or East 17 straightening their backwards baseball caps over thinning hairlines. The music has also aged gracefully – their new album, White Light, is still sweet (but not sickly), pure and melodic. Perhaps the lyrics are a little wiser, a bit more mature – less of the head-in-the-clouds feel of "Runaway". And it appears that their fanbase is very much still intact – the album entered the charts at No 11.
Jim is the only member of the Corrs that still lives in Ireland – Sharon lives in Spain and Andrea and Caroline live in the UK. But their roots aren't forgotten in their new tour – they are using background imagery of scenery from their native Louth and White Light is still unmistakably Irish. Their instrumental stuff – always a brave addition to a pop album – is still as rousing as ever, and at their 2015 Hyde Park gig, normally nonchalant revellers jigged (well, reeled) along merrily to "Toss the Feathers". And perhaps it's expat nostalgia (we Irish are notorious for getting misty-eyed for the homeland even on a week-long break in Majorca), but the squeal of a tin whistle doesn't jar as much with me as it used to, and the bodhrán is one of the most exciting, unmistakeable instruments you'll ever hear played. "Gerry's Reel", from the new album, is as good as Irish trad music gets.
Maybe they've got their timing right, yet again. The success of bands like Mumford & Sons and Ed Sheeran have seen a swing back to the folksy – with fans craving an alternative to manufactured boy bands and samey synth-pop. And there's no denying that White Light smacks of authenticity – no dance remixes or grime undertones here. Strip out some of the folksier instruments and I could imagine Little Mix doing a version of some of their later hits. OK, perhaps not Rihanna or Iggy Azalea (can you see Sharon breaking into rap?), but still.
The return of The Corrs led me, somewhat sheepishly, with a little self-conscious eye-roll, to dig out the back catalogue. For research, of course – I'm far too cool now for such tweeness. Or not. Halfway through Forgiven, Not Forgotten, I was back to being a 14-year-old, dipping my toes into matters of life and love. I may as well have been standing in Virgin Megastore again. The Corrs may never be eulogised as Bowie was last week, or credited with shaping a generation, but I can't help but think they helped to shape me.
Reuse content