It should never have worked, really. A fiddle-playing family gigging at the local pub isn't usually the recipe for global stardom. But the folksy, diddley-eye charms of The Corrs secured them just that. The band went from playing in their aunt's pub, McManus's in Dundalk, Co Louth, to packing out venues around the world, with global platinum-selling albums. In 1998, their album Talk on Corners was the best-selling LP in the UK, and the most successful Irish album in UK history, outselling U2 and Westlife. Their third album, the poppier In Blue, went to No 1 in 17 countries. As sweet little Irish bands go, they were pretty huge.
Naturally, being Irish, I may have had an album or two in my collection. OK, I may have had them all. By the time Talk on Corners was released, I was enough of a fan to make the rare 70-mile round trip to Cork city to buy the album. Virgin Megastore had just opened and was packed with trendy teenagers crowding at the newfangled listening stations, lending an ear to friends when a particularly good song came on. I lingered shyly at one station for as long as I could, transfixed by the hypnotic melodies, all the while aware that my neighbours were listening to something infinitely cooler.
Because The Corrs were many things, but not exactly cool. But then again, neither was I. I was vaguely aware in my teens that Nirvana were a big deal, but until I discovered their unplugged album they left me cold. Blur vs Oasis? I claimed to be in camp Blur, but I would have struggled to name a song beyond "Country House". And I sat puce-faced in the college bar in my first year of university as everyone else wailed along to Radiohead's "Creep" – I was the only one who didn't know the words.
Culture news in pictures
Culture news in pictures
1/30 24 June 2016

US artist Joan Jonas poses during the presentation of her exhibition 'Joan Jonas: Stream or River. Flight or Pattern' at the Bitin Foundation in Santander, northern Spain. The display featuring experimental film and video-installation of pioneering Jonas will be open to the public from 25 June to 16 October 2016

EPA

2/30 23 June 2016

Evie Ferris and Georgia Scott-Hunter, Artists of The Australian Ballet next to one of Edgar Degas' iconic ballet dancer paintings 'Dancer with Bouquets' during the media preview for the 'Degas: A New Vision' exhibition at National Gallery of Victoria in Melbourne, Australia. The exhibition will run from 24 June to 18 September as part of the Melbourne Winter Masterpieces series

Getty Images

3/30 22 June 2016

Figures of characters from the comic series 'Uncle Walt' by US cartoonist Frank King are on display in the exhibition 'Pioneers of the Comic Strip. A different Avant-Garde' at the Schirn Kunsthalle museum in Frankfurt am Main, Germany. The exhibition that features the works of six primarily US illustrators created between 1905 and 1940, runs from 23 June 2016 to 18 September 2016

EPA

4/30 21 June 2016

(L-R) Actors Jonathan Holmes, Paul Moniz de Sa, Daniel Bacon, Chris Gibbs, Jemaine Clement, Penelope Wilton, Mark Rylance, Ruby Barnhill, Bill Hader, Rebecca Hall and Rafe Spall arrive on the red carpet for the US premiere of Disney's "The BFG," directed and produced by Steven Spielberg. A giant sized crowd lined the streets of Hollywood Boulevard to see stars arrive at the El Capitan Theatre

Getty Images for Disney

5/30 20 June 2016

Tony Bennett attends as the Friars Club Honors Tony Bennett With The Entertainment Icon Award - Arrivals at New York Sheraton Hotel & Tower in New York City

Getty Images

6/30 19 June 2016

A woman walks in front of the paintings 'Without title' (1960), left, and 'Come closer' (1960), right, during the opening of the exhibition 'Xanti Schawinsky - From the Bauhaus into the World' in Magdeburg, Germany. The exhibition starts on 21 June and lasts until 25 September

AP

7/30 18 June 2016

Recording artist Johnny Bond (L) and Van McCann of Catfish and the Bottlemen perform onstage at Firefly Music Festival in Dover

Getty Images for Firefly

8/30 17 June 2016

Students from both the Richmond and Covent Garden schools perform for Prince Charles, Prince of Wales, in his role as President of The Royal Ballet, as he visits The Royal Ballet School, White Lodge campus in Richmond Park in London

Getty Images

9/30 16 June 2016

A part of the installation 'The Floating Piers' by Bulgarian-born artist Christo Vladimirov Yavachev known as Christo is seen on the Lake Iseo, northern Italy

REUTERS

10/30 15 June 2016

A unique outdoor gallery has been revealed in Hampstead Heath, to mark the return of the Affordable Art Fair in London. The colourful 'running gallery' previewed seven of the artworks going on show at the fair this week from 16 – 19 June. These works, along with thousands more original pieces will be going on sale as the fair opens – all priced between £100 - £5,000

Oliver Dixon/Imagewise

11/30 13 June 2016

The artwork 'Accumulation: Searching for Destination' (2014-2016) by Japanese artist Chiharu Shiota is on display at the show Unlimited in the context of the international art show in Basel, Switzerland. Unlimited is Art Basel's exhibition platform for projects that transcend the limitations of a classical art-show stand, including out-sized sculpture and paintings, video projections, large-scale installations, and live performances. Unlimited is curated by New York-based curator Gianni Jetzer. The Art Basel exhibition is open to the public from 16 to 19 June

EPA

12/30 12 June 2016

A costumed artist performs with fire during International Kiev Fire Fest show. Teams from Greece, Belarus, Lithuania, Slovakia, USA, Czech Republic, Scotland and Ukraine, take part with their fire-shows in the two-day festival in Kiev

Getty Images

13/30 14 June 2016

A man leaves his house as anotherone walks past murals painted as part of a program of the municipality that aims at rescueing public spaces of the historical center in Mexico City. The murals were made on shops' metallic shutters

AFP/Getty Images

14/30 11 June 2016

People look at an art installation named "Fog Assembly" by Danish artist Olafur Eliasson in the castle of Versailles, near Paris

Getty Images

15/30 10 June 2016

Tomatoes float in an aquarium which is part of an artwork entitled 'Something that Floats/Something that sinks' by Japanese artist Shimabuku during the 13th Triennial of smale-scale sculpture in Fellbach, Germany. The exhibition runs from 11 June until 2 October

EPA

16/30 9 June 2016

Swiss artist, Olaf Breuning, stands in front of his artwork 'Text Butt' (2015) in the NRW-Forum in Duesseldorf, Germany. The retrospective can be seen in Duesseldorf from 11 June until 21 August

EPA

17/30 8 June 2016

An artwork entitled 'Hang it all' by Colombian artist Gabriel Sierra is seen during the exhibition 'Under the Same Sun: Art From Latin America Today' at the South London Gallery. The gallery is the final venue on the exhibitionís international tour, following the Guggenheim Museum, New York in June 2014 and the Museo Jumex, Mexico City in November 2015

EPA

18/30 7 June 2016

An interior shows British artist Michael Landy's artworks in the exhibition 'Michael Landy. Out of Order' at the Museum Tinguely in Basel, Switzerland. Landy is one of the Young British Artists (YBAs) generation that emerged in London in the 1990s. The exhibition runs from 8 June to 25 September

EPA

19/30 6 June 2016

A Banksy mural is left painted on the side of one of the classrooms at Bridge Farm Primary in Bristol. The 14ft piece, showing a child with a stick chasing a burning tyre, was discovered at the school along with a letter to the caretaker and was said to be a thank you by the elusive artist after the school recently named a house after him

Getty Images

20/30 5 June 2016

More than 6,000 Colombians pose in the nude for American art photographer Spencer Tunick at Bolivar Square in Bogota. Tunick, famous for his pictures of huge crowds of naked people, convinced more than 6,000 Colombians to strip down in Bogota's main public square - all in the name of peace

Getty Images

21/30 4 June 2016

Bulgarian artist Christo poses in front of the monumental "Mastaba" art work at the Maeght Foundation (Fondation Maeght) on the opening day of the exibition in Saint-Paul, southeastern France. The exibition takes place from 6 June to 27 November

Getty Images

22/30 3 June 2016

Dutch King Willem-Alexander attents the opening of the SONSBEEK '16: transAction, an international contemporary art exhibition in Arnhem, The Netherlands

EPA

23/30 2 June 2016

A sculpture by Colombian artist Fernando Botero is displayed during the opening of an exhibition entitled 'Botero in Hong Kong' at Central district. The outdoor public art installation showcases nine monumental sculptures by Botero from 3 June to 14 August

EPA

24/30 1 June 2016

Everything by my side, a theatrical performance that sees actors in white beds whisper to individual audience members, created by Argentinian artist Fernando Rubio, is unveiled as it makes its UK debut at Canary Wharf in London. Free to the public from 1-3 June. Everything by my side is presented by LIFT, a London-wide festival of international performance and it is the first time the work has been shown since New York City in 2014

PA

25/30 31 May 2016

Visitors look at the painting 'The Unequal Marriage' (1862) by Russian artist Vasili Pukirev during the exhibition 'The Secrets of Old Paintings' at the Tretyakov Gallery in Moscow, Russia. The exhibition is open from 1 June to 27 August as part of the project 'The Tretyakov Gallery opens its store rooms'

EPA

26/30 30 May 2016

The view of an art installation by the artist group Wanda Barcelona, which is made of 8,000 sheets of A0 paper at the 'Drupa' print media trade fair in Duesseldorf, Germany. Drupa, the world's largest trade fair for print media, takes place from 31 May until 10 June 2016 in Duesseldorf

EPA

27/30 29 May 2016

Musician Alice Cooper and Johnny Depp of Hollywood Vampires perform onstage at Hessentags-Arena during the 56th Hessentag in Herborn, Germany

Getty Images

28/30 28 May 2016

Bosnian artist Vedad Trbonja stands in front of the mural painting of David Bowie during the unveiling ceremony in Sarajevo. The mural is a result of a four-month work of a Sarajevo's group of artists led by Vedad Trbonja. According to its creators, this is the largest mural in the world, dedicated to British rock legend, David Bowie

Getty Images

29/30 27 May 2016

An image of an indigenous Australian man is projected onto the sails of the Sydney Opera House during the opening night of the annual Vivid Sydney light festival in Sydney

Reuters

30/30 26 May 2016

A woman walks on steps lined with plastic cups, an art project of four college students, in Wuhan, China

Reuters
In among the grungy melancholy of the Nineties, The Corrs sang not about misery, drugs and dejection, but songs of a far sweeter nature –mostly about dreamy love and bittersweet loss. Never in their lyrics did they turn to the bottom of a vodka bottle to ease their pain. But for a sheltered North Cork girl, The Corrs had all the angst I needed. Sure, I listened to Skunk Anansie and The Fugees with the volume cranked up, but I found it hard to relate to the tales of hedonism and homelessness. The Corrs were relatable, honest and, well, safe. "Runaway" and "Only When I Sleep" were my anthems, with "I Never Really Loved You Anyway" for my feistier moments. Was I just a more well-balanced, emotionally stable teenager? Was I heck. I was angsting all over the place – my baffled parents can attest to that.
Still, I wasn't the only uncool teenager out there listening, and their reach extended far beyond rural Ireland. Perhaps the reason for The Corrs' success was timing. Riverdance-fever was still going strong in 1996, and Enya, still Ireland's best-selling solo artist, was riding high in the Nineties. I didn't care for anything "trad" at the time – eight years of Irish dancing had dampened any love of it I had. I still wince when an accordion grates to life. But The Corrs managed to take trad and make it sexy and modern. It doesn't hurt, I guess, that they're all incredibly beautiful (the girls at least, sorry Jim). They wore gorgeous satiny slip things that were all the rage in the Nineties, designed by Ghost and Calvin Klein, and with their smoky eyes and pale skin, looking like an altogether more wholesome version of Kate Moss. Andrea in particular regularly featured on "Most Beautiful Woman in the World" lists. That, coupled with an easy-listening timelessness made for some very agreeable music.
Then, around 2005, they disappeared. Apart from Jim's appearances on Ireland's Late Late Show to discuss his varied conspiracy theories (9/11, swine flu, Bin Laden – all of which have been stripped from his website since September) and the occasional tabloid pap shot of "raven-haired stunner" Andrea, it all seemed quiet. What were they doing in the past 10 years? Well, having babies, eight between them, and working on solo projects, with varying degrees of success. Andrea took a different musical direction with two solo albums produced by Nellee Hooper, who has worked with Björk and Gwen Stefani, but it got a rather lukewarm reception. Sharon also wrote two albums, and starred as a coach on talent show The Voice of Ireland. All four said they were reluctant to reunite before now and go back on the road because they wanted to dedicate time to their families and children, who now range in age from one to 12 years old. They most certainly didn't go down the route of so many "bands on a break" – no getting fat or developing addictions problems, or falling out of nightclubs. No dubious toyboy relationships. No paparazzi flare-ups or fender benders. No nip slips. They're a classy lot, The Corrs. Parents all over Ireland must have been thrilled that their teenagers had grown up with the nicest band in pop.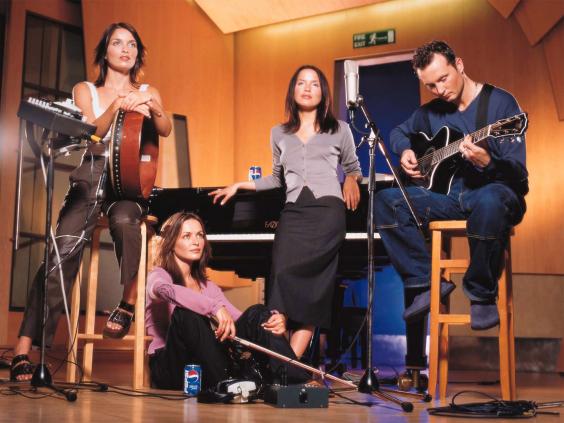 Ten years on, I may be older, more cynical and less sheltered (the angst levels are debatable), but as The Corrs return it looks as if no time has passed at all. Scroll through YouTube, and it's hard to decipher which clips are 10 years old and which are from their Hyde Park appearance last summer. But none of it seems dated – it turns out the smoky-eye, strappy-dress look is timeless, and compared to the scores of reunited rockers out there today, the fortysomething-year-old sisters no way look like oldies trying to "dress up" as their former selves. This is no mean feat: imagine the Spice Girls today, stumbling around in their platform trainers, or East 17 straightening their backwards baseball caps over thinning hairlines. The music has also aged gracefully – their new album, White Light, is still sweet (but not sickly), pure and melodic. Perhaps the lyrics are a little wiser, a bit more mature – less of the head-in-the-clouds feel of "Runaway". And it appears that their fanbase is very much still intact – the album entered the charts at No 11.
Jim is the only member of the Corrs that still lives in Ireland – Sharon lives in Spain and Andrea and Caroline live in the UK. But their roots aren't forgotten in their new tour – they are using background imagery of scenery from their native Louth and White Light is still unmistakably Irish. Their instrumental stuff – always a brave addition to a pop album – is still as rousing as ever, and at their 2015 Hyde Park gig, normally nonchalant revellers jigged (well, reeled) along merrily to "Toss the Feathers". And perhaps it's expat nostalgia (we Irish are notorious for getting misty-eyed for the homeland even on a week-long break in Majorca), but the squeal of a tin whistle doesn't jar as much with me as it used to, and the bodhrán is one of the most exciting, unmistakeable instruments you'll ever hear played. "Gerry's Reel", from the new album, is as good as Irish trad music gets.
Maybe they've got their timing right, yet again. The success of bands like Mumford & Sons and Ed Sheeran have seen a swing back to the folksy – with fans craving an alternative to manufactured boy bands and samey synth-pop. And there's no denying that White Light smacks of authenticity – no dance remixes or grime undertones here. Strip out some of the folksier instruments and I could imagine Little Mix doing a version of some of their later hits. OK, perhaps not Rihanna or Iggy Azalea (can you see Sharon breaking into rap?), but still.
The return of The Corrs led me, somewhat sheepishly, with a little self-conscious eye-roll, to dig out the back catalogue. For research, of course – I'm far too cool now for such tweeness. Or not. Halfway through Forgiven, Not Forgotten, I was back to being a 14-year-old, dipping my toes into matters of life and love. I may as well have been standing in Virgin Megastore again. The Corrs may never be eulogised as Bowie was last week, or credited with shaping a generation, but I can't help but think they helped to shape me.