It should never have worked, really. A fiddle-playing family gigging at the local pub isn't usually the recipe for global stardom. But the folksy, diddley-eye charms of The Corrs secured them just that. The band went from playing in their aunt's pub, McManus's in Dundalk, Co Louth, to packing out venues around the world, with global platinum-selling albums. In 1998, their album Talk on Corners was the best-selling LP in the UK, and the most successful Irish album in UK history, outselling U2 and Westlife. Their third album, the poppier In Blue, went to No 1 in 17 countries. As sweet little Irish bands go, they were pretty huge.
Naturally, being Irish, I may have had an album or two in my collection. OK, I may have had them all. By the time Talk on Corners was released, I was enough of a fan to make the rare 70-mile round trip to Cork city to buy the album. Virgin Megastore had just opened and was packed with trendy teenagers crowding at the newfangled listening stations, lending an ear to friends when a particularly good song came on. I lingered shyly at one station for as long as I could, transfixed by the hypnotic melodies, all the while aware that my neighbours were listening to something infinitely cooler.
Because The Corrs were many things, but not exactly cool. But then again, neither was I. I was vaguely aware in my teens that Nirvana were a big deal, but until I discovered their unplugged album they left me cold. Blur vs Oasis? I claimed to be in camp Blur, but I would have struggled to name a song beyond "Country House". And I sat puce-faced in the college bar in my first year of university as everyone else wailed along to Radiohead's "Creep" – I was the only one who didn't know the words.
Culture news in pictures
Culture news in pictures
1/30 19 July 2016

People apply wax on 'Le Penseur' (The Thinker), a sculpture by late French sculptor Auguste Rodin, to protect it from weather damages and pollution at the Rodin museum in Paris

AFP/Getty Images

2/30 18 July 2016

The painting 'Venus in Furs' hangs in the Picture Gallery in Park Sansouci in Potsdam, Germany. After having been missing for 70 years, the painting fom 1640 by a Flemish master was returned from private hands. The Foundation Prussian Palaces and Gardens Berlin-Brandenburg has been missing around 2,000 objects since the Second World War

EPA

3/30 17 July 2016

Artists of the French pyrotechnic company "Groupe F" perform during the show "A fleur de peau" (On edge) at the Venaria Reale Palace, in Venaria, near Turin

AFP/Getty Images

4/30 16 July 2016

Dancers of the British dance company Balletboyz perform in "Rabbit", choreographed by Pontus Lidberg, during the Malta Arts Festival in Valletta, Malta

REUTERS

5/30 15 July 2016

Singer Gwen Stefani performs on NBC's "Today" Show at Rockefeller Plaza in New York City

Getty Images

6/30 14 July 2016

People sit under illuminated giant raindrop-shapes at an interactive art installation to raise awareness of autism, in Shanghai

Rex Features

7/30 13 July 2016

An installation 'A wall of life jackets and their stories' by Andrew Wakeford and Fred George is on display at Johanneskirche in Saarbruecken, Germany. The installation is made of original life jackets found on the beaches of Greece and barbed wires, along with interviews and portraits of who have fled from the conflict in the Middle East to Europe. The exhibition runs from 15 July to 26 August

EPA

8/30 12 July 2016

Chinese artist Ai Weiwei poses next to a sculpture that is part of his installation "Circle of Animals/Zodiac Heads" in front of the Upper Belvedere palace in Vienna, Austria. From 14 July to 20 November 2016, the 21er Haus museum presents Ai Weiwei's solo show "translocation - transformation", with the central exhibit of a tea merchant family's ancestral temple from the Ming Dynasty, whose main hall will be reconstructed in the 21er Haus

AFP/Getty Images

9/30 11 July 2016

"Mediterranean Body", a monumental sculpture by COSKUN is seen at the 11th Taehwa River Eco Art Festival in Ulsan, South Korea. The artist, with his wooden monumental sculpture pays tribute to refugees who lose their lives at sea

Rex Features

10/30 10 July 2016

A festival-goer paints a mandala during the 2nd Samsara Yoga and Music Festival in the Toreki neighbourhood of Siofok, 102 kms southwest of Budapest, Hungary. Visitors can enjoy music performed on three stages and attend workshops, lectures and conversations with yoga trainers, instructors, therapeutists, psychologists, doctors and healers between 6 and 11 July

EPA

11/30 9 July 2016

Naked volunteers, painted in blue to reflect the colours found in Marine paintings in Hull's Ferens Art Gallery, participate in US artist, Spencer Tunick's "Sea of Hull" installation in Kingston upon Hull

AFP/Getty Images

12/30 8 July 2016

Mark Rylance (L) is returning to the West End stage in Nice Fish - and fans will be able to see him for free if they dress up as fish. Nice Fish, the critically acclaimed comedy by Rylance and prose poet Louis Jenkins, will have a limited run from November at London's Harold Pinter Theatre after a successful season in New York

PA

13/30 7 July 2016

Women wearing summer kimonos, called yukatas, look at goldfish during the 2016 EDO Nihonbashi Art Aquarium exhibition in Tokyo. The 10th anniversary of the festival will start on 8 July and will continue until 25 September, displaying some 8,000 goldfish in various special art exhibits

AFP/Getty Images

14/30 6 July 2016

Musician Tim Lopez (L) and Tom Higgenson of the Plain White T's perform at the Grove's Summer Concert Series in Los Angeles, California

Getty Images

15/30 5 July 2016

Tourists walk through a lantern installation in Zhangjiakou, Hebei Province, China

REUTERS

16/30 4 July 2016

One of London's most iconic venues has sent a pair of show tickets into space to celebrate the world premiere of Independence Day Live – a new film-and-orchestra event being held in September. The Royal Albert Hall has marked the occasion by blasting the tickets into the stratosphere on Independence Day itself

17/30 3 July 2016

People walk on the installation 'The Floating Piers' by Bulgarian-born artist Christo Vladimirov Yavachev, known as Christo, northern Italy

REUTERS

18/30 2 July 2016

Performers dressed as angels take part in the Place des Anges spectacle in Hull, part of UK City of Culture 2017 and the Yorkshire Festival. Up to 10,000 people have descended on Hull to watch Place des Anges. The aerial show sees white-clad angels appear on rooftops before taking off on suspended wires across the city. The event culminates with thousands of white feathers cascading onto the crowds below

PA

19/30 1 July 2016

EPA

20/30 30 June 2016

The world's largest disco ball is installed at the Duke Studios in Leeds ahead of The Big Disco event. The event, which is part of the Yorkshire Festival 2016, will see thousands of people partying under the Guinness World Record holding disco ball - which measures 10.33 metres in diameter and is two and a half times the size of a double decker bus

PA

21/30 29 June 2016

The first major solo exhibition by accessories designer, art director and fashion stylist Judy Blame has opened to the public and runs between 29 June and 4 September at the ICA, The Mall in London

22/30 28 June 2016

Prince Seeiso of Lesotho and Prince Harry on stage with the Basotho Youth Choir at the finale of the Sentebale Concert at Kensington Palace in London

Getty Images

23/30 27 June 2016

A woman looks at the Eugene Delacroix paintings made between 1849 and 1861 during a restoration at the Saints-Anges chapel inside the Saint-Sulpice church in Paris

AFP/Getty Images

24/30 26 June 2016

Chris Martin of 'Coldplay' performs on the Pyramid Stage on day 3 of the Glastonbury Festival at Worthy Farm

Getty Images

25/30 25 June 2016

Adele performing on stage at the Glastonbury Festival, at Worthy Farm in Somerset

PA

26/30 24 June 2016

US artist Joan Jonas poses during the presentation of her exhibition 'Joan Jonas: Stream or River. Flight or Pattern' at the Bitin Foundation in Santander, northern Spain. The display featuring experimental film and video-installation of pioneering Jonas will be open to the public from 25 June to 16 October 2016

EPA

27/30 23 June 2016

Evie Ferris and Georgia Scott-Hunter, Artists of The Australian Ballet next to one of Edgar Degas' iconic ballet dancer paintings 'Dancer with Bouquets' during the media preview for the 'Degas: A New Vision' exhibition at National Gallery of Victoria in Melbourne, Australia. The exhibition will run from 24 June to 18 September as part of the Melbourne Winter Masterpieces series

Getty Images

28/30 22 June 2016

Figures of characters from the comic series 'Uncle Walt' by US cartoonist Frank King are on display in the exhibition 'Pioneers of the Comic Strip. A different Avant-Garde' at the Schirn Kunsthalle museum in Frankfurt am Main, Germany. The exhibition that features the works of six primarily US illustrators created between 1905 and 1940, runs from 23 June 2016 to 18 September 2016

EPA

29/30 21 June 2016

(L-R) Actors Jonathan Holmes, Paul Moniz de Sa, Daniel Bacon, Chris Gibbs, Jemaine Clement, Penelope Wilton, Mark Rylance, Ruby Barnhill, Bill Hader, Rebecca Hall and Rafe Spall arrive on the red carpet for the US premiere of Disney's "The BFG," directed and produced by Steven Spielberg. A giant sized crowd lined the streets of Hollywood Boulevard to see stars arrive at the El Capitan Theatre

Getty Images for Disney

30/30 20 June 2016

Tony Bennett attends as the Friars Club Honors Tony Bennett With The Entertainment Icon Award - Arrivals at New York Sheraton Hotel & Tower in New York City

Getty Images
In among the grungy melancholy of the Nineties, The Corrs sang not about misery, drugs and dejection, but songs of a far sweeter nature –mostly about dreamy love and bittersweet loss. Never in their lyrics did they turn to the bottom of a vodka bottle to ease their pain. But for a sheltered North Cork girl, The Corrs had all the angst I needed. Sure, I listened to Skunk Anansie and The Fugees with the volume cranked up, but I found it hard to relate to the tales of hedonism and homelessness. The Corrs were relatable, honest and, well, safe. "Runaway" and "Only When I Sleep" were my anthems, with "I Never Really Loved You Anyway" for my feistier moments. Was I just a more well-balanced, emotionally stable teenager? Was I heck. I was angsting all over the place – my baffled parents can attest to that.
Still, I wasn't the only uncool teenager out there listening, and their reach extended far beyond rural Ireland. Perhaps the reason for The Corrs' success was timing. Riverdance-fever was still going strong in 1996, and Enya, still Ireland's best-selling solo artist, was riding high in the Nineties. I didn't care for anything "trad" at the time – eight years of Irish dancing had dampened any love of it I had. I still wince when an accordion grates to life. But The Corrs managed to take trad and make it sexy and modern. It doesn't hurt, I guess, that they're all incredibly beautiful (the girls at least, sorry Jim). They wore gorgeous satiny slip things that were all the rage in the Nineties, designed by Ghost and Calvin Klein, and with their smoky eyes and pale skin, looking like an altogether more wholesome version of Kate Moss. Andrea in particular regularly featured on "Most Beautiful Woman in the World" lists. That, coupled with an easy-listening timelessness made for some very agreeable music.
Then, around 2005, they disappeared. Apart from Jim's appearances on Ireland's Late Late Show to discuss his varied conspiracy theories (9/11, swine flu, Bin Laden – all of which have been stripped from his website since September) and the occasional tabloid pap shot of "raven-haired stunner" Andrea, it all seemed quiet. What were they doing in the past 10 years? Well, having babies, eight between them, and working on solo projects, with varying degrees of success. Andrea took a different musical direction with two solo albums produced by Nellee Hooper, who has worked with Björk and Gwen Stefani, but it got a rather lukewarm reception. Sharon also wrote two albums, and starred as a coach on talent show The Voice of Ireland. All four said they were reluctant to reunite before now and go back on the road because they wanted to dedicate time to their families and children, who now range in age from one to 12 years old. They most certainly didn't go down the route of so many "bands on a break" – no getting fat or developing addictions problems, or falling out of nightclubs. No dubious toyboy relationships. No paparazzi flare-ups or fender benders. No nip slips. They're a classy lot, The Corrs. Parents all over Ireland must have been thrilled that their teenagers had grown up with the nicest band in pop.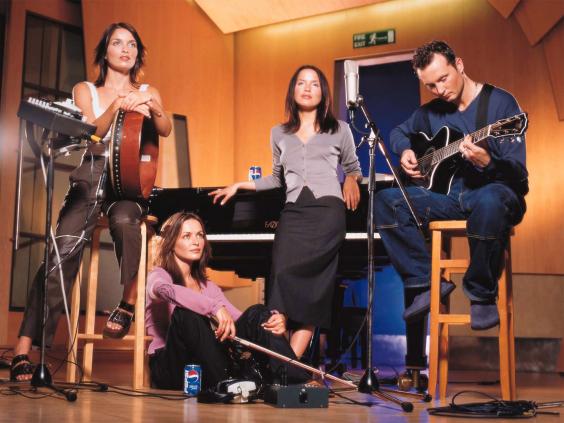 Ten years on, I may be older, more cynical and less sheltered (the angst levels are debatable), but as The Corrs return it looks as if no time has passed at all. Scroll through YouTube, and it's hard to decipher which clips are 10 years old and which are from their Hyde Park appearance last summer. But none of it seems dated – it turns out the smoky-eye, strappy-dress look is timeless, and compared to the scores of reunited rockers out there today, the fortysomething-year-old sisters no way look like oldies trying to "dress up" as their former selves. This is no mean feat: imagine the Spice Girls today, stumbling around in their platform trainers, or East 17 straightening their backwards baseball caps over thinning hairlines. The music has also aged gracefully – their new album, White Light, is still sweet (but not sickly), pure and melodic. Perhaps the lyrics are a little wiser, a bit more mature – less of the head-in-the-clouds feel of "Runaway". And it appears that their fanbase is very much still intact – the album entered the charts at No 11.
Jim is the only member of the Corrs that still lives in Ireland – Sharon lives in Spain and Andrea and Caroline live in the UK. But their roots aren't forgotten in their new tour – they are using background imagery of scenery from their native Louth and White Light is still unmistakably Irish. Their instrumental stuff – always a brave addition to a pop album – is still as rousing as ever, and at their 2015 Hyde Park gig, normally nonchalant revellers jigged (well, reeled) along merrily to "Toss the Feathers". And perhaps it's expat nostalgia (we Irish are notorious for getting misty-eyed for the homeland even on a week-long break in Majorca), but the squeal of a tin whistle doesn't jar as much with me as it used to, and the bodhrán is one of the most exciting, unmistakeable instruments you'll ever hear played. "Gerry's Reel", from the new album, is as good as Irish trad music gets.
Maybe they've got their timing right, yet again. The success of bands like Mumford & Sons and Ed Sheeran have seen a swing back to the folksy – with fans craving an alternative to manufactured boy bands and samey synth-pop. And there's no denying that White Light smacks of authenticity – no dance remixes or grime undertones here. Strip out some of the folksier instruments and I could imagine Little Mix doing a version of some of their later hits. OK, perhaps not Rihanna or Iggy Azalea (can you see Sharon breaking into rap?), but still.
The return of The Corrs led me, somewhat sheepishly, with a little self-conscious eye-roll, to dig out the back catalogue. For research, of course – I'm far too cool now for such tweeness. Or not. Halfway through Forgiven, Not Forgotten, I was back to being a 14-year-old, dipping my toes into matters of life and love. I may as well have been standing in Virgin Megastore again. The Corrs may never be eulogised as Bowie was last week, or credited with shaping a generation, but I can't help but think they helped to shape me.
Reuse content