1. Joe Biden tells a classic story of a meeting with Vladimir Putin, in a profile of the Vice President by Evan Osnos in The New Yorker (thanks to Zeke Miller; picture by Getty).
"As I turned, I was this close to him." Biden held his hand a few inches from his nose. "I said, 'Mr. Prime Minister, I'm looking into your eyes, and I don't think you have a soul.' "
"You said that?" I asked. It sounded like a movie line.
"Absolutely, positively," Biden said, and continued, "And he looked back at me, and he smiled, and he said, 'We understand one another.' " Biden sat back, and said, "This is who this guy is!"
2. How well do you know your area? Much better than your standard internet quiz, this asks you to estimate census data on age, religion and tenure of your local ward. I was one out on the first question but then hopeless on most of the rest.
3. Arieh Kovler listened to David Cameron's statement on Gaza (and Ukraine) and the questions to the Prime Minister from MPs:
"In this debate so far, Frank Dobson called for an end to settlements in the Left Bank and Jim Dowd called for a ceasefire on the South Bank."
4. The full text of Tony Blair's Philip Gould Lecture is worth reading, as he sought to rebut the common misunderstanding that his politics are an accommodation with the existing order. He has always been anti-establishment, and is so now. Perhaps the most interesting line was where he tried to explain why his warning to the Labour Party to stay out of its comfort zone is not an attempt to pull it back from radicalism but a summons to it:
"The hallmark of this progressive politics is that we should never be afraid of new ideas. We embrace them; we search for them; we scour the globe for them. Not out of an absence of principle; but from an abundance of it. We should always be uncomfortable in the 'comfort zone', because the only comfort found there is for the already privileged."
Clive Davis drew my attention to this cartoon from The New Yorker.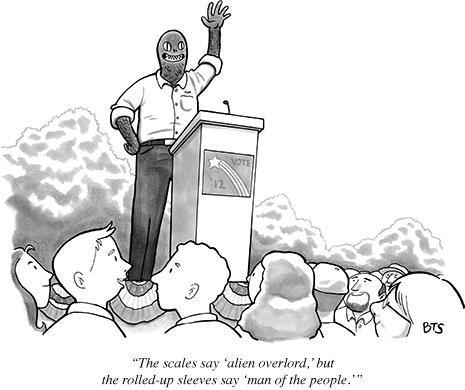 ____
5. Nick Clegg was in trouble yesterday for taking part in a television cooking programme while the world was in crisis. The best comment was from Jacob Rees-Mogg, the Conservative MP (via Tony Paley):
"It seems Mr Clegg is the first person who, when he could not stand the heat, went into the kitchen."
6. Finally, Chris Heaton-Harris secures the sixth slot again, this time with a Tommy Cooper classic:
"Two silkworms had a race. It ended in a tie."
Reuse content