1. Polling news. Esther Webber reminds us: "The word 'ballot' is derived from the little balls used to cast votes for the Doge of Venice. So much elections. Very voting. Wow." Above, a portrait of Doge Leonardo Loredan by Giovanni Bellini (thanks to Hoskas).
The new central forecast by Stephen Fisher of Trinity College, Oxford, now rebranded as ElectionsEtc, is Conservatives 304 seats; Labour 290; Liberal Democrats 29. I commented on his forecasts, which are updated every Friday, here.
After a reshuffle that prepared the way for the Conservatives to threaten to repudiate the European Convention on Human Rights, YouGov report 43 per cent support Britain withdrawing from the Convention, 39 per cent oppose. The wording of the question: "Currently Britain is a signatory of the European Convention of Human Rights, meaning people can go to court if they feel their human rights have been abused and, ultimately, can take their case to you European Court of Human Rights. Some people think Britain should withdraw from the European Convention, while other people think we should remain a member. Do you think Britain should or should not withdraw from the European Convention on Human Rights?"
There is a new TNS poll of Scotland this morning, which shows a narrower lead for the No vote, but still 12 points ahead. No to independence 56 per cent, Yes 44 per cent, excluding don't knows. Looking only at those who say they are "certain to vote" the Yes vote is a point better: No 55 per cent, Yes 45 per cent. (I have corrected my earlier figures.)
On the subject of the Scottish referendum, Kevin Hague provides an excellent summary of the case for Scotland staying part of the Union: "Making a country smaller does not make it in some way more democratic, it just makes it smaller."
2. This blog from Dominic Cummings, the former special adviser who helped get Michael Gove, his former boss, sacked, makes a great party game for political obsessives, as John McTernan pointed out. It lists the possible outcomes of the next five years as enumerated by a group of Conservative special advisers and friends in the autumn of 2010. 
My favourite is this one. "What Cameroons want to happen and think will happen: EU / ECHR remain irrelevant. What Cameroons don't want / don't think will happen: EU / ECHR put huge pressure on Coalition (UKIP majority in EU Parl elections)."
3. Don't be the mayor of a Nazi-occupied town: advice for the Lib Dems from a former special adviser to Nick Clegg, Sean Kemp. He says that Clegg's demand for "reform" of the bedroom tax might be right, but it bad for the Lib Dems because it reinforces the perception of Clegg as a flip-flopper.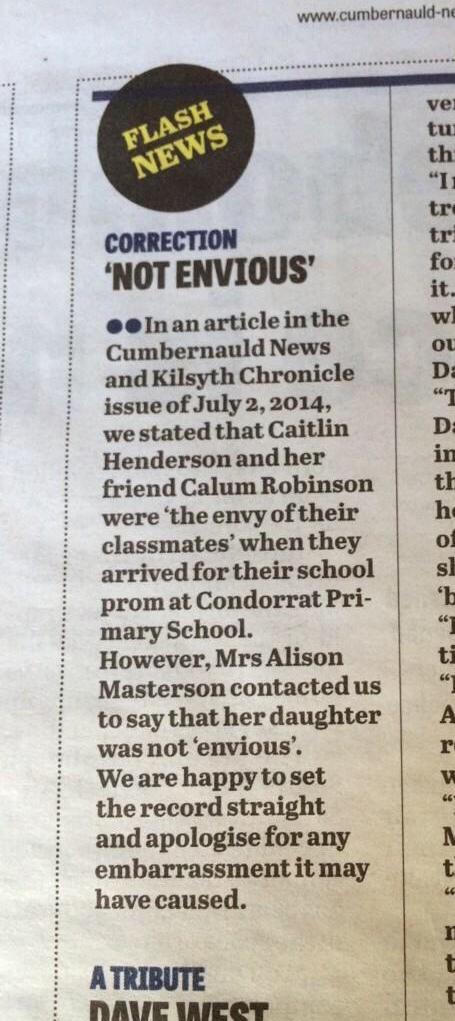 4. Flash News. Correction. "Not envious." (Right.) Via Jeremy Vine and John Grant.
5. This letter by Christopher Jones, who died of cancer, should be compulsory reading for the House of Lords before it votes today.
And I was encouraged that David Cameron said at Prime Minister's Questions on Wednesday that he was "not persuaded" of the case for assisted dying: "I worry about legalising euthanasia because people might be pushed into things that they do not actually want for themselves."
6. Finally, this is childish, silly and very slightly amusing from Dan Oshinsky:
1) go to Buzzfeed
2) up up down down left right left right B A
3) enjoy
Reuse content