1. This article on The Cook Political Report looked at what would happen if Hillary Clinton doesn't run in 2016, a possibility that it puts at 20-30 per cent.
The conclusions: Joe Biden starts as the frontrunner, but a weak one. (Still, you can forgive anyone who says:  "I probably shouldn't say this but then again I'm Joe Biden.") There will be a woman (Elizabeth Warren, Kirsten Gillibrand or Amy Klobuchar). There will be an African-American: Deval Patrick or Cory Booker. And Martin O'Malley, the outgoing governor of Maryland.
One anonymous Democrat "strategist" is quoted as commenting:
"Not exactly 'Night of Thousand Stars' is it? Hillary masks a few problems in our party now, one of which is a lack of prime-time ready statewide electeds."
2. Quote of the Week: "I wanted to drown my sorrows, but now the damned things have learned to swim." Frida Kahlo, who apparently borrowed it from José Frías, a poet (thanks to Lisa Markwell).
3. "Why Blairites like John Rentoul have got to stop looking at the 2015 general election through the prism of 1997." Mike Smithson at Political Betting. He disagrees with my column in yesterday's Independent on Sunday because I am an "ongoing Blair enthusiast" who "ignore[s] the numbers" and thinks that Labour won't win.
4. Also in The Independent on Sunday: Katy Guest has a lovely opening paragraph to her excellent article about the BBC's simple-minded notion of "balance":
"What do Nigel Lawson and I have in common, apart from our stunning good looks? One thing is that we have both recently been banned from the BBC. 'Banned' in the sense of 'not invited on for a while', but Lord Lawson is very cross about it, and has written about his 'ban' in the strongest terms. He even called the BBC's tactics 'quasi-Stalinist'."
Jane Merrick's column explains how she once upbraided David Cameron when he said his target was to have women make up one third of his ministers, but she now agrees with him and tells him to get on with it.
In the magazine, my Top 10 is Elegant Variations, including "near-fetched", "thinking inside the box" and "auto-incorrect".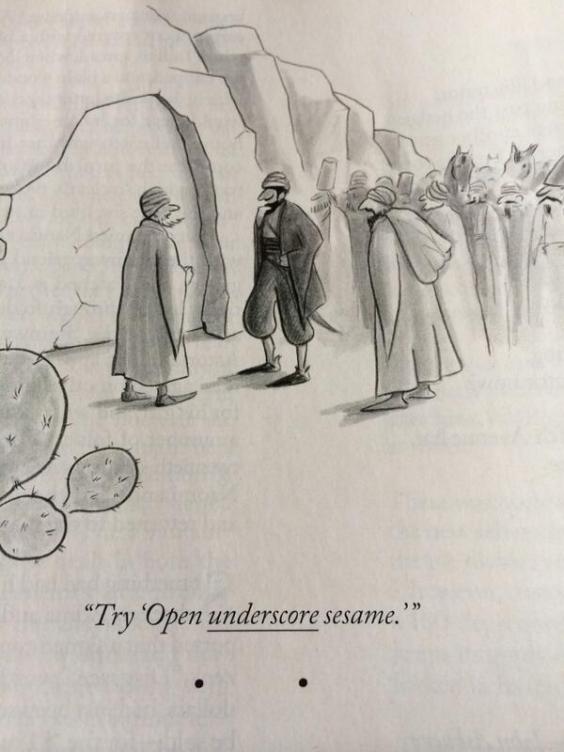 5. This New Yorker cartoon is a few weeks old, but too good to miss. Thanks to Hamish Thompson.
6. Summer reading? Don't take books, just take the reading list offered to fellow MPs by Keith Simpson, the Conservative MP for Broadland who is William Hague's Parliamentary Private Secretary. It's 4,000 words long and will do me: the ultimate bluffer's guide.
Reuse content