In the United States, the spread of a lethal disease on the other side of the world has become a fraught political issue, with calls for the quarantining of returning nurses and others.
This reflects in part the imminence of mid-term elections, the perception of weak leadership in the White House, and some evidence of inadequate precautions during the treatment of a Liberian patient who subsequently died. So far, thanks to a judicious and – I would say – a very tightly controlled official message, nothing similar has happened here.
The merciful lack – so far – of either political or public panic, however, does not mean there is nothing to talk about at all. For the outbreak of Ebola in West Africa – an epidemic described by the World Health Organisation as perhaps "the most severe public health emergency in modern times", is raising ethical questions that merit public debate.
The most obvious, and the one where the argument started and mostly stopped, is how far Ebola, and other so-called neglected tropical diseases (NTDs), are neglected because of the priorities of the international pharmaceutical industry. It is said that there could have been treatment, even a vaccine, some time ago, if the lives of those who are most at risk were considered commercially more valuable.
I'm not sure that Big Pharma is about to change its whole business model as a result of Ebola. It might be quicker to address the sanitary, social and medical deficiencies that speed the spread of such viruses – the reasons, indeed, why Ebola and other NTDs are mostly not a threat to public health in the developed world.
After this, though, everything becomes more complicated. Remember the argument that briefly flared here in the UK about screening at entry points? Public Health England initially argued that screening for Ebola was pointless, given the 21-day incubation period, only to be overruled by ministers, less – so it seemed – for clinical reasons than to reassure a worried public.
The men and women on the frontline against Ebola and other hazards
The men and women on the frontline against Ebola and other hazards
1/6 Linda Dixon, 60, leads research into African swine fever at the Pirbright Institute in Surrey

"For more than 25 years I've been trying to develop a vaccine for the African swine fever virus, which causes death in domestic pigs, and has symptoms quite like Ebola. It came from East Africa in the 1920s and was transmitted to Georgia in 2007 via food from shipping that was fed to pigs. It has now spread to neighbouring countries and this year entered the EU via Poland, Lithuania, Latvia and Estonia. It's difficult to eliminate because it also infects wild boar, which populate large parts of Europe."

David Vintiner

2/6 Simon Woodmore, 45, is a paramedic and operations officer for London Ambulance Service's Hazardous Area Response Team (Hart)

"I have a helmet for all occasions – five in all – as well as an array of outfits, including breathing apparatus and gas-tight suits, respirators and chemical protective suits. My job is to put paramedics where historically they could not have worked. We were born out of the Tokyo subway sarin attack in 1995, and have been running as Hart since 2006. There are 94 of us in London dealing with chemical, biological and radiological incidents, as well as building collapses and floods."

David Vintiner

3/6 Simon Woodmore, paramedic and operations officer

"We've always dealt with contagious diseases and work with the Royal Free Hospital London high-level isolation unit to transfer confirmed cases, which fortunately is rare. A lot of it is communicating with the patient in a caring and compassionate way, which can be difficult when you're in full gear. There is an increased awareness of Ebola, but it's about reinforcing the processes we already have in place. Any personal risk is mitigated by our training and equipment."

David Vintiner

4/6 Benjamin Black, 33, is a specialist registrar in obstetrics and gynaecology for Médecins Sans Frontières (MSF)

"In June I travelled to Sierra Leone, where one in 21 women of reproductive age dies in childbirth. This was my first mission, and the reason I got into medicine. I had my eyes wide open to Ebola; though it was still in its early days and concentrated across the border in Guinea, within days I had my first suspected Ebola cases in maternity. It was happening."

David Vintiner

5/6 Benjamin Black, Médecins Sans Frontières

"You need a healthy amount of fear to be safe, as well as protocol and organisational back-up. The greatest fear then is how long you can keep getting it right. There is also a huge psychological element. I checked my temperature daily, but in a hot, humid country there's a constant feverish feeling anyway. We had scares and one of our national nurses was infected, probably in the community. He sadly died and it had a huge impact on the team."

David Vintiner

6/6 Lisa Jameson, 29, is a National Institute for Health Research doctoral research fellow for Public Health England, based at the Porton Down facility in Wiltshire. She specialises in emerging viruses

"I was in the field watching patients come into the isolation centre next to us, often with their families. Sometimes they'd be walking and talkative, then die that night. It was tough but we were so busy, and being there made it feel like we were making a difference. When I got home after a month, I felt a sense of guilt that I was able to walk away. I'll almost certainly be going back."

David Vintiner
That did not end the argument, however, as some of the first passengers to enter the UK after screening began complained that it was only voluntary and, as such, not nearly rigorous enough. It is hard to see, however, that screening could be effective without the sort of targeting that would invite accusations of racial or national profiling.
Australia's introduction of a blanket ban on visas for people from the affected countries is of a piece with that country's hardline (and, supporters would say, effective) policy on migration and asylum, but I doubt it would be acceptable here. Instead, we (and other European countries) seem to be relying on screening at points of departure. If there is discrimination there, we don't have to see it. 
Then there is quarantine – part of the debate raging in the United States. Compulsory quarantine for those exhibiting even slight symptoms if they have come from affected countries might seem uncontentious. But a study by academics from City University and the University of Toulouse found that too rigid quarantine could be counterproductive. It found that strict quarantine was seen as a threat and, as such, encouraged those who feared they might contract the disease to move or migrate (so increasing the danger of the disease spreading),  and also to lie about their symptoms or contacts.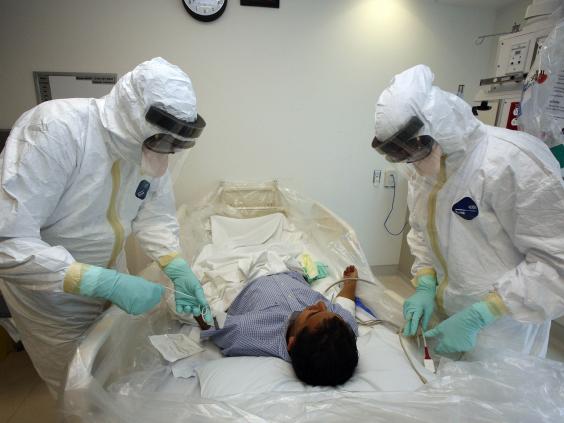 A further dilemma is presented by the use of untested drugs and the fast-tracking of trials. The vaccine that is credited with curing the British nurse, William Pooley, was one of very few doses of an experimental vaccine that is very far from mass production. Several dozen volunteers are currently taking part in accelerated UK trials of another vaccine being developed by GlaxoSmithKline and others. The results are due around the turn of the year, and the process has generally been uncontentious.
Conducting trials in the affected parts of West Africa, which is also happening, however, is more problematical. Partly because the stakes are so high where the disease is already raging, but also because of the colonial tinge that attaches to drug-testing in the less developed world – the first world testing its drugs on the cheap, on people who have no real say.
As for another possible treatment – with antibodies taken from the blood of survivors – this is also reported to have had unintended consequences, with reports of a black market in blood (and attendant fraud) developing in the affected countries. And the difficulties do not end there.
Given that treatments are still at the trial stage and antibodies and (untested) vaccines are in very short supply, one of the most agonising questions then becomes: who is treated first, or at all? The spectacle of Western aid workers and volunteers being flown home for treatment – or, as may now happen, to British and other hospital ships offshore – risks fuelling local resentment, as families of those who die in, say, Sierra Leone, see the application of one law for "them" and another for "us".
Speaking at the London think-tank Chatham House yesterday, the director of global health for Public Health England, Brian McCloskey, noted that balancing the political and the public health issues surrounding the Ebola epidemic – whether here in the UK or in West Africa – was "quite a delicate issue". You might feel that this was putting it mildly.
Reuse content