1. "There simply isn't any experience to be had on Facebook that isn't entirely constructed by Facebook." Sane and balanced assessment of why Bookface users shouldn't fear the emotion-manipulation experiment, by Tal Yarkoni at New Scientist. Thanks to Niall Firth.
The entire Facebook experiment stramash in one post, by Andrew Sullivan.
2. ComRes/BBC poll finds 52% think it's too dangerous to cycle on roads in their local area.
3. More polling news. YouGov for The Times put the Scottish referendum at 61% No to independence, 39 per cent Yes (excluding don't knows). This is no significant change from last month (No +1, Yes -1), despite the Times's front-page headline, "Voters Turn Away from a Scottish nation state", but time is running out for the Scottish National Party.
Four polls published yesterday put Labour's lead at an average of 1½ points, down from the recent average of 5 points, prompting speculation that David Cameron is enjoying a small "Juncker bounce". 
YouGov: 2-point Labour lead, Ukip on 12%, conducted Sunday and Monday online.
ComRes, Independent: 2-point Labour lead, Ukip on 18% (a record for this series), conducted Friday to Sunday on the telephone.
Ashcroft National Poll: 2-point Conservative lead, Ukip on 15%, conducted Friday to Sunday on the telephone.
Populus: 4-point Labour lead, Ukip on 12%, conducted Friday to Sunday online.
Both YouGov and ComRes for ITV found a swing away from
 support for staying in the EU over the weekend, but YouGov still found a big majority, 54% to 23%, would vote to stay in the EU if Cameron renegotiated our relationship and recommended remaining on the new terms (from 57% to 22% two weeks ago).
4. This article for Independent Voices by Rebecca Armstrong is awfully good about looking after her husband in hospital.
5. SuperMouse. Someone posted this on Twitter: "If I see a mouse put forth this kind of effort, he deserves to live in my house… "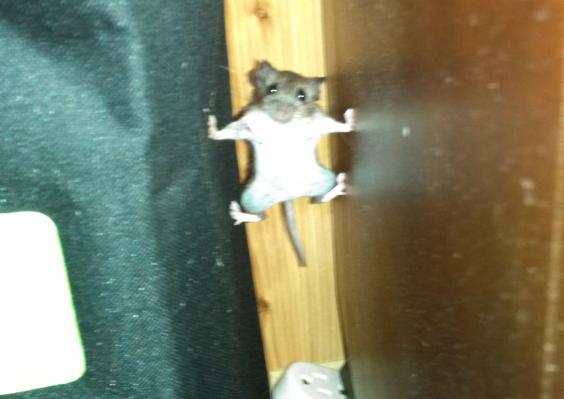 6. Finally, someone really ought to tell the sub-editors at the Daily Mail that I am not collecting Questions To Which The Answer Is No any more: "Is Shakespeare to blame for our skin worries?" Thanks to Andy Hutchcraft.
Reuse content