The World Cup is almost upon us. Switch on the telly and you can almost smell the heat rising off the sun-soaked pitches. It is set to be thrilling, frustrating, and prevailing. It's also a multi-billion pound charade, a media circus that drags some of the industry's worst foibles with it.
Flashing cameras leer garishly over the tournament, documenting every gilded detail. Amidst the coverage, more than one channel will devote coverage to the 'WAGs', the wives and girlfriends of the players. These women are often framed as anonymous peacocks, identifiable only by their more famous footballing mates.
Popular press paints the Wag as a fake tanned, fake nailed "party girl", her hair extensions piled antoinette-style. She possesses a gazelle like-ability to walk in heels and drink until dawn, but is depicted as lazy, untalented, wallpaper, ripe to be rated in terms of how "hot" she is.
While footballers are ranked according to their talent on the pitch, Wags are appraised in terms of their glamour. Did they make it onto FHM's sexiest women list? Do they model swimsuits?
We need to demand better than this. It's 2014 and referring to any woman pejoratively as  a "wife or girlfriend" is not acceptable. Neither of these roles are anything to be ashamed of, but plenty of these women have accomplishments which amount to more than looking pretty in the stands.
Arguably just as many people have heard of Shakira as Gerard Piqué, yet Shakira too, could be classed as a Wag. Meanwhile Sara Carbonero, who is dating Iker Casillas, is a Spanish journalist. All too often looking sexy means that the achievements of these women is played down, conforming to the archaic belief that women can't be clever and desirable.
The Times ' "World Cup Wag" piece follows this beaten path when it rates the achievements of Yolanthe Sneijder-Cabau, writing that on "one of the occasions when she wasn't naked she co-founded Stop Kindermisbruik, a foundation with the aim of stopping child sexual abuse in developing countries." Presumably, she's been not-naked quite a lot then.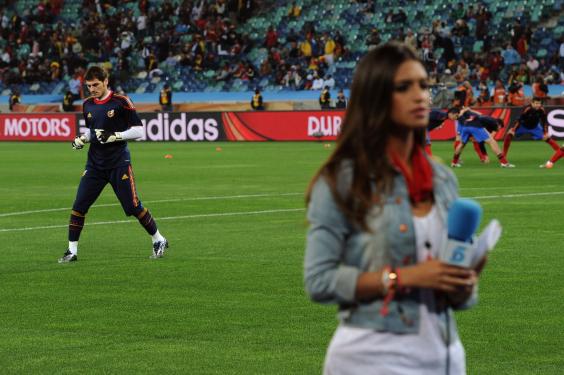 Melissa Satta is treated in the same sneering way. She's dating Ghana's Kevin Prince Boateng but is also a karate champion, who has won bronze and gold in the Sardinia and Italy karate championships. "So whatever you might say about her, don't say it to her face," warns The Times. How about let's just not say it at all?!
Lumping women together in the Wag "partner pot" doesn't communicate much about their other roles in society. What if you're a single woman? How can you be defined then? Is this your only way to be acknowledged?
The description plays into the oafish "her at home" narrative. Many adverts do the same. Pot Noodle's take on the World Cup's Brazilian location is a talking beach towel that leers at women in skimpy bikinis. Curry's PC World's "Football? What Football?" campaign features three different husbands trying to con their wives into buying big televisions so they can watch football.
I realise horrific social injustice can be found in the shadow of the World Cup stadium, far more immediately pernicious than my semantic bugbear. Yet I feel it's particularly pertinent we get rid of labels like 'WAG'  this year, as YouTube launches its Proud to Play campaign during Pride month.
It's tagline asserts that "Stereotypes are like records: made to be broken. It doesn't matter what you look like, where you're from, or who you love." There's no male equivalent of the wag, or a BAH (Boyfriend and Husband). 
In the world where the word Wag is used, there's no room for gay players. The word 'Wag' harks back to a world that seems almost antique, where men don't cry and women's orgasms come from buying shoes.
Many people who use the word 'Wag' don't want to be sexist. The casual repetition of this chauvinist term has normalised it  until we don't think about how it reflects and shapes our attitudes . I am not a wife or a girlfriend. I am Felicity. And I don't think damaging stereotypes are OK.
Reuse content