It is Sunday morning and Deepak Marwah and his son Raghav are carefully navigating their gleaming 1947 Pontiac Silver Streak along a twisting road south of Delhi. There are a couple of wrong turns but we get to where we are heading and the passengers in the back seat discover that riding in this 67-year-old wonder is as comfortable as sitting on a sofa.
"I've had the car for 15 years," Mr Marwah says of his American car, which happens to be coloured British racing green.
The drive was a bit of fun. But next month, Mr Marwah and other members of the Heritage Motoring Club of India are hoping to accomplish something rather more ambitious – a road trip to Pakistan.
If all goes to plan – it remains if – 100 members intend to drive a convoy of 40 classic cars and 10 motorbikes across the Pakistan border. On the other side they will be met by 30 classic cars owned by Pakistani enthusiasts who will escort them to Lahore.
"My family were originally from Peshawar," says Mr Marwah, 55, who owns a film and television studio. "But this will be my first trip to Pakistan."
There is more to the trip than fun though. The members believe that people-to-people contact can work where government-to-government contact may not.
"This contact is extremely important," says Atul Anand, who owns an IT business in Delhi and who plans to make the journey in a 1949 tomato red MG Y-type.
Mr Anand's family originally came from Lalamusa, a town in what is now Pakistan's Punjab province. He said he had a number of Pakistani friends and had visited on several occasions. He is hoping he will be accompanied by his father, who is aged 98.
The enthusiasts plan to drive 30 miles from the Indian city of Amritsar along a recently upgraded section of the Grand Trunk Road to the border crossing at Wagah. From there it is around 20 miles to Lahore.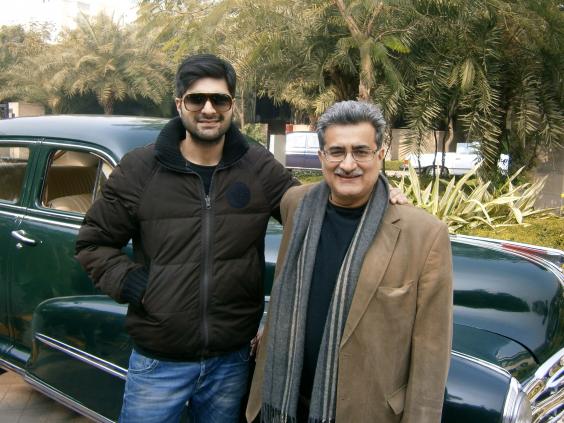 Their counterparts on the other side, members of the Vintage and Classic Car Club of Pakistan, are equally passionate. Last month, the club held an event that involved members driving  1,700 miles from Karachi to Peshawar.
Among those taking part was Karim Chhapra, a Karachi industrialist who has among his collection of cars a 1924 silver Rolls-Royce Ghost, originally built for the Nawab of Bhawalpur. It is said the vehicle was used to drive Muhammad Ali Jinnah, the founder of Pakistan, to the Sindh Assembly building in Karachi on 14 August 1947 to formally announce the country's birth.
The only thing stopping the cross-border coming together of men and machines is red tape. The VCCCP's president Mohsin Ikram told me from Karachi that previous attempts had failed because the two sides could not get the necessary clearance for the vehicles.
He said the club's influential members had been busy trying to secure approval and had reached out to the office of Prime Minister Nawaz Sharif, himself a classic car enthusiast who owns a 1974 Mercedes Benz 450 SLC. "We are trying to make it happen," he said.
Mr Ikram owns 10 vintage and classic cars. Next month he plans to drive a 1947 Lincoln Continental Convertible. And if the notorious bureaucracy means the two clubs don't get permission, he has a fall-back plan.
"We will ask the Indian members to cross the border on foot where we will then be waiting for them," he said. "We will then drive them into Lahore in our vehicles and have a show  for them."
Reuse content