I have to be up front here. I am an academic, mainly looking at inclusive education and "youth voice", and have always wanted to avoid being pigeonholed as the lesbian academic who talks about lesbian things.
But I am also a parent. As the debate around Putin's homophobic stance rages around the Sochi Winter Olympics; as gay people in Nigeria are beaten to death in the streets as the police stand by; and with the first same-sex marriages in England and Wales only 38 days away, I feel the need to talk about how my family, and other families with lesbian mums, experience school. The fact is, things are better in the UK than they are in many other places around the world, but there is still a long way to go.
At the age of 14, my daughter had to decide when and to whom she would "come out" as the child of a gay parent. Sometimes she did not want to bring friends home in case they noticed.  And she had to hear "that's so gay" being used in place of "that's so stupid" hundreds of times a week.
But the moment she went to college she had to call me to talk to her new friends because "they didn't believe me - it was too cool!" She also feels that her experience has made her more politically aware; she is certainly oriented towards social justice, and truly empathic about people who experience prejudice of all kinds, such as on the basis of disability or appearance.
It's not all bad. Stonewall has been working incredibly hard over the last few years to support schools and families to work constructively together, although the omission of transgender people in their work is the source of much frustration.
Other activists and organisations have been creating a step-change in the visibility of families with LGBT parents. For instance Elly Barnes, employed by Birmingham City Council to "usualise" LGBT identities and eradicate homophobia across all of Birmingham's schools through her Educate and Celebrate project; or the Schools Out campaigns for inclusivity; or even Sean Dellenty's work  through his Inclusion for All model to address homophobic bullying, especially in primary schools.
All of this hard work does seem to be affecting change, and my research has shown that there are some amazing staff-members in our schools.
Faith is often a pressure-point when we discuss schools and sexuality, but Clare and Tessa, from Lancashire, told me that they had experienced "unexpectedly brilliant support, acceptance and encouragement from a small town Catholic school community."
Recently when there was a spate of "you're gay because your mums are" at the school that Alex (aged 8) attends, Clare told a teaching assistant and it was dealt with that day. She went on to say that  the teaching assistant "took Alex to one side and told him she thought his family was brilliant, that her best friend is gay and that he can always talk to her about anything."
In pictures: Sochi's once vibrant gay scene shrinks after new law
In pictures: Sochi's once vibrant gay scene shrinks after new law
1/10 The new law has focused attention on Sochi, which will host many foreigners as well as Russians during the Olympics. Some activists have called for a boycott of the Games in protest

Reuters

2/10 This year President Vladimir Putin signed a law banning the spread of 'gay propaganda' among minors. His increasingly conservative social agenda has boosted the role of the Russian Orthodox Church, whose leader has suggested homosexuality is one of Russia's biggest threats, and given more air time to anti-homosexual rhetoric on media outlets

Reuters

3/10 A man strips during a drag performance at Mayak, a gay cabaret club in Sochi, south western Russia

Reuters

4/10 People watch a drag performance at Mayak, a gay cabaret club in Sochi, south western Russia

Reuters

5/10 A performer prepares to take part in a drag queen show backstage at Mayak, a gay cabaret club in Sochi, south western Russia

Reuters

6/10 During Soviet times, Sochi gained a reputation for tolerance but the city's once vibrant gay scene has been shrinking since Russia won the right to host the 2014 Winter Games

Reuters

7/10 Co-owner of a gay cabaret club, the Mayak, Andrey Tanichev in his venue in Sochi, south western Russia

Reuters

8/10 Gay rights activist Vladislav Slavsky stands in a construction pipe at the beach in Sochi, south western Russia

Reuters

9/10 People hold a placard and rainbow flags as they call on the Russian authorities to lift anti-gay laws ahead of the Sochi 2014 Olympics during a protest

Reuters

10/10 Russian gay rights advocates called for increased pressure on the International Olympic Committee ahead of the 2014 winter games in Sochi in light of Russia's anti-gay laws, telling a gathering that anti-gay violence is increasing

Reuters
Keisha, from Liverpool, explains that her child's teachers "have always made an effort to understand Tommy's roots. Not once has it been an issue. The pastoral care teacher has a poster in her office that explains the different make-ups of families, ours being one of them."
We need to work out whether and how to give our children the language and the option to 'come out' as the children of lesbian parents when and where they feel comfortable, and to work out if this strategy needs to change from primary to secondary school. It is important that this starts at an early age, as children, especially younger children, can be very accepting. Many of the lesbian parents of primary aged children I have spoken to have described their children's classmates' envious responses upon finding out that they had not one but two mothers, with one child exclaiming:  "wow, it's really true you do have two mums!"
Sometimes it is the expectation of a negative response which can be worse than the actual experience.  Helen told me: "My biggest anxiety came when Daisy made best friends with a girl in the class whose family were strict Muslims. I was concerned that our family make-up would be a problem. It turns out that it was! Nothing to do with having two mums - the family turned out to be very accepting of this - but they really didn't like us having a dog in the house!"
Beyond our relationships with other families at the school gate, we need to hold schools to account. If things are not going well, we can write to our head teachers and school governors, and to the local authority, if necessary. The law is on our side, and our children have the right to feel safe, accepted, and taken seriously at school. Stacey, who lives with Beth in South East London reports that when she approached the school's Inclusion Manager to talk about their child, Stanley, hearing homophobic language in the playground, she was told "don't worry, I'm ok with gays because my son works for the airline industry!" This was followed by a week long standoff with the school's head teacher who was concerned that acting to combat the homophobic language might "upset other parents". 
Everyone I spoke to described experiencing these kinds of microaggressions. Microaggressions  were  developed in Critical Race Theory, as those things which alone might make you question whether you're being too sensitive, but become stressful because of their frequency. They are the things which, as Wendy put it, "make you growl under your breath".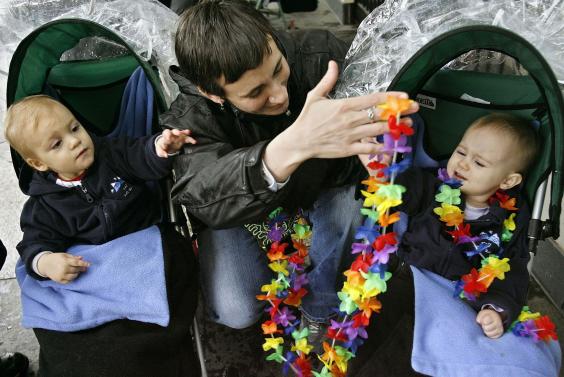 Part of this seems to do with the visibility - or more aptly, invisibility - of lesbian-parented families in schools. The picture is one of an improving school system, but one which needs a more consistent application of the public duty element of the Equality Act 2010, which requires schools to not only combat homophobia but to support positive relationships between people of different ethnicities, genders, abilities, sexualities and faiths.
Most lesbian mums report that, despite repeatedly informing schools about their families, there are still Father's Day card-making incidents with their children. Sharon and Rhona, also in London, report their "partners being wilfully read as sisters, mothers - anything but partners". Aliyah told me that her partner was told at a parents' evening, "we don't talk to the childminder- only the parent". Clearly, this issue doesn't just relate to the children of lesbian parents - what about those in foster care, or with single parents, or who live with aunties or granddads?
To combat this invisibility, we need books in our classrooms like Spacegirl Pukes, a story about a space girl who just happens to have two mums. And we need all kinds of families to be what Elly Barnes describes as 'usualised' in our school curricula. But we don't generally experience this enlightened approach as the norm. Many of the parents I spoke with felt that they had to be more proactive than would usually be the case in order to pre-empt problems before they occurred. Clare, whose children are at a Catholic school, explained: "I think that we have to make a huge effort. Every autumn term I go and see the new teacher to introduce myself and make sure they are aware of our 'un-usual' family."
There is a constant process of coming out to other parents, too. This is important not just to avoid problems but to provide our children with a template for the way they discuss their families or deal with comments from other people. Wendy told me: "I would probably naturally avoid chatting in the playground, but make myself be proactive. We can't be shrinking violets if we don't expect our child to be. It is a constant round of coming out, but with tender young ears listening and taking their cue of pride rather than shame in their family from us."
All of this means that families with lesbian parents can experience a notoriety which is not particularly welcomed. Helen explains: "One of the things I find is that people often know us, and about us, when we don't know them." I hope that by starting this conversation, perhaps we can all get to know each other a little better, and in the process, our families will become 'usualised'.
 (Names have been changed)
Anna Carlile is Head of BA Education, Culture and Society in the Department of Educational Studies at Goldsmiths, University of London.