The Oscars are a thoroughly contradictory affair. On the one hand, the awards show is an exercise in glad-handing and narcissism, an excuse for Hollywood stars to dress up glamorously and for a worldwide audience to gawp at them. This is a huge photo opportunity in which everybody (including the stars themselves judging by Oscar host Ellen Degeneres' "selfie" antics this year) takes part. It is a celebration of glossiness and superficiality. Success is judged by TV viewing figures. This year, there was a concerted attempt to attract younger viewers by recruiting the likes of Emma Watson, Andrew Garfield and Channing Tatum to present awards.
At the same time, the attitude toward cinema is reverential in the extreme. This is the one weekend in the year in which the box-office numbers are ignored by Hollywood. The films up for Academy Awards are judged on artistic grounds and, it increasingly seems, in terms of the seriousness of their subject matter. 
That's why David O. Russell's American Hustle and Martin Scorsese's The Wolf Of Wall Street were never really in the running. Leonardo DiCaprio, nominated for the fourth time, was initially seen as a very plausible contender for a Best Actor award for his role as rogue trader Jordan Belfort in The Wolf Of Wall Street. He had received some of the best reviews of his career and had already won a Golden Globe. Christian Bale had given a wondrously funny and affecting performance as the pot-bellied, toupée-wearing con artist in American Hustle. The Academy's decision to ignore them, though, had as much to do with the characters they were playing as with the quality of their acting. 
Troubled heroes or heroines fighting alcoholism, political prejudice, terminal illness, mental health problems or stammers are the types that generally appeal to Academy voters. These voters don't mind villainy if it is on a very grandest scale. (Michael Douglas won for Wall Street as did Forest Whitaker for playing Idi Amin, Anthony Hopkins as Hannibal Lecter in The Silence Of The Lambs and Denzel Washington for his turn as the utterly corrupt cop in Training Day.) The problem for DiCaprio and Bale was that they were playing sleazy, pill-popping, pygmy-throwing low-lives lacking in anything approaching tragic grandeur. They were both very funny too, and knockabout comedy rarely wins Oscars. The winner Matthew McConaughey's character in The Dallas Buyers Club may have been sleazy too but he had a pathos and nobility. Cate Blanchett's character in Blue Jasmine likewise had an emotional complexity and darkness that clearly won over voters.
With The Best Picture category, the same seriousness also applies. Steve McQueen dedicated his Oscar for Twelve Years A Slave on Sunday night to the "21 million people who still suffer slavery today." As Degeneres quipped early on during the show, "possibility No. 1: 12 Years a Slave wins best picture. Possibility No. 2: You're all racists."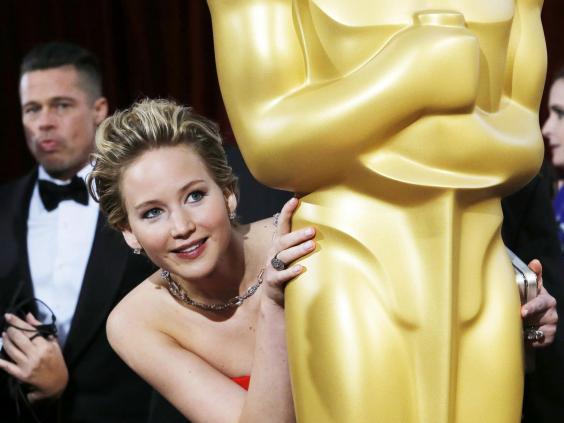 In his film, McQueen was dealing with subject matter - namely the brutal reality of the slave experience - that mainstream Hollywood had previously all but ignored. It would have seemed perverse in the extreme for Twelve Years A Slave not to win. There was a groundbreaking and powerful movie. There was a sense, though, that critical perspective had long since been lost. Amid all the talk of the "importance" of McQueen's film, little attention was paid to its formal qualities or possible shortcomings - or to how strange it was that an auteur-driven film judged to be Best Picture didn't win Best Director too.
The Oscars now suffer from their choice of date. They happen in the spring, at the very end of an immensely long awards season. They are pre-empted by the BAFTAs and The Golden Globes, rival events which, in the past, they easily eclipsed. 
By the time the Academy Awards take place, a consensus has long since emerged as to what should win. That means there are rarely surprises. This year, as almost every commentator predicted, 12 Years A Slave was unstoppable and the force of Alfonso Cuaron's Gravity couldn't be resisted. It was as if a Blair-Brown like deal had been struck in advance that they should share the spoils. The Academy Awards were ratifying and reinforcing decisions that had been made elsewhere. This isn't to complain that the Academy got it wrong (both Gravity and 12 Years A Slave are magnificent films) but to suggest that the Oscars, as the pre-eminent awards show, should set the agenda, not simply respond. It would surely make more sense for the ceremony to take place earlier, when the films up for the major awards are fresher. 
The New York Times speculated recently as to whether Hollywood had "worn out" moviegoers in advance "by blasting them with too much nomination-related marketing" and asked why Oscar attention was not igniting "a box-office fire for nominees." The irony is that it has been a vintage year with the strongest list of Best Picture nominees in recent memory. This year's ceremony itself has received mix notices. "This year's Oscars clock in exactly at 3.5 hours of my life that I want back, please," tweeted Nikki Finke, the founder of Deadline Hollywood. Others enjoyed Ellen Degeneres' irreverent approach to hosting the event. If the Academy members shared a little more of this irreverence in their voting choices, a broader sweep of films might actually stand a chance of winning.
Reuse content