Dear Nike,
For a brief moment you made my day. As a fan of US sport, I regularly peruse the US media, right now largely in the hope of finding someone to tell me that the Oakland Raiders might actually finish with a winning season.
As I did so the other day, I happened upon news of the Nike LeBron 8 Flyease, a marvellous new set of trainers designed for people who otherwise have difficulty doing them up.
The story was all over the place; how you'd received a letter from a 16-year-old named Matthew Walzer, who was born with cerebral palsy and wrote what became known as the #NikeLetter.
It asked CEO Mark Parker if Nike could create a shoe that he could put on and tie himself. Parker contacted designer Tobie Hatfield to see if such a shoe could be created, not just for Matthew Walzer but for anyone who struggles with putting them on.
Thus the Nike LeBron 8 Flyease was born, with a wraparound zipper at the heel. And thus was born a PR coup, too, as Walzer was invited in to meet the designer and LeBron James, the basketball superstar for whom the shoes were named.
"In the spirit of the mission statement set forth by co-founder Bill Bowerman, 'If you have a body, you are an athlete'," went the P R spiel.
Here, here. I agree. One of the results of the injuries that I suffered from spending an uncomfortable spell under the wheels of a lorry is that I struggle with bending and don't have a lot of flexibility. The bottom part of my right leg also has little feeling (other than pain) and less movement. The net effect is that getting shoes and socks on without help is difficult.
Now, the PR blurb said that the shoes were being given "a limited release" but, undaunted, I called the UK press office to see if we could give them a test-, well, not exactly -run, but you know what I mean.
Apparently not. After a bit of a to and fro, I was told that they wouldn't be made available in Western Europe. But surely I could order a pair from nike.com? You know, like you can order things from the US on amazon.com? Apparently not. I was also told that this wouldn't be possible. But the nice lady from the press office did forward me a link to a video featuring Walzer. Thanks so much!
Now, I might have a few more miles on the clock than Walzer, and I play basketball in a wheelchair. But that doesn't mean that I lack a penchant for fancy shoes. Same for many of my teammates at London Sparrows, upon whom you will regularly see Nike or Air Jordan kit.
Perhaps you're just not aware of the size of the marketplace that you are – in effect – giving the metaphorical finger to.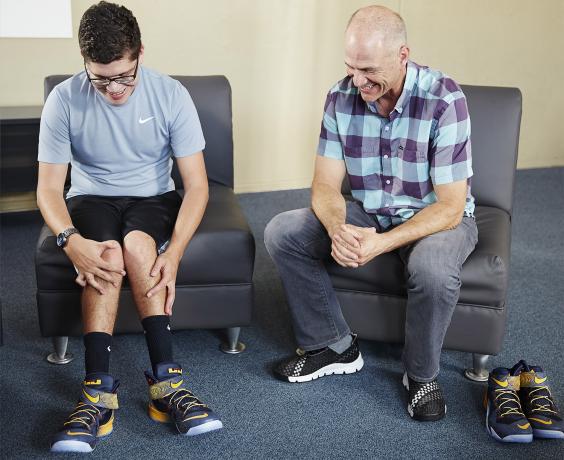 One of the things that became evident to me while serving on the Extra Costs Commission set up by disability charity Scope was that many businesses don't realise the sheer size of the disability marketplace and the power of the "purple pound".
It's huge. Of course, not everyone will be interested in buying Nike LeBron 8 Flyease shoes. But there's a lot of potential customers there all the same.
Richard Lane, head of campaigns at Scope, sums it up nicely when he says: "There are 12 million disabled consumers in Britain. Their spending power is worth over £200bn. Nike are missing a trick by not making these trainers available to disabled people in the UK. Difficulty putting on shoes and tying shoelaces is a challenge that millions of disabled people face.
"Disabled people often have to make do with clothing and footwear that isn't suitable, or spend money themselves to have items tailored or adapted. Businesses can benefit – as well as disabled people – when they recognise the substantial value of the purple pound."
So Nike, to quote your famous slogan: Just do it. By which I mean, the right thing. And make your admittedly rather wonderful shoes available to Europeans and anyone else who wants them but can't currently get them where they live.
Yours sincerely, James Moore
Reuse content