We are so tantalisingly close to what could and really, really should be what used to be a conventional political summer.
One, that is, in which nothing happens. One where the papers are blissfully unreadable. The airwaves break only with news of Sunday amateur aviation mishaps. (Pay close attention and you will quickly see this truth to be self-evident. There is no surer sign of a slow news day than a two-seater plane crashing into a country field leading the 10 o'clock news bulletin.)
We have waited, surely, long enough. Elections, referendums, the permanent Labour leadership contest. All these things that were once a rare treat are now part of a never-ending news buffet, turning an unwilling public into a political Mr Creosote.
But of course, it will not happen. You do not need to have read two consecutive sets of Sunday papers, all packed with anonymous briefings by senior Tories against other senior Tories, to know that the Conservative leadership contest they all claim they don't want is already well underway and will end only when Theresa May makes yet another grave statement on the steps of 10 Downing Street – somewhere around the thousandth of her very short premiership.
Do they have no pity for the rest of us? Has Brenda from Bristol not already spoken for the nation? One can scarcely imagine the disdain that woman must feel for the prospect of another leadership contest, a third Conservative Prime Minister in the space of what should have been about half of a five year term?
Spare us, please. Already we read in The Sunday Times of David Davis flirting with Boris Johnson's sister Rachel, who recently defected to the Lib Dems, at The Spectator summer party.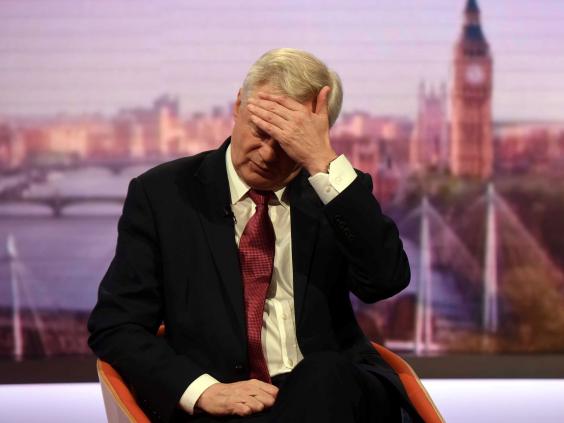 Of Davis telling Johnson, "You're too toxic for your own sister." And then telling other guests how Boris had been trying to persuade her to rejoin. "With one drink I persuaded her," he told the gathering crowds.
As a tableau of current political life, its sheer stomach-churning grimness is beyond anything Hogarth would have imagined. This, don't forget, is the same boorish man who tried to kiss Diane Abbott in the Stranger's Bar for a laugh, and on whose flesh-crawling interpersonal skills the nation's economic future depends.
The Conservative Party's detonation of its reputation as the "party of government" is of course complete. It is utterly unfit for the job; that is beyond all doubt. It is merely fortunate that its only real rival for the position is even less fit.
Of course, we the passengers on the already doomed plane know that we have little choice but to watch the drunken pilots fight over the controls, but can it not be done with just a little more class?
There are sentences appearing in the papers that have every right to terrify. "Among those who fancy their chances are Andrea Leadsom," is one you might have read a few times. In what other profession does abject failure to bag a senior position not preclude having a second go barely twelve months later?
"There are a string of other cabinet ministers who fancy…the top job, including Priti Patel," is another harrowing line.
This is a woman who has a plastic Union Jack Sellotaped to her office door, and who responded to its mocking in the media by Sellotaping two more next to it. There are three there now.
This is the same woman who, when the execution of Troy Davis in 2011 forced BBC Question Time on to the subject of the death penalty, could not be persuaded, by Ian Hislop, that the execution of innocent people was not a significant downside. "You need full burden of proof, you really do," she repeated, over and over again, determined not to acknowledge that life imprisonment already carries such a burden.
Last year, by the way, when Michael Gove began his short-lived attempt to reform Britain's prisons, Patel wrote in the Times: "When people's lives go off track – whether as a result of addiction, debt, crime, or some other issue – as a compassionate society we should look to offer a way out. This is as much true for ex-offenders as any other disadvantaged group." No group is quite so disadvantaged, of course, as the prematurely dead.
So no, the prospect of a quiet summer is slim indeed. And there is no reason whatsoever to imagine the worst of the political earthquakes, and the most graceless of blue on blue savagery, is not very much still yet to come.
Reuse content