The financial life support that has sustained Greece's membership of the eurozone is now failing. It has transferred not just money. It has transfused political, social and economic poison into the country's bloodstream. If the crisis is to be resolved – rather than merely postponed – some common sense is badly needed, about both the minimum action required to enable Greece to recover and about who or what injected the poison.
First, Greece will almost certainly never be able to repay all that it owes to its creditors, unless the government's reforms produce an astonishing economic transformation. Debt relief, this time on Greece's obligations to the European Central Bank (ECB) and eurozone governments, is required, even on the most wildly optimistic assessment of its capacity for structural reform and improvements to its leaky tax base. If Greece doesn't get debt relief, then default beckons.
Second, Greece will probably need to leave the euro if it is to secure lasting economic recovery. Greece needs an external devaluation, not more domestic deflation. A face-saving option, "indefinite" suspension, would amount to much the same.
In any case, other euro-area countries have endured severe hardship in order to service their governments' debts. It would cause both moral hazard and massive political resentment in other countries if Greece, having not paid its debts, were to be allowed to remain in the euro area with those countries who have repaid.
Third, it is in the interests of Europe as a whole that the Greek economy should not fail – Greece should be able to remain in the European Union, and can be put back on track towards prosperity outside the euro. Greece will need a lot of support to create a new currency, devalue and secure lasting recovery.
In pictures: Greek referendum
In pictures: Greek referendum
1/28 Greece EU Referendum

People celebrate in Athens after the first exit-polls of the Greek referendum

Getty Images

2/28 Greece EU Referendum

A "No" supporter flashes a victory sign before a Greek flag atop the parliament in Athens, Greece July 5, 2015.Greeks voted overwhelmingly "No" on Sunday in a historic bailout referendum, partial results showed, defying warnings from across Europe that rejecting new austerity terms for fresh financial aid would set their country on a path out of the euro.

REUTERS/Yannis Behrakis

3/28 Greece EU Referendum

Supporters of the No vote react after the first results of the referendum at Syntagma square in Athens

AP

4/28 Greece EU Referendum

Supporters of the No vote wave Greek flags after the referendum's exit polls at Syntagma square in Athens

AP

5/28 Greece EU Referendum

Greece's finance minister Yanis Varoufakis casts his vote in the country's referendum

EPA

6/28 Greece EU Referendum

A ballot box is emptied by a voting official at the closing of polling stations in Athens, Greece July 5, 2015. Greece voted on Sunday on whether to accept more austerity in exchange for international aid, in a high-stakes referendum likely to determine whether it leaves the euro-currency area after seven years of economic pain.

REUTERS/Marko Djurica

7/28 Greece EU Referendum

A photographer photographs a man waiting to vote in the referendum at a school in the suburbs of Athens

Getty

8/28 Greece EU Referendum

Greek voters are being asked to choose between backing their creditor's austerity measures or rejecting them

Getty

9/28 Greece EU Referendum

Tourists walk past posters with slogans that read "OXI" (NO) and "NAI" (YES) ahead of the referendum in Athens

AFP

10/28 Greece EU Referendum

Opposition parties to Syriza, including the centre-right New Democracy, are campaigning for a 'Yes' vote in the referendum

Reuters

11/28 Greece EU Referendum

Protesters on both sides of the argument ('No' pictured here) have rallied in Athens

AP

12/28 Greece EU Referendum

Greek Prime Minister Alexis Tsipras has been branded reckless and a feckless liar by EU leaders

Reuters

13/28 Greece EU Referendum

According to polls which surveyed some 1000 people across the country, 41.5 percent of Greeks would support the new bailout measures to avoid an exit from the Eurozone

AP

14/28 Greece EU Referendum

Despite Tsipras's assurances, many Greek people are not certain whether Sunday's referendum is a vote on whether Greece will remain in the euro or not

Reuters

15/28 Greece EU Referendum

The Greek and EU flags flutter in front of the ancient Acropolis hill in Athens. The Greek people have been called upon to show "calm and national unity"

Getty

16/28 Greece EU Referendum

Greek Prime Minister Alexis Tsipras addresses a crowd of 25,000 'No' supporters in Athens' Syntagma Square

YANNIS BEHRAKIS/Reuters

17/28 Greece EU Referendum

Greece's Prime Minister Alexis Tsipras gave a televised address to the nation ahead of the vote. He has called on voters to reject creditors' proposals for more austerity in return for rescue loans

AP

18/28 Greece EU Referendum

Protesters march holding a torn European Union flag during a demonstration for the 'NO' campaign in Thessaloniki

Getty Images

19/28 Greece EU Referendum

Greek Finance minister Yanis Varoufakis has pledged to resign if his country votes "yes" to the bailout plan

Reuters

20/28 Greece EU Referendum

Pensioner wait to get their pensions outside a National Bank of Greece branch in central Athens. Banks only opened for pensioners to allow them to get their pensions, with a limit of 120 euros.

AFP/Getty Images

21/28 Greece EU Referendum

Protesters attend an anti-austerity pro-government rally in front of the parliament building

Getty

22/28 Greece EU Referendum

The possibility of Greece leaving the Eurozone is increasing by the day. Merchandise already exists to accompany the event

EPA

23/28 Greece EU Referendum

An elderly man waits to receive his pension outside the closed National Bank of Greece headquarters in Athens

AP

24/28 Greece EU Referendum

People stand in a queue to use an ATM outside a closed bank in Athens

AP

25/28 Greece EU Referendum

A banner supporting the NO vote in the upcoming referendum hangs from the offices of the Greek Finance Ministry

Getty Images

26/28 Greece EU Referendum

Greeks will be asked whether they accept the austerity terms demanded by the country's creditors

Getty

27/28 Greece EU Referendum

Eurozone finance ministers expressed disappointment at the Greek decision to hold a referendum on the bailout terms

Getty

28/28 Greece EU Referendum

Alexis Tsipras, the Greek Prime Minister, said bailout conditions had 'asphyxiated' his country

EPA
So, the ECB and the EU should treat Greece generously with debt relief, the provision of resources for the Greek central bank and further financial transfers. The Greek euro-tragedy was not just of the Greeks' making. It occurred because serious mistakes have been made by the EU and the International Monetary Fund, among others.
The first mistake was for the EU to admit Greece into the euro in 2001. Greece did not meet the entry criteria. With Goldman Sachs' help, its government cooked the books. By the time the EU took the trouble to audit them in 2004, it was too late.
The second mistake has been in the strategic management of the crisis since it erupted in 2010: it has offered the least debt relief it could get away with in exchange for the tightest fiscal policy it could impose on Athens.
The consequences have been catastrophic for all parties. The Greek economy has contracted by 26 per cent since 2007 and unemployment has risen to 26 per cent. Debt has grown. The Greek public has been alienated and angered. It was clear, from 2010, that Greece was suffering from massive currency overvaluation. Trapped within the euro, Greece needed a huge internal devaluation – drastic cuts in wages and costs. Many forecast that it would be socially and politically unachievable. And so it has proved.
A third mistake made it very difficult to put right the consequences of the first two. This was the doctrine that the euro area was for ever. Countries could join, but there was no provision for leaving. The absence of any such provision was manifest even prior to the formation of the euro and doctrine got in the way of economic reality.
Greece should not have joined the euro. This has been clear for a long time. But the doctrine of "ever-closer union" enshrined in the EU treaties, combined with the inflexibility of the euro area's design, led the EU's leaders to conclude that the most straightforward means of dealing with Greece's problems – Grexit – would lead to an existential crisis.
The three mistakes were compounded by a fourth, this time made by the IMF – no doubt excessively influenced by some of its euro-area members. The IMF should have provided an independent and sceptical assessment of Greece's woes. But its routine surveillance of the Greek economy did not enable it to foresee the crisis; and, when it struck, the fund "modified" its own rules to allow the largest access to its resources – €30bn – in its history.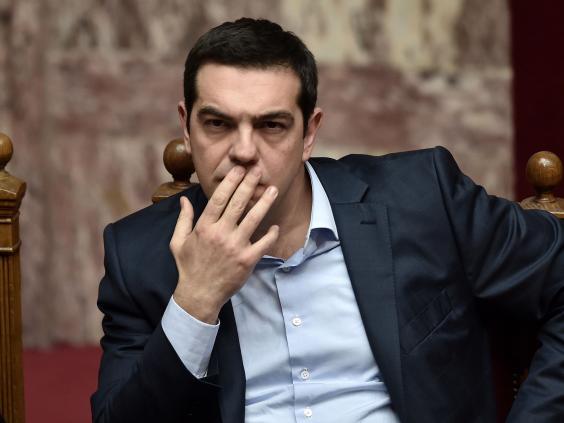 The IMF has allowed itself to be drawn into a partnership with the European Commission and the ECB – the so-called "troika" – which has prevented it from fulfilling its duty to act as an impartial and detached adviser to national governments, and from acknowledging, at the outset, the unsustainability of Greece's debt burden and the need for write-offs. It compounded this massive blunder with another: wildly over-optimistic forecasts of Greece's economic performance enabled the justification of demands for austerity. The troika has also demanded deep and, certainly in the short run, unachievable structural reforms.
The EU and eurozone's handling of the crisis has damaged the reputations of both. Their disastrous performance in dealing with Greece reflects fundamental defects in the euro's design. Ever-closer union is not just a mantra – it can be a pernicious doctrine. It permits dogma to determine decisions without proper regard to their practical consequences. The euro "outs" have an interest in all of this – countries such as the UK get hit by the consequences of mistakes. The purpose of the "outs" should not be dismantling but reinforcing the eurozone. For which, a dose of reality is essential.
The IMF has been badly damaged by this crisis. It, too, needs to restore its reputation, as a provider of independent advice and support on behalf of its member states. It should now acknowledge its past mistakes, give Greece no further special treatment and provide the Greek government with truly independent advice, assessments and forecasts, even – and especially – when these differ from the views of the EU authorities.
If the IMF does its proper job, if the eurozone drops its dogma, and, with Greece, if all parties exercise some common sense, then an economic, political and reputational recovery are all still available.